Posted by Joshua on Sunday, September 30th, 2012
Dar Zamaria, a friend reports, is depicted above. It was one of the finest boutique hotels in Aleppo lovingly restored from a magnificent Ottoman home. I am not convince this is Zamaria as the shot below shows a staircase running in the opposite direction. I am told Sisi House was also burnt down last week. It was the best restaurant in Aleppo for many years.
In Syria's Largest City, Fire Ravages Ancient Market – Anne Barnard's article in the New York Times is the best on the souq and why it became a center of conflict. Good quotes from all sides.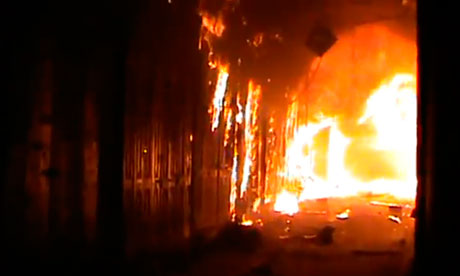 …."Our hearts and minds have been burned in this fire," said a doctor in Aleppo who gave her name only as Dima. "It's not just a souk and shops, but it's our soul, too."

She said she supported peaceful resistance against Mr. Assad, and pronounced herself "annoyed, annoyed, annoyed" with fighters from the rebel Tawhid Brigade, which announced the offensive on Thursday. The fighters said they were seeking to "liberate" neighborhoods that had remained largely pro-government and were being used as posts from which to attack the opposition.

But in a Skype interview, Dima said the recent fighting cast doubt on both the rebel leaders' tactical wisdom and their intentions. She called them "performers" who had needlessly provoked the government by posing for pictures outside the souk and the nearby 12th-century mosque — which she worried would now be shelled — and who "talked nonsense."

"There is no decisive battle," she said. "There are no liberated areas."

Brig. Bashir al-Hajji, the commander of the Tawhid Brigade, said that the offensive had worked and that rebels were progressing toward the heart of Aleppo. Rebels and activists said the government had started the blaze by firing incendiary bullets…..
Ancient souk burns as fighting rages in Syria – Al-Jazeera
Hundreds of shops destroyed at UNESCO world heritage site in Aleppo's Old City, as deadly violence continues.
Rebels fighting to topple President Bashar al-Assad announced a new offensive in Aleppo, Syria's commercial hub of 2.5 million people, on Thursday, but neither side has appeared to make significant gains…..
Did Syrian authorities capture two Turkish pilots and killed them days later? Al-Arabiyya, the Saudi newspaper is reporting that it has many leaked documents, which it has posted, that prove: Acting on Russian intel, Syria forces murdered pilots of downed Turkey jet.
Syria Politic, a Syrian website, is claiming that the documents are forgeries. It argues that there is no such thing as the "Foreign Intelligence Agency" in Syria, the name printed on the documents, but only a "branch". Also that Syria has no "Joint Command", something referred to in the docs, etc. See counter arguments in the discussion section in the Syria Politic sight.
الوثائق ممهورة بختم كتب عليه "جهاز المخابرات الخارجية" في سوريا، ونحن نعلم أنه لايوجد جهاز أمني بهذا الاسم في سوريا، وهناك أربعة أجهزة لا تحمل هذا الاسم وإنما بعضها يتضمن أفرع يحمل اسم "الفرع الخارجي" ولا يوجد نهائيا "جهاز المخابرات الخارجية"….
The Sulaimaniya district of Aleppo, which is almost all Christian was his by howitzer shells two days ago, killing one family. The Free Syria Army said it was trying to hit a building which headquarters the Political Security office of Aleppo. It later warned citizens of the area to evacuate to avoid getting hurt.
Video of government bombing of Bab al-Hadid in Aleppo. زرة باب الحديد حلب Warning: do not watch this if you do not want to see dead and dying people. Most upsetting video I have seen.
Ross Burns
, the author of
Monuments of Syria
, the best guide to Syrian Monuments and former Australian Ambassador to Syria writes this:
I am the author of a couple of books on the history and archaeology of Syria as well as having been a former Australian Ambassador there in the 1980s.

When the troubles started last year, I thought the best way of contributing something to keep alive the memories of the Syria with all its rich complexities was to do

a website to provide a visual accompaniment to 'Monuments of Syria'

(latest edn is I B Tauris, London 2009). As I am operating solo these days (long retired from the Australian Foreign Service), I've been building up the site slowly as time permits. Of the 132 or more sites in the book, I have posted about 50 so far but am trying to give priority to sites that might be threatened by the fighting. Also see

this Flickr site with many photos.
Middle East: A second winter of war
By Michael Peel, Financial times
Syrians face a future of destitution, surging food costs and shortages of medicines

A displaced family rests in a retail space they are occupying on September 6, 2012, in al-Qusayr, Syria.©Eyevine

No place to hide: Syrian families on the run from shelling, such as this one living in part of an underground shop, shelter in ramshackle buildings as the weather begins to worsen

The wind that blows across the dusty plains north of Damascus will soon take on a wintry chill, gusting through the windowless shells of grey pitted concrete where thousands of Syrians made homeless by war are sheltering.

Refugees from all over this country imploding in conflict are hunkered down in the towering half-finished flats for government workers in the town of Adra, where they can only look wistfully at the completed pastel-painted blocks nearby.

"I just want my life back," laments Abu Fadel, who fled the south Damascus conflict zone of Sayyeda Zeinab two months ago and now lives in a three-roomed apartment with 13 other family members. "I want to go back to my home – the home I spent my whole life building."

Abu Fadel is one of a large and growing number of displaced Syrians who now face a grim choice, as a relief worker puts it, "between freezing and shelling". The Arab world's longest-running and most destructive uprising is moving into its second winter with the mass of Syrians at the mercy of a ghastly stalemate, between a regime that has killed ever more brutally and a fragmented armed opposition waging a guerrilla war. Angered by a lethal rebel assault on a military command centre in Damascus this week, President Bashar al-Assad's forces bombarded rebellious districts of the capital from dusk on Thursday, the frequent thud of explosions a familiar soundtrack for the city and others across Syria.

While the regime continues its 18-month mantra of imminent victory – even sending out mass text messages on Friday telling the rebels it is "game over" – the conflict worsens by the week. The attack on the military command centre was a reminder of the capabilities of a rebellion that now controls large areas in the north of the country and has launched a fresh push to take the biggest city, Aleppo. The Syrian Observatory for Human Rights, a UK-based pro-opposition monitoring group, this week said the death toll in Syria's conflict had passed 30,000, more than half of those in the past five months.

In this atmosphere of extreme violence and constant fear, many Syrians feel abandoned by international powers that are offering no hope of an agreement to stop the fighting in a country at the geographic and strategic heart of the Arab world. For some anti-regime activists, the traditional bogeymen of Tehran, Moscow and Beijing – Mr Assad's strongest backers – have now been joined by western powers, whom they see as retreating in the face of overplayed concerns about violent religious extremism among some rebels.

"We are not a lie," sighs a peaceful opposition activist and relief organiser known as Leyla, reeling off the religious affiliations of her heterodox family, in which Sunni Muslims, Christians and Alawites are all represented. "You have to see us as we are. Don't watch us through your fears."

The revolts that have swept the Arab world for more than a year and a half have inspired many with their affirmation of people power, but in Syria the vast majority of citizens are impotent in the face of a war enveloping their streets, homes and families. Friday, the Islamic holy day and once the focal point of the original peaceful protests that the regime brutally suppressed, is now just another day.

The demonstrations and resulting casualties are another footnote to daily death tolls sometimes running into the hundreds. When the rebels operate in residential areas and are still seen in some as protectors, it is civilians who bear the brunt of regime violence that has ratcheted up from rifle fire to shelling to air strikes with warplanes, sometimes – according to rights groups – directly aimed at civilian targets such as bread queues.

It is hard now for anyone not to feel the effects of the conflict, whether they are regime supporters whose relatives in the security forces have been killed or the great numbers of people who have seen loyalists of the four-decade old Assad family dictatorship kill, jail or torture family and friends. Government artillery booms out from the Qassioun mountain that looms over Damascus – proof to all, if it were needed, that the regime is prepared to turn parts of the country to rubble to survive. "We are afraid, but we get used to it," says Alaa, a university student out on a thinly-populated street in the centre of the capital after the military headquarters blast triggered a security lockdown. "Like in the university – we heard some explosions but we continue our lessons."

While significant parts of Damascus still feel peaceful and ordered, with malls offering expensive clothes and coffee to dwindling clienteles, other areas tell a story of ever-expanding destruction. Cars draw a low, spooky hum from highways gouged by tank tracks. The road out of the capital to Syria's third city, Homs, infamously bombarded by the regime this year, is flanked by trashed vehicle showrooms and the collapsed buildings of shelled rebellious suburbs.

Many of those Syrians who can afford to leave the country have already gone, adding to the estimated 1.2m people displaced like Abu Fadel in this nation of 21m people. Those who remain face harsh months of high inflation, little work and more of the periodic shortages of petrol, cooking gas and – ominously as the season of biting cold approaches – heating oil known as mazout. The beggars, now in far greater numbers on the capital's streets, are a kaleidoscope of women in black abayas and veils, grubby adolescent boys and a gaggle of children from the southern suburbs who gather at an intersection between two top hotels.

On Straight Street in Damascus' old city, which is mentioned in the Bible, a merchant surrounded by tins overflowing with spices says demand has plummeted, with those who do buy often stockpiling because they fear the worst. "We are selling half of what we were two years ago," he says, moments after a fire engine comes barrelling through the market, the latest emergency in a city full of them.

Still, the merchant says prices have risen 35 per cent overall as the conflict cuts supply routes. The fighting has also wrecked factories in important industries such as pharmaceuticals, while sanctions have made importing goods harder. Merchants in Damascus say that in just a few months the cost of a lean cut of lamb has risen by about 40 per cent, while red peppers from near the battleground of Aleppo have doubled in price. Doctors warn of likely epidemics of bronchitis and pneumonia among cold and hungry people, particularly children, who are short of drugs to treat common contagious diseases and chronic conditions such as asthma and diabetes.

. . . Behind the grim day-to-day reality lie even graver hidden wounds of war, with Syrians of all political views expressing alarm that the new generation of this cosmopolitan but increasingly divided country is now being shaped by conflict. One wealthy Damascene tells of children playing soldiers at school, with one side the regime and the other the Free Syrian Army. In Douma, a poor Damascus suburb battered by government forces over the past nine months, a toyshop owner says the model troops and guns he still displays prominently are selling better than ever. "Everybody is shooting," he explains. "So the kids want to be part of it."

Even as Syria collapses, the Assad regime keeps up a surreal narrative that a return to its previous illusory stability is imminent. One of a series of posters put up round Damascus shows a little girl, smiling broadly despite the bombed classroom around her. "Help me to rebuild my school," she pleads.

It is too much for some to stomach. "Aren't they ashamed?" remarks one Damascene professional. "Help me rebuild my school, which the government destroyed."

Yet Syria's conflict is now so entrenched, with so little hope of resolution, that some people are trying to normalise the unthinkable, returning to shattered areas now at peace – until the never predictable next round of shelling. A foreign diplomat describes a conversation with an acquaintance in Homs, who said his home district, once a battle zone, was much quieter now. The acquaintance still heard explosions in other areas, but admitted he did not care. "He's slowly becoming less and less afraid of the fighting coming to where he lives," the diplomat says. "So however long the fighting takes, it's becoming less and less his problem."

Back at the Adra flats, Abu Fadel's family can only wait and watch as their lives unravel. His grandson has bites all over his face from the mosquitoes that infest the half-built structures; his son, who hires out lighting for events, has no work because there are "no parties any more, no weddings, nothing like that."

For Abu Fadel himself, a carpenter in his 50s, there is only the hope that his dotage will not disappear into the oblivion now threatening Syria, as a regime that took power when he was a teenager fights to an inevitable but perhaps still distant end.

"We were waiting for this age, when we could calm down and enjoy what we were building," he says, seated on an old foam mattress under one of the window holes that gape so invitingly for Syria's ill winds. "Now we may have lost it. This is our greatest fear."
Report: Acting on Russian intel, Syria forces murdered pilots of downed Turkey jet
Al Arabiya cites leaked Syrian documents describing how Assad's forces seized Turkish crew members while still alive, and killed them following Russian 'guidance and information.'
By Jack Khoury | Sep.29, 2012 |Haaretz
The crew members of a Turkish fighter jet that crashed into the Mediterranean earlier this year survived the impact, only to be later killed by Syria forces following intelligence provided by Russia, the Al Arabiya network reported on Saturday, citing leaked confidential Syrian documents.

Al Arabiya's report came amid months of speculation concerning the June 22 incident, involved the suspected downing of Turkish F-4 reconnaissance jet. Turkey has accused Syria of shooting down the warplane, a claim that Damascus has denied, saying that its forces did not intentionally shoot down the jet.

The plane's wreckage, with the bodies of the its two crew members still trapped inside, was found on the Mediterranean seabed in early July.

Earlier this month, an official report by Turkey's military indicated that the F-4 was shot down after a Syrian anti-aircraft missile exploded near it, causing it to lose its bearings and subsequently crash.

However, leaked Syrian documents obtained by Al Arabiya on Saturday, indicated that the plane's two pilots may have been still alive following the crash, the office of with Syrian President Bashar Assad reportedly ordering Syrian forces to murder the captured crew members and return their bodies to the scene of the crash.

One document obtained by Al Arabiya, reportedly sent from Assad's office to brigadier Hassan Abdel Rahman, who the network identified as the head of Syrian Special Operations, stated that "two Turkish pilots were captured by the Syrian Air Force Intelligence after their jet was shot down in coordination with the Russian naval base in Tartus."

In addition, the report claimed that the Syrian general was ordered to treat the pilots in accordance to the protocol concerning war prisoners, and that they be investigated concerning Turkey's alleged role in supporting the Syria uprising against Assad.

Citing a second leaked document, Al Arabiya quoted another order, sent by Assad's bureau to the heads of Syrian foreign intelligence, according to which unidentified Russian sources may have urged the Syrian regime to slay the Turkish prisoners.

"Based on information and guidance from the Russian leadership comes a need to eliminate the two Turkish pilots detained by the Special Operations Unit in a natural way and their bodies need to be returned to the crash site in international waters," the document reportedly said.

One document reportedly indicated that Assad was willing to consider a suggestion by a general "Bassam" to transfer the two crewmembers to Lebanon, where they will be held captive by Hezbollah in order to serve as bargaining chips in a later time.

However, this suggestion was eventually rejected, the documents reportedly indicated, without specifying the points against it.

In addition, Al Arabiya reported that the Syrian documents indicated that Assad regime considered threatening Turkey with mobilizing the Kurdistan's Workers Party militant group against Ankara if Turkey decided on military action against Damascus.

Al Arabiya claims to be in possession of hundreds of classified documents that shed light on the details of an Iranian and Russian involvement in the Assad regime, showing, among other claims, that Damascus' two allies formed a joint command in Syria.

Furthermore, the leaked papers are said to indicate Hezbollah's key role in assassinating key Syrian activists as well as orchestrating large-scale bombing attacks in order to sow chaos and instability in the war-torn country.
Manaf Tlass was once one of Bashar al-Assad's closest friends. – From CNN interview with Manaf Tlass
"He is humble. He loves people," Tlass said when describing Assad. "But he has changed. The crisis has changed him."

"I tried to tell him that he had to give up something for the people," Tlass said of his last conversations with Assad. "That there is a true uprising and that he must go along with it. There is an Arab Spring all around us. You should be part of it and democratize the country. He refused."
"The old guard around him lulled him into handling the crisis this way."

"Alawites are being told that the Islamists are taking over – they were considered infidels by the Islamists and that's what scares them," Tlass said. "But when there is a project for Syria that can, which can include all parties, the Alawites will defect."

"Everything will be different once he realizes that the international community has truly decided it's time to step down," Tlass said. "He will step down; I am certain of that.
EU defense ministers rule out military intervention in Syria – 2012-09-28
NICOSIA, Sept. 27 (Xinhua) — European defense ministers meeting in Cyprus on Thursday ruled out the possibility of a military intervention in Syria and advocated a political solution to the crisis faced by the country.

"Our aim is to extend our support to the people in the area to build their own democratic institutions, their own democratic societies and democratic states based on human and political rights," said Cypriot Defense Minister Demetris Eliades, who chaired the two-day informal meeting.

He added that the European Union is in favor of a political solution in Syria.

"Our priority is to prevent further loss of life and destruction, to restore a peaceful environment and deter a regional escalation of the crisis, especially in Lebanon, because such a development will lead to unpredictable consequences in the region," Eliades said.

However, Eliades conceded that the situation in Syria is tragic and the general feeling in the meeting was that no end of the crisis is in sight.