Posted by Joshua on Wednesday, February 18th, 2009
Assad urges US to rebuild diplomatic road to Damascus Interview by Ian Black, Guardian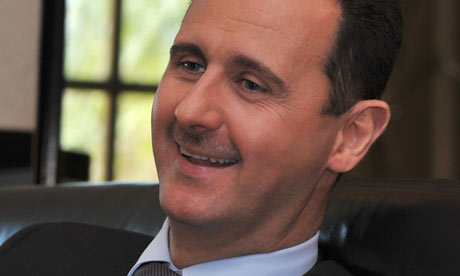 Syria expects the US to send an ambassador to Damascus soon to make good on Barack Obama's offer to engage in dialogue with countries the Bush administration shunned, President Bashar al-Assad told the Guardian today.

Assad used a rare newspaper interview to set out his hopes for a new relationship with the US now the Bush era is over – one he hopes will see Washington act as the "main arbiter" in the moribund Middle East peace process. "There is no substitute for the United States," Assad said.

Referring to Obama's call for countries to "unclench their fists" , Assad said he believed the new US president had been referring to Iran. "We never clenched our fist," he declared. "We still talked about peace even during the Israeli aggression in Gaza."….

An ambassador is important," Assad said. "Sending these delegations is important. This number of congressmen coming to Syria is a good gesture. It shows that this administration wants to see dialogue with Syria. What we have heard from them – Obama, Clinton and others – is positive." But he added: "We are still in the period of gestures and signals. There is nothing real yet."…

Underlining his hopes for a significant shift from Washington, the Syrian leader said he would welcome a visit to Damascus by General David Petraeus, the head of US central command, to discuss collaboration over Iraq and other issues. A planned visit by Petraeus was blocked by the Bush White House. "We would like to have dialogue with the US administration. We would like to see him [Petraeus] here in Syria," Assad said….

Assad also urged the US and Europe to engage with Iran and not to pin false hopes for change on this summer's presidential elections. "This is an Iranian issue," he said. "In Iran there is unity about the main national issues. Forget about the rhetoric. "I would say to Obama and the Europeans: 'Don't waste your time on this. Go and make dialogue.' The only way is to go for direct engagement."

Assad, who is also mending fences with Saudi Arabia, a longtime rival, said he backed a return to the format of the Madrid peace conference of 1991, when all Arab states agreed to negotiate a comprehensive peace with Israel. Yasser Arafat's launch of the Oslo process with Israel had been a mistake, he believed.

The Syrian leader made it clear he would not be pressured into making gestures. The US and Britain would like him to send an ambassador to Beirut after last year's historic establishment of diplomatic relations between Syria and Lebanon. But he warned: "We will not send an ambassador to Lebanon because Britain, France and the US want us to. This is a sovereign issue. We are not doing it for Europe or for anyone else."

Assad said he was unconcerned by the opening on 1 March of the UN tribunal investigating the Hariri assassination, which some observers feel was driven by a US political agenda and could become a significant barrier to the accelerating rapprochement with the west. Any request for the handover of Syrians to the tribunal would require Syria's agreement, he said.
Syria will run up its largest budget deficit in its history this year At 9.25 percent of GDP.
Syria Today
…The the budget deficit will balloon to SYP 266bn (some USD 5.32bn) over 2009, some 17.6 percent higher than the 2008 deficit and 168 percent more than that of 2007. At 9.25 percent of GDP, this is the largest deficit in the country's history in both absolute terms and as a percentage of GDP.

It is also a long way from the goal of the country's Tenth Five-Year Plan which stipulates that the budget deficit should not exceed 4 percent of GDP by 2010. The alarming rise in the budget deficit has led the government to roll out a range of measures, including controversial public spending cuts to reduce the amount of red ink on the books.
…..To return to normal bilateral relations, early, mid-course, and long term steps need to be taken.  I suggest three early and mid-term ones.
Reestablish trust.  Positive moves are badly needed, including official contacts and exchanges, as well as continued gestures by top officials in both capitals.  Syrian negativity should cease; the U.S. should make it very clear that it will not follow any of the previous Administration's policies aimed at regime change.  Both sides can join hands on the issue of 1.5 million Iraqi refugees now living in Syria, starting by acknowledging the hardships Syria is encountering and the fact that it is dealing with its new residents with compassion in the areas of housing, health care, and education.
Normalize the status of each nation's embassies in each other's capital city.  A new American ambassador should be nominated, approved by the Senate, and sent to Damascus by June 30th.
Publicly support and join in mediating a conclusion, with guarantees of troops and early warning systems, to the long-delayed, long-awaited Syria-Israel treaty of peace.  This international contract could dramatically change the dynamics of the region, recasting a new environment of peace and stability over the Levant, including with the Palestinians, if not further east.  It would also alter the nature of Syria's relationship with non-state actors such as Hamas, Hezbollah, and Islamic Jihad.
The most important long-term challenges:
Engage the two business communities, ending the Syria Accountability Act, helping Syria with its WTO application, and putting Syria on the road of economic growth, the same road that its neighbors Turkey, Lebanon, Israel, and Jordan are on.  Syria wants American trade and investments and foremost technology.
Engage Syria, engage Iran.  A U.S.-Syria rapprochement would provide America with a credible partner in future contact with Tehran.  Additionally, Iran's regional influence could be greatly curtailed by depriving it of unhindered access to Syrian resources.
It is time for days of warmth in a normal U.S.-Syrian relationship.
Syria and Iraq
USIP and Stimpson Inst. based on recent visit: Overview (Summary by FLC)
"…Throughout our extensive consultations with Syrian leaders, as well as interviews with foreign policy experts, diplomats and business people, it was clear that Iraq by itself is not a top concern. Syrians tend to view Iraq as one element in an integrated, comprehensive view of the entire region, including other crises (mainly Israel-Palestine and Lebanon) and their relations with other regional players (particularly the U.S.). Our discussions about Iraq inevitably covered these other subjects, particularly due to the war in Gaza, which was at its peak during the Study Mission. In keeping with this more integrated outlook, Syrians still tended to discuss Iraq in terms of U.S.-Syria relations.

Even specific questions about the Iraqi government tended to elicit responses about the U.S. Syrians still see Washington as the dominant player in Iraqi politics. They seem not to have fully absorbed the implications of the U.S. withdrawal commitments and the newly empowered Iraqi government. …This could indicate that they are skeptical about the degree to which the improvements in Iraq of the past two years are sustainable and about U.S. commitments to withdraw.

President Assad indicated his support for a phased withdrawal of U.S. forces accompanied by a conference of all political factions (excluding Al-Qaeda) in order to draft a new constitution. Many Syrians the group encountered appeared uninformed about certain recent developments in Iraqi politics. They described Iraq as cut off, even mysterious to outsiders, and not well integrated into the rest of the region. Nonetheless, Syria has begun to engage with Iraq. Syria has an ambassador in Baghdad and there have been high-level visits between the countries. One Syrian analyst read these moves as a signal to the Iraqi Sunnis — particularly the resistance — that the Iraqi government is legitimate and that they should take part in the political process. In general, however, Syria has relatively limited influence in Iraq, and almost no ability to project power and influence into Iraqi political, security or economic affairs, particularly when compared to Iraq's more powerful neighbors Turkey, Saudi Arabia and Iran—states that have the means and the capability to be more involved on the ground. Still, Syria is by no means unimportant. It exerts influence in indirect and less costly ways, for instance by playing host to both a range of Iraqi opposition figures and the largest and most diverse community of Iraqi refugees. President Assad emphasized that Syria's principal concern vis-à-vis Iraq are maintaining its territorial integrity. ……..They described relations with Iran as based more on common interests, as currently configured, rather than on ideology or a shared vision for the region.

The group encountered considerable curiosity about President Obama and a strong desire for improved relations with the U.S., even amidst the Gaza crisis. Specifically, it heard a great deal about common interests, whether in terms of stemming the spread of Islamist militancy and sectarianism, a stable and unified Iraq, or a comprehensive Arab- Israeli settlement. There was also much talk (and hope) that Syria and the U.S. could turn a new page with the new administration, the return of an American ambassador and the relaxation of sanctions. …Damascus remains cautious and watchful. In our conversations about Iraq, they made it clear that Damascus and Tehran do not see eye to- eye. Although not stated explicitly, the group detected an undercurrent of ambivalence about Syrian-Iranian ties, which remain grounded on interests and pragmatism, rather than a shared vision for the region.

Specific Issues

Iraq blowback:

The top concern expressed about Iraq was that assertive ethnic and sectarian identity and Islamist extremism could spill over from Iraq. Syrians were quick to blame the U.S. for unleashing these currents in Iraq and were emphatic in describing how this has worked against common U.S. and Syrian interests. Syrian officials claimed to deal "with Iraqis as Iraqis," while other powers in the region (whom they did not name but presumably meant Saudi Arabia and Iran) promoted the interests of Sunnis and Shia and thereby fueled sectarianism in Iraq and in the region.
Conversely, they lauded Turkey's efforts to deal with Kurdish militancy, and several analysts interviewed described the two countries' efforts on Kurdish issues as in sync. The regime believes that Kirkuk and its disputed status has the potential to spark a regional conflict and listed it among Syria's top concerns with regard to Iraq.

Lebanon.

Foreign fighters.

The movement of jihadi fighters across the Syria-Iraq border seems to have been reduced but not eliminated completely. It is likely the case that in the immediate, post-Saddam period, Syria actively facilitated the movement of jihadi fighters into Iraq, possibly calculating that it would keep the U.S. military tied down and engaged in a costly war. Promoting instability in Iraq and fanning the flames of Islamist militancy and sectarianism were always against long-term Syrian interests due to the risk of blowback. However, the regime likely calculated that these interests were worth sacrificing in the face of a hostile U.S. government they believed was intent on regime change in Syria.

As for the foreign fighter movement that continues, Syrian officials and analysts described security on the Iraqi border in terms of Syrian, rather than Iraqi, security. Syria faces its own internal threat from Islamist militants. Keeping these groups from harming the regime and disrupting internal stability takes precedence over keeping fighters out of Iraq. "You think of this as a border security issue," our group was told, "(we) think of it as a city security issue." In other words, it is easy to see why Syria might allow some movement across the border: either to keep these militants out of Syria, to maintain intelligence access to militant networks, or to avoid provoking a violent response bydenying passage.

Despite the Syrian regime's angry public response following the U.S. military operations in Syrian territory in October 2008, the issue was rarely brought up in our meetings. The group did hear complaints that the U.S. does not treat Syria as a partner in combating Islamist militancy—a clear mutual U.S.-Syrian interest, according to some interviewees—but rather sees Syria as merely "the bad guy." Pressed on the prospect of greater Iraqi-Syrian cooperation on the border, President Assad and others argued that there remained a serious capacity problem on the Iraqi side. (more on Syria & Saudi Arabia, here)
Signs Show Possible Thaw in US-Syrian Relations
By Edward Yeranian, VOA
Cairo, 17 February 2009
Professor Joshua Landis of the University of Oklahoma, who runs the well-known Syria Comment website thinks that there is an attitude of optimism in Damascus which reveals a sea-change in relations in recent weeks.

 "The Syrian attitude towards Obama's presidency is quite hopeful. They're hoping for the best and, of course, they're preparing for the worst, because Syria has had a lot of bad experiences with the United States and relations are always tough," said Landis. …..

 

Joshua Landis concurs with Paul Salem that Syria has made major strides towards accommodating some long-standing U.S. demands of Syria, recently, but the professor believes that the United States is still looking for more changes in Syrian policies that irritate Washington. "There are a number of important things that the U.S. wants from Syria. First of all, it wants Lebanese sovereignty and elections in Lebanon are coming up. So, Syria hasn't appointed its ambassador, yet. All this going on now is a bunch of confidence-building measures, because nobody trusts the other," he said.
"The Syrian attitude towards Obama's presidency is quite hopeful. They're hoping for the best and, of course, they're preparing for the worst, because Syria has had a lot of bad experiences with the United States and relations are always tough," said Landis. …..
……Mr. Assad says the word "peace" is linked to the word "land," which he says means returning the entire Golan Heights.

However, Paul Salem, who heads the Beirut-based Carnegie Center for Peace in the Middle East, thinks that a new hardline Israeli government could be a set-back for both peace in the Middle East and Syrian relations with the United States.

"There has been a lot of stock put in Israeli-Syrian peace talks and, before the Israeli election, a lot of the talk was waiting for that to be the cornerstone of U.S. engagement with Syria and with Israel," said Salem. "I think that the Israeli elections have dampened that aspect of the relationship and I think the U.S. now will have to look for ways to move forward with Syria, even if Israel is not ready to take a land-for-peace deal over the Golan."

Salem has no doubt that the new Obama administration wants to improve relations with Syria and he believes that Damascus has been shifting its policies, in recent months, to match U.S. expectations of it: "There is no doubt that the Obama administration wants to very much engage with Syria, wants Syria to further change its behavior, but very clear that the Obama Administration is interested in improving relations with Syria and wanting Syria to play a more positive role in the region," he said…..

Landis argues that Washington has sent mixed signals to Damascus and that President Obama has been non-committal in lifting the many Bush-era economic sanctions imposed on Damascus since 2004. He says Senator Kerry's visit and the sale of spare parts for two Syrian planes are being touted as exceptions, not the rule. Worst of all for Syria, he underlines, is the re-appointment of Treasury Undersecretary Stuart Levey, who he says is responsible for applying economic sanctions on Syria and other so-called "rogue states." He says that is being viewed in Damascus as a clear "shot across Syria's bow."
Syria's position strengthening internationally, regionally
Posted by Helena Cobban
February 16, 2009
Syria's place in the world community– which the ideologues in the Bush White House did so much to attack and delegitimize– has been strengthening noticeably in the past few days/weeks.

Later this week, Sen. John Kerry, the new chair of the Senate Foreign Relations Committee, will visit Syria. Ahead of the visit, he said the Obama administration is eager to talk to Syria. The US has not had an ambassador there since 2005, though it does have an embassy.

From a domestic US perspective, it is extremely important that this rapprochement win solid support in both houses of Congress, since under pressure from the pro-Israel lobby– as well as the Bush administration– Congress has itself been another major driver of the "isolate and attack Syria" campaign.

At a regional level, Syria has won some new influence, too. Yesterday, the head of Saudi Arabia's intelligence service, Prince Muqrin bin Abdul-Aziz, visited Syria where he met President Bashar al-Asad and conveyed from King Abdullah (his older half-brother), a message about "bilateral ties and the importance of consultation and coordination between the two sides", according to the Syrian official news agency….

Western spinmeisters and MSM have made a huge point about the depth and alleged intractability of the rift between the alleged "moderates" and "extremists" in the Arab world, a rift that seemed particularly evident during the most recent Gaza crisis.

But most western commentators often have little idea about the depth and complexity of the regional dynamics that continue to underlie regional– and in particular, inter-Arab– relations. I find it interesting that these two regimes, in particular, now apparently see it in their interest to move towards some degree of rapprochement.

The political fallout from the Gaza crisis continues. Egypt has been, I think, somewhat strengthened in its role in the region– as I wrote last week. But so, too, has Syria. So the whole regional system remains dynamic, and certainly not easily reducible to some form of a zero-sum "moderates versus extremists" template.
Mark Lynch at Foreign Policy, Arabs closing ranks
Arab reports suggest that Egyptian mediation is close to producing a Hamas-Fatah reconciliation (with a unity government to be chosen within 60 days) and a truce with Israel. Meanwhile, a high-level Saudi envoy (King Abdullah's head of intelligence Prince Muqrin) recently appeared in Damascus — followed by Arab League head Amr Moussa ….
Stephen Walt on the possible death of the two-state solution. Part 2 is here:
Also, Bernard Avishai's article on the tribes of Israel is not to be missed
But I do not think [President Bush] ever did or will change his view of the possibility of democratization, because it is based on his view of the individual. In other words, it is not fundamentally a political judgment; it is fundamentally a religious one: that is that individual rights are God-given, and that no state has the right to take them away. Therefore, individual rights have to be protected in every system. The only way to do that is through democratization, and ultimately all cultures will move toward that. As Bush used to put it: "You don't need to impose democracy; you need to impose dictatorship."

What he meant was that human rights are the natural desire. He has often been misunderstood to have said that this all has to take place within the next five years. In fact, he always said this is the work of generations. One question is whether it's the work of two generations or 10. Another is what do you do about the human rights abuses going on now – and what do you do about the people in those countries who are fighting for democracy now?

It cannot possibly be the position of the US to say, "Well, they're a bit too ambitious, this is premature; to hell with them; they may just have to spend their lives in jail."

That is why I think we have an obligation to keep calling for their liberation, and for the expansion of human and political rights in those countries.

While on that subject, the Washington-based Reform Party of Syria has said repeatedly that it would be terrible for the US and/or Israel to make a deal with President Bashar Assad, claiming that this would serve to jeopardize even further the condition of moderate Syrians. Doesn't this put democracies in a bind? Unable to make peace with the those elements within totalitarian societies who would welcome it, we are left to engage in deals with dictators. Isn't this a way of weakening any chance for peace or democracy?

Israel is in a very different situation from that of the US. Your margin of security is smaller. And you don't live between Canada and Mexico and two big oceans. So, while we can sort of experiment with Syria – and if we get it wrong, so we get it wrong – you, obviously, can't afford to get it wrong with a place like Syria.

It's really hard to envision a government worse than Assad's, for Israel or for the people of Syria. Indeed, if it had played any worse a role than it did with respect to Iraq, the US would have attacked it, I suppose. There is no reason in the world to think that the people of Syria wish to be governed by this tiny – and, in the eyes of many of them, no doubt – heretical minority, which is covered in blood, including Syrian blood.
"Al-Karamah Channel Voice for the Secular Syrian Opposition" (Quds Press Agency) – Mideastwire.com
On February 13, the Quds Press Agency reported: "A leadership source in the Damascus Declaration (opposition grouping) abroad has said that the Al-Karamah Satellite Channel, which is scheduled to begin broadcasting in March 2009, will be a media forum for what the source called "secular democratic opposition" in Syria. The channel will not speak for the Damascus Declaration and will not be a forum for the Muslim Brotherhood or the National Salvation Front. In an exclusive statement to Quds Press, Abd-al-Hamid al-Atasi, member of the committee of the Damascus Declaration, denied that the Al-Karamah Satellite Channel, which will be launched soon, is a Saudi or US product.

"He said that the channel is a forum for the secular democratic Syrian opposition and is not an official spokesman of the Damascus Declaration or the Justice and Construction Movement. The channel is a purely Syrian effort in terms of the idea and financial support. Neither the Kingdom of Saudi Arabia nor the United States has anything to do with it.

"Al-Atasi said that "sincere Syrian businessmen stand behind the channel, and had it not been for security circumstances, we would have announced their names." On whether he means by saying that the Al-Karamah Channel would be a forum for the opposition that it would not be open to the Muslim Brotherhood, he said: "The Al-Karamah Channel will not be a forum for the Muslim Brotherhood. Al-Karamah will defend the democratic voice inside the country, and the brotherhood is not a part of it. It will not be a voice for them. They always sing alone. They do not exist inside, and they are not members of the national council of the Damascus Declaration grouping."

"Al-Atasi added that the channel "will embrace the democratic Islamic trend inside the country. They include Ahmad Tu'mah, Ali al-Abdallah, Yusuf al-Najjar, and others. The channel will not be a forum for Abd-al-Halim Khaddam, former Syrian vice-president and a leader in the National Salvation Front. In brief, it is a forum for the democratic secular opposition in Syria."

"The Damascus Declaration website, which announced the launch of an Arabic version on its website on the Internet, said that the Al-Karamah Channel will be launched soon and that it will be "a free forum for the patriotic Syrian people who look for democracy," as the site said." – Quds Press Agency, United Kingdom
Rumyal wrote this weeks before the Israeli elections: "The upcoming Bibi term will be a rerun of the Shamir term from the late 80's. It will be characterized by a declared willingness to negotiated on the basis of allowing some form of self-determination for the Palestinians while at the same time deepening the settlement enterprise. Whomever thinks that the two-state solution is still possible will have new facts on the ground to contend with in 3-4 years from now. While there'll be a lot of suffering involved, mostly for Palestinians but also for Israelis, the bluntness of Bibi's and Liberman's ideology will hasten the realization in world view that the situation in Israel requires a treatment similar to that of SA."
Syria attracts Gulf retail investors as it opens up economy
Syrian budget deficit widens to US$5.32 billion in 2009
Aoun sees 'bright future' for ties with ex-foe Syria
Works underway for Turkey-Syria train line
TCDD chairman Erol Inan said trains on the Aleppo-Mersin and the Aleppo-Gaziantep routes would run twice a week, noting that train cars would be provided by the CFS.

Inan said they attached great importance to train transportation between Turkey and Syria.

CFS chairman Georges Mokabari said the train service on the two routes would enliven trade and tourism between the two countries.
February 2009
Syria and the West: Enough of the Small Talk
Words Sarah Birke
In case you missed it, Syria is back in from the cold. After being sidelined by the West for several years, the second half of 2008 saw a flurry of European officials visit Damascus, the headlining acts including French President Nicolas Sarkozy and British Foreign Minister David Miliband. On December 14, the long-delayed Association Agreement (AA) with the European Union was initialled. Its ratification will lock Syrian-EU relations into a robust regional framework and greatly increase the amount of EU funding to Syria.

Moves by Damascus to help pass the Doha Agreement on Lebanon, stimulate the peace process with Israel, establish an embassy in Beirut and broker a now-defunct ceasefire in Gaza all won Damascus much praise from European capitals. A change in the tenant at the White House has also generated much hope for a more constructive Syrian-US relationship. It is a remarkable adjustment in a remarkably short period of time. Even more so given that many of the points raised by Europe and America for downgrading ties with Damascus in the first place – the assassination of former Lebanese Prime Minister Rafik Hariri in February 2005 and Damascus' ties with the likes of Iran, Hezbollah and Hamas – still stand.

A new era?

So why have relations changed now? EU, British and French sources attribute their newly open arms to Syria's important role in calming many of the region's flashpoints…..
US-SYRIA: Signs of a Thaw, But Differences Run Deep (Feb 17, 2009)
By Ali Gharib,  (Inter Press Service)
"Obama is preparing for serious engagement with Syria," said Oklahoma University professor Joshua Landis, who also writes the popular Syria Comment blog. "Obviously, Syria is trying to come in from the cold, but it's not easy."…

"The Lebanese lobby [in the U.S.] is up in arms," Landis said about the potential thaw between Washington and Damascus. "Their stance is, 'Okay, engage Syria. But make sure you have a laundry list of demands, all having to do with Lebanese sovereignty.'"…

"There are people who say that [Netanyahu] doesn't mean what he says and that he's the best choice for making peace with Syria," said Landis. "He says he is happy to talk to Syrians, but not about land. And he says he is going to build settlement. …But Landis suggests the remote possibility that, just as Menachem Begin negotiated peace with Egypt by giving away the Sinai Peninsula, thereby deflecting criticism of the occupation of the West Bank, Netanyahu may be willing to cede the Golan to keep attention off Israel's internal Palestinian problems…..

"It raises the question of, 'Can you get anything done?'" said Landis. "How much capital can you spend on [Syria] when you need every farthing you have to spend at home?" "If Obama is going to carry out a revolution in the Middle East, God bless him. He's got a lot of revolutions to carry out," he added…