Wednesday, July 9th, 2008
Syria sees no Israel peace before Bush quits (Reuters)
PARIS: Syrian President Bashar al-Assad has told a newspaper his country is unlikely to make peace with Israel while U.S. President George W. Bush remains in office.

However, in an interview published on the website of Le Figaro daily on Monday, Assad said he was betting that the next U.S. leader would get more involved in the peace process.

Assad said Syria and Israel were looking for common ground to start face-to-face negotiations, adding that it was vital to find the right country to mediate such talks.

"The most important thing in direct negotiations is who sponsors them," Assad told Le Figaro, saying that the United States had an essential role to play.

"Frankly, we do not think that the current American administration is capable of making peace. It doesn't have either the will or the vision and it only has a few months left," he said.

"When we have established a common foundation (for negotiations) at indirect talks with Israel, perhaps we could give some trump cards to the new administration to make it get more involved," he added…….
ANALYSIS / Israel, Syria already have outline for direct talks Ha'aretz, Zvi Bar`el
Israel and Syria, via Turkish mediation, have already outlined an agenda for direct talks, if and when they occur. And a Turkish official involved in the negotiations told Haaretz that the time has now come for such talks.

"We expect the next discussions to be direct ones between Israeli and Syrian military officials regarding security arrangements and a buffer zone," the Turkish official said. "They can no longer be procedural discussions in which we serve as a 'mobile phone.' Now, direct talks are needed. It would be ridiculous for us to start shuttling maps from room to room. Talks might also begin, simultaneously or subsequently, on the meaning of normalization."

Asked when, and at what level, the next meeting will take place, he responded: "After the Mediterranean meeting we'll know more."

Will next week's summit of Mediterranean leaders in France give the signal for direct talks by providing an opportunity for a public handshake between Prime Minister Ehud Olmert and Syrian President Bashar Assad? In an interview with Le Figaro this week, Assad was evasive. He said that American involvement is necessary for direct talks, and this is inconceivable as long as George W. Bush remains president. But at the same time, he said that if French President Nicolas Sarkozy demonstrates enthusiasm for Israeli-Syrian negotiations, Assad will be happy to involve him.

The main fear now is that after Israeli and Syrian representatives have agreed on an agenda in Turkey, the long waiting period until a new American administration is sworn in may halt the momentum that has been created. Syria, which is interested in moving forward with the talks as long as Israel has a premier who is also interested in talking, might view active involvement by Sarkozy as a suitable interim solution. If that is indeed what Assad decides, it is reasonable to assume that he will not refrain from meeting Olmert at the summit, and will thereby set the next steps in motion.

Syria has recently seen its diplomatic status in the region rise due to its involvement in the Doha summit, which produced the breakthrough that is soon expected to result in a new Lebanese government. It is now seeking to use its influence to effect a reconciliation between Fatah and Hamas. In short, Damascus aspires to paint itself as at least as important as Egypt and Saudi Arabia in resolving regional problems. The Syrians recognize the weakness of Israel's current government, but their assessment is that by talking with Israel now, they could at least obtain an agreed outline of a peace treaty, even if its implementation would have to wait for another Israeli government. Such an agreement in principle would give the next American administration a reason to change its policy toward Syria and end sanctions against it.

For Paris to step into Washington's shoes as an Israeli-Syrian mediator, Assad must first pay his dues in Lebanon. France expects that after the new Lebanese government is established – possibly by the end of this week – Assad will announce the opening of a Syrian embassy in Lebanon, ending Syria's long-standing refusal to recognize Lebanon as an independent country. …..
FROM THE ECONOMIST INTELLIGENCE UNIT: OUTLOOK FOR 2008-09
POLICY TRENDS: An economic debate continues between the government's more fiscally prudent elements, led by the deputy prime minister for economic affairs, Abdullah al-Dardari, and those factions that are concerned about the impact of rising prices on disposable incomes. Reductions in fuel subsidies, implemented in early May 2008, have not resolved this debate, because increased world oil prices and a 25% rise in public-sector salaries have offset the fiscal benefits. Furthermore, the introduction of a value-added tax, while finally agreed, has been delayed until 2009. In 2009 the policy debate will increasingly focus on the need to diversify the economy away from oil and encourage investment.

INTERNATIONAL ASSUMPTIONS: World GDP growth is expected to average 3.8% in 2008-09 (at purchasing power parity exchange rates), down from an estimated 4.9% in 2007, largely as a result of a sharp slowdown in the US economy in 2008. We have further revised up our oil price projections, asbuoyant demand in emerging markets will offset the projected slowdown in the OECD. We now forecast that the price of the benchmark dated Brent Blend will average around US$115/barrel over the outlook period.

ECONOMIC GROWTH: Although Syria maintains that growth in 2007 was 6.5%, we estimate it at 4.3%, because investment growth and exports were not as strong as previously thought; the IMF is even more downbeat, estimating 3.9%. We expect the Syrian economy to slow further to an annual average of 3.9% over the outlook period, largely owing to falling oil output. The agricultural sector is also expected to remain depressed this year, after another poor harvest. These negative trends will be only partly offset by continued expansion in the services sector, boosted by solid growth in tourism and demand for goods and services, in part from the large Iraqi refugee population.

INFLATION: We expect inflation to continue to rise in 2008–to an average of around 16.8%–owing to significant reductions in fuel subsidies in March and May and to a 25% increase in government salaries and pensions. However, it is possible that the shock caused by these sudden changes could drive inflation even higher than our current forecast. In 2009 flat oil prices and a slight easing in non-oil commodity prices will help to bring down inflation, to around 10.2%, and any significant return of Iraqi nationals to their homeland could lower it even further by reducing demand pressures. We estimate that annual average inflation in 2007 was at least 12.2%, even though the official consumer price index data currently shows flat prices for the first three quarters of 2007 (full-year data are not yet available).

EXCHANGE RATES: A new exchange-rate regime–a peg to a basket of currencies based on the IMF's special drawing rights–has been in place since October 2007, resulting in a marked appreciation of the pound against the dollar. Despite the change, however, the authorities are expected to keep close control of the currency, placing a high priority on exchange-rate stability. The dominant position of the state-owned banks and the Central Bank's control over foreign-currency transactions (even as some laws are relaxed) mean that the regime is well placed to protect the value of the pound. As a result, we forecast that the pound will appreciate further against the weak dollar in 2008 to an average of SP46.4:US$1. Next year, however, we expect the rate to be fairly stable.

EXTERNAL SECTOR: We expect Syria's merchandise export earnings to rise in 2008, owing to the increase in oil prices, which will temporarily offset the negative impact of falling oil production and reduced wheat exports owing to a poor harvest. However, by 2009 oil prices will be working against Syria, which we estimate will be importing around US$4m worth of oil a day, net. Non-oil exports are continuing to benefit from strong regional demand and the relaxation of foreign-exchange controls, which has led to more exports being officially recorded. Import spending growth will remain strong over the outlook period, partly because of the ongoing process of tariff liberalisation, but also because of healthy demand for capital goods related to some large infrastructure and construction projects. With all these factors taken together, the trade account surplus will narrow over the outlook period from about US$1.5bn (2.7% of GDP) in 2008 to US$146m next year.
SYRIA COUNTRY BRIEFING FROM THE ECONOMIST INTELLIGENCE UNIT
Syria maintains that growth in 2007 was 6.5%, the Economist Intelligence Unit however, estimates it at 4.3%, because investment growth and exports were not as strong as previously thought; the IMF is even more downbeat, estimating 3.9%. We expect the Syrian economy to slow further to an annual average of 3.9% over 2008-09, largely owing to falling oil output.

The agricultural sector is also expected to remain depressed in 2008, after another poor harvest. These negative trends will be only partly offset by continued expansion in the services sector, boosted by solid growth in tourism and demand for goods and services, in part from the large Iraqi refugee population.

Growth in private consumption is likely to weaken in 2008-09, not only because of lower disposable incomes (owing to cuts in fuel subsidies and higher inflation), but also because the impact of the influx of Iraqi refugees on consumption levels will start to wane as many run down their savings, some return and visa restrictions limit the number of new arrivals. We expect that investment will continue to expand steadily, provided that there is no deterioration in the regional political environment.

Syria will continue to attract investment from the Gulf Arab countries, Russia and Iran. Import growth will also remain relatively strong in 2008-09, averaging 4.5% a year, reflecting the steady expansion in domestic demand and non-oil exports (many of which use imported inputs). Despite healthy growth in non-oil exports, the ongoing decline in oil production and thus oil export volumes will prevent the export sector from making a positive contribution to growth.
Palestinian president calls for national dialogue, leaves Syria … International Herald Tribune
Watfa al-Ghanem shows her identification card, which states that she was born in 1880, in her home in the village of Al-Sheirat in the Syrian city of Homs February 29, 2008. Al-Ghanem, 128, who has been married once and has four children, said that she has farmed for more than 100 years. REUTERS/Khaled al-Hariri (SYRIA)
Small Wars Journal The Syria Card
A wave of Islamic insurers gears up to woo Syrians, By Julien Barnes-Dacey: As the secular government eases its firm control over society, Islamic firms are increasingly cropping up…..
Haaretz– Gideon Levy: Israel prefers bombing Iran to peace with Arab world The dread of the implications of an attack on Iran may be exaggerated. We might succeed again. And what if we do not? But then again, what if we do?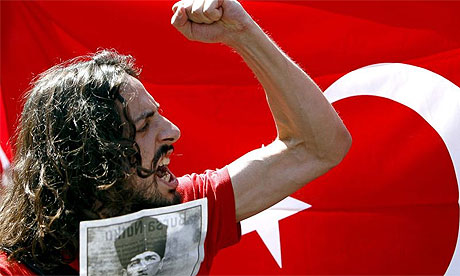 The Observer Turkish coup plot awakens fear of violent nationalism Evidence of conspiracy to overthrow pro-Western Islamist government lays bare resentment of country's secular elite….
The following helpful overviews of this week's press debates comes from the POMED Wire, or Project on Middle East Democracy.
Or an Israeli Attack? This week, after an anonymous Pentagon officialwarned that Israel may carry out an attack on Iran's nuclear facilities, the questionlooming over Washington is if and when an attack my take place and whether the U.S. would support such action. Although the State Department and some in Israel dismissed the claim, debate continued, outlining the likely consequences of an Iranian retaliation, for the United States, Iraq, and Iran itself. Many see America's options as limited andadamantly argued that diplomatic talks with Iran and Syria could improve the situation.
Democracy Promotion and Radical Islam: In examining efforts to promote democracy in the region, some argued that success may depend on cultural prerequisites and international support. Many argued that good governance weakens public support for terrorists in the region, while oppressive authoritarian regimes lead to radicalization of the local population
Syria's Aleppo Has 11 Projects Worth $109 Million, SANA Says
2008-07-07
By Massoud A. Derhally
July 7 (Bloomberg) — Syria's northern city of Aleppo has about 11 projects underway valued at 5 billion Syrian pounds ($109 million), the government-run SANA news agency reported, citing the region's investment authority. The projects are industrial, transport and tourism related and will create 426 jobs, the news service reported.