Posted by Joshua on Thursday, December 3rd, 2009
An explosion on a bus in Damascus sets off wild speculation.
Notice how the slight difference in photos used to compliment both the following stories helps substantiate two very different conclusions — one that the explosion was an accident that occurred in the empty bus while it was in the station undergoing repairs, the other that it was a terrorist attack possibly planned by Sunni (al-Qaida'esque) extremists out to kill Shiites and stir the sectarian pot in Syria. Also notice how the talented Chris Philips of the Guardian is able to work this last conclusion into a political message for president Assad, suggesting that because authoritarian surveillance has failed to stanch terror, the president should adopt Western logic to conclude that the full tonic of democracy and freedom will restor stability and quite to Syria.
SYRIA: Damascus explosion an accident, authorities say
December 3, 2009 |  LA Times
Observers are puzzled by a mysterious explosion aboard a bus in Damascus.The state-run Syrian Arab News Agency is reporting that an explosion that killed three people including a bus driver and two mechanics occurred when the bus' tire burst, releasing a "strong wave of pressure."

Footage from the accident aired on television showed the bus engulfed in flames.

The agency quoted Interior Minister Said Sammour as saying the bus was empty at the time of the explosion, undergoing repairs,  and that there was no evidence of terrorism.

But the story took a few twists and turns through the day.

Though Tehran and Damascus are allies, some of Syria's Sunni Islamic fundamentalists say Iranian Shiites are preaching on their turf.
Early media reports said dozens of casualties had occurred in a bus explosion at a gas station near the Sayeda Zainab mosque, a popular Shiite Muslin pilgrimage site just south of Damascus that draws tens of thousands of Iranians.

Right after the blast, the Arab news channnel Al-Arabiya carried the headline, "Explosion targeted Iranian pilgrims."

The Al-Jazeera network reported that "scores" of people had been injured.

And Press TV, Iran's state-controlled English-language television channel, said on its website that Iranians had been killed in the blast, before taking  the story down.

Last year, 17 people died as a bomb exploded on the road leading to the shrine. The bombing was blamed on Sunni militants.
Al-Jazeera points out that the explosion coincided with a meeting between Syrian President Bashar Assad and  Saeed Jalili, the secretary of Iran's Supreme National Security Council and the country's top nuclear negotiator.
— Los Angeles Times
Explosion shakes Syrian security
By Chris Philips, guardian.co.uk, Thursday 3 December 2009 13
A bus blast that killed three may allow Damascus to crack down, but it calls into question the effectiveness of its rule by force
Syrian bus bomb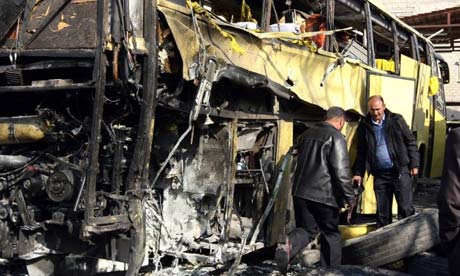 It is not clear what caused the bus blast that killed three people in southern Damascus. Photograph: AFP/Getty Images
The explosion that ripped through a bus of Iranian pilgrims in Damascus, killing at least three people, will send shock waves through Syria. Until recently Syrians were used to seeing such blasts on their television screens rather than on the streets of their own cities, which they considered a rare stable point in the Middle East.

The explosion will remind Syrians of a bomb attack last September and the assassination of Imad Mughniyah in 2008. All of this adds to a growing sense that Damascus is no longer immune from the carnage regularly seen in neighbouring Iraq and Lebanon.

Though the circumstances around the latest blast remain unclear, with officials describing this as an accident caused by a burst tyre and one report claiming it was caused by a gas canister in a passenger's luggage, fingers on the street will automatically point to militant Sunni Islamist groups. Syria's Shia population is small, barely 13%, most of whom are not very religious Alawis, yet it was in one of Damascus's few Shia regions, near the Sayyeda Zeinab shrine, where the explosion took place. As with last year's bomb in the same region, the presumed suspects will be al-Qaida-inspired groups trying to stir up fitna (discord) between Syria's Sunni and Shia communities. The fact that it was Iranian pilgrims that were killed supports the idea that Sunni militants are responsible – possibly an attempt to send a message against the Syria-Iran alliance at a time when Saeed Jalili, Iran's chief nuclear negotiator, was in Damascus for talks.

Yet the timing for the attack is strange, as it does not reflect Syria's recent successes in international relations. The 2008 bomb attacks were widely suspected to have ties to either Saudi Arabia or Saad Hariri's Future Movement in Lebanon at a time when the Syrian president, Bashar al-Assad, had strained relations with both. However, following a detente with Riyadh which culminated in Saudi Arabia's King Abdullah visiting Damascus recently, and the formation of a new Lebanese government including pro-Syrian elements, which many expect will lead to Hariri himself visiting Assad's capital, the motives for an external backer of Islamist militants have decreased.

It seems most likely then that these militants will be locally based, operating independently of former external supporters. This would be supported by the seemingly low-tech nature of the attack. There is an element of karma here, given that the Syrian government previously facilitated many such groups in their passage to fight the insurgency in Iraq. Damascus may now find it has opened a Pandora's box of Islamist militants who question either Sunni Syria's alliance with Shia Iran, or its attempted rapprochement with the west, or both.

In spite of the destruction, however, the Ba'ath regime can actually use explosions such as this to its advantage in the short term. It can portray itself as a fellow victim of al-Qaida-type terrorism to western powers in its attempts to continue an international rehabilitation. At the same time, it can use the threat of future attacks to justify its tight grip on its own population, boosting a security presence and further stifling opposition.

In the long term, however, the regime has a developing problem. Whether this explosion proves to be a terror attack or not, the perception that its iron-fisted approach to governing can protect Syria's civilians from the carnage of its neighbours is being challenged. Internal militant groups do exist, and are willing to strike. Three explosions, alongside Israel's raid on a suspected nuclear facility in 2007 and the US attack over the eastern border from Iraq in late 2008 openly question the Ba'ath regime's claim to provide "autocratic stability".

Given that the traditional rule by force is proving unable to adapt to this new climate, perhaps Assad should look into gradually developing more of a rule by consensus.
Syria angry over inaction on Israel
Dec. 2, 2009
DAMASCUS, Syria, Dec. 2 (UPI) — Syrian Foreign Minister Walid al-Moallem criticized the U.N. Security Council for not doing enough to end Israeli settlement activity.
The minister in a letter to a U.N. committee on Palestinian issues complained Israeli violations were nearly a daily occurrence, the official Syrian Arab News Agency reports.

Moallem criticized the international community for its inability to curb what he described as flagrant violations of international law.

His comments were echoed by Turkish President Abdullah Gul, who told the Jordanian al-Rai newspaper that Ankara would not stand for Israel's current course of actions.

"We must solve our regional problems without resorting to major powers outside the Middle East," he added, noting regional problems require regional solutions.

Moellem added that Damascus felt there was a solution to regional problems in various peace summits sponsored by Middle East states and U.N. resolutions, particularly Resolution 497 that says Israeli claims to the Golan Heights region are invalid.
Mistral Warship Offer Symbolizes New Franco-Russian Strategic Partnership
Jamestown Foundation by Vladimir Socor
….The French government wants to sell one or, better, several vessels of this class to Russia for billions of dollars, generating jobs at ailing French shipyards, and for drawing Russia into an as yet ill-defined "common security space," which would bypass NATO and the EU and potentially override their common policies (EDM, September 18, November 2)….. French officials are now also starting to speak about a Franco-Russian "modernization partnership." This seems designed for France to emulate Germany's officially declared "modernization partnership" with Russia and to catch up with Germany in Russia's estimation at least politically, if not in overall capability. During Putin's visit, French energy companies announced intentions to join Gazprom's Nord Stream and South Stream projects. For its part, Renault is prepared to rescue Russia's insolvent automobile producer AvtoVaz

Israel decries proposed E.U. stance on East Jerusalem
JERUSALEM — Israel on Tuesday criticized a proposed statement by the European Union recognizing East Jerusalem as the capital of a future Palestinian state — part of the country's growing resistance to efforts to pressure it into reaching a peace deal with the Palestinians in the absence of dir…
EU envoys: Israel trying to sever East Jerusalem from West Bank
By Barak Ravid
HAARETZ, 02/12/20
A classified report drafted by European consuls in East Jerusalem and Ramallah slams Israeli policy in East Jerusalem and recommends that the European Union take steps to strengthen the Palestinian Authority's status in the city. It also advises taking various measures to protest Israeli policy in the city, as well as sanctions against people and groups involved in "settlement activity" in and around it.

The report, a copy of which was obtained by Haaretz, is updated annually by EU representatives to the PA. This year's report was completed on November 23 and presented to EU institutions in Brussels a few days ago.

Due to the sensitivity of the document, the EU has never before published it, and in previous years Israel pressed the EU hard not to do so, for fear the publication would further undermine the European public's already negative view of Israel.

Senior Foreign Ministry officials said this year's report "left a harsh impression" in Brussels and helped Sweden promote its plan to have the EU formally recognize East Jerusalem as the capital of a Palestinian state.
Israel stripped thousands of Jerusalem Arabs of residency in 2008
By Nir Hasson
HAARETZ, 02/12/2009
Last year set an all-time record for the number of Arab residents of East Jerusalem who were stripped of residency rights by the Interior Ministry. Altogether, the ministry revoked the residency of 4,577 East Jerusalemites in 2008 – 21 times the average of the previous 40 years.

In the first 40 years of Israeli rule over East Jerusalem combined, from 1967 to 2007, the ministry deprived only 8,558 Arabs of their residency rights – less than double the number who lost their permits last year alone. Thus of all the East Jerusalem Arabs who have lost their residency rights since 1967, about 35 percent did so in 2008.

According to the ministry, last year's sharp increase stemmed from its decision to investigate the legal status of thousands of East Jerusalem residents in March and April, 2008. The probe was the brainchild of former interior minister Meir Sheetrit (Kadima) and Yaakov Ganot, who headed the ministry's Population Administration.

The ministry said the probe uncovered thousands of people listed as East Jerusalem residents but were no longer living in Israel, and were therefore stripped of their residency. Most of those who lost their residency for this reason did not just move from Jerusalem to the West Bank, but were actually living in other countries, the ministry's data shows.

Those deprived of their residency included 99 minors under the age of 18.

Attorney Yotam Ben-Hillel of Hamoked: Center for the Defense of the Individual said the 250,000 Arab residents of East Jerusalem have the same legal status as people who immigrated to Israel legally but are not entitled to citizenship under the Law of Return.

"They are treated as if they were immigrants to Israel, despite the fact that it is Israel that came to them in 1967," he said.

A resident, unlike a citizen, can be stripped of his status relatively easily. All he has to do is leave the country for seven years or obtain citizenship, permanent residency or some other form of legal status in another country, and he loses his Israeli residency automatically.
Once a Palestinian has lost his residency, even returning to Jerusalem for a family visit can be impossible, Ben-Hillel said. Moreover, he said, some of those whose residency Israel revoked may not have legal status in any other country, meaning they have been made stateless.

"The list may include students who went for a few years to study in another country, and can now no longer return to their homes," he said.
Sami Moubayed writes:
Dear AUB Alumni and friends,

I am pleased to announce that the Damascus Chapter of the AUB Alumni Association will be holding its Annual Dinner on December 10, 2009 at Khan As'ad Pasha in the heart of the Old City. The event starts at 8:30 and will be attended by AUB President Peter F. Dorman, his first official trip to Damascus since becoming head of AUB in March 2008.

Tickets will be available on sale as of tomorrow at the following: Guess Store (Malki) or through Ms Rama Tarabishy (0988-811-112, email: rama.tarabishi@transtek.com) Ticket price: 2,500 SP. All proceeds will go to the Syrian Students Scholarship at AUB.
"… the truth about Prince may be orders of magnitude stranger than fiction. For the past six years, he appears to have led an astonishing double life. Publicly, he has served as Blackwater's C.E.O. and chairman. Privately, and secretly, he has been doing the C.I.A.'s bidding, helping to craft, fund, and execute operations ranging from inserting personnel into "denied areas"—places U.S. intelligence has trouble penetrating—to assembling hit teams targeting al-Qaeda members and their allies. Prince, according to sources with knowledge of his activities, has been working as a C.I.A. asset: in a word, as a spy. While his company was busy gleaning more than $1.5 billion in government contracts between 2001 and 2009—by acting, among other things, as an overseas Praetorian guard for C.I.A. and State Department officials—Prince became a Mr. Fix-It in the war on terror. His access to paramilitary forces, weapons, and aircraft, and his indefatigable ambition—the very attributes that have galvanized his critics—also made him extremely valuable, some say, to U.S. intelligence…."
(Continue, here)
Syrian government reacts angrily to National Geographic article
18 november, 2009
The Syrian government has reacted angrily to an article published in the National Geographic magazine, calling it 'condescending and inaccurate'.
The National Geographic magazine
The National Geographic has defended its article on Syria

The article, written by correspondent Don Belt, described Syria as "a place where you can dine out with friends at a trendy café, and then, while waiting for a night bus, hear blood-chilling screams coming from a second-floor window of the Bab Touma police station".

The article deeply offended Syria's government, and the Syrian ambassador to the US issued a point-by-point rebuttal.

Mr Belt argues that the article is an accurate account of life in Syria and the perception of those who live there.

World Update's Dan Damon brought together Don Belt and Ahmed Salkini, spokesman for the Syrian Embassy in Washington.