Posted by Joshua on Sunday, August 26th, 2012
Assad forces accused of massacre in Damascus suburb – aljazeera
"The Assad forces killed them in cold blood," said Abu Ahmad, 40, a resident of Daraya, where the Syrian government has waged a campaign it described as a "cleansing." "I saw dozens of dead people, killed by the knives at the end of Kalashnikovs, or by gunfire. The regime finished off whole families, a father, mother and their children. They just killed them without any pretext."…..more than 200 bodies had been found in the town, activists said another 15 bodies were discovered in the basement of a home in the area. That put the death toll for the week at more than 630 in the city, said the Local Coordination Committees, including 300 people reported executed….

When the government assault started activists said that rebels had established a large armory inside the city. They said it had been rumored to be holding missiles — a detail that could not be confirmed — perhaps to target helicopters at the Meze airport.

The government operation began early last week. Troops first surrounded Daraya and set up checkpoints, blocking food and other supplies from entering, residents said. The electricity was cut, then the Internet and phone service.

Shelling — intense and relentless — started midweek and that was followed by hundreds of Syrian soldiers entering the town, backed by tanks and pickup trucks with mounted machine guns. Residents reported that the soldiers and government militiamen known as shabiha initially faced strong resistance from the Free Syrian Army. But by late Friday or early Saturday, they said the Syrian military seemed to be in control of most of Daraya.

House-to-house searches accelerated. People were not allowed to leave….

"I will not forget my son, and I swear that I will raise his 3-year-old son to take revenge for his father from those Alawite shabiha and soldiers who kill our husband and sons," she said. "We will not forget the Assad massacres and crimes."…

"We don't consider the Assad army to be the army of a nation, we seem them as gangs of robbers who kill, steal and rape," said Abu Mohammed, 50, a resident helping with the burials. "No national army commits acts like these except the dogs of Assad."
Massacre accusations have been leveled at Syrian government forces by opposition watchdog groups after a fierce offensive to retake a Damascus suburb. But with no independent observers on the ground it remains unclear what exactly happened in Daraya.

A gruesome video has emerged showing a man navigating a sea of bodies in what he says is a mosque complex in Daraya, a working class Sunni Muslim town of 200,000 located southwest of Damascus. Amid repeated calls of Allahu Akbar, the individual filming the scene proclaims there are "more than 150 martyrs in this mosque in Daraya so far."

Blood is conspicuously absent in the dimly-lit room, as the bodies were evidently moved to the Abu Auleiman al-Darani mosque post mortem.

Anti-government activists claim many of the corpses bore the marks of sniper fire, while others had been shot "execution-style" in house-to-house raids.

The video's authenticity could not be independently verified, and the details of just what happened during the five-day offensive in Daraya remain sketchy at best….
Syria's rebels: More than they can chew
Following an audacious offensive, the rebels are struggling to survive the regime's counterattack
Aug 25th 2012 | ANTAKYA AND IDLEB |Economist
the rebels are failing to win hearts and minds among the urban middle class in Aleppo. The same was true of the failed attempt to take the capital, Damascus, in July. …..

Meanwhile, the political opposition is as divided as ever. Much to its dismay, America's secretary of state, Hillary Clinton snubbed the Syrian National Council, a group of exiles, during her recent visit to Turkey. The group is "on the verge of irrelevance", says a Western diplomat…..

Take the Tawhid (Unity) Brigade that is leading the assault on Aleppo. It is the biggest and best organised opposition force in Syria. Although formed on July 18th it still lacks a unified command. Its men manage to draw up a rota for front-line duty and joint operations.

Most fighting forces are less organised. Bassel Shahoud, a calm, thoughtful commander of just 80 men in Sarmeen, a small town in the north-western province of Idleb, says it is easier to command that way—and adds that many want to lead. With four groups in Sarmeen alone, he reckons there could be as many as 2,000 groups across the country. Some, such as fighters in Hama, Syria's fourth city, are not plugged into national networks….

The Idleb Military Council is one of nine or so provincial military councils that were set up late last year by defectors to oversee the fighting groups that are staffed mainly by volunteers. But this is far from a unified force. "There was a lot of hope these councils would create a nationwide military, but we haven't seen that," says Asher Berman at the Washington-based Institute for the Study of War.

Competition for resources and personal feuds have already led some groups to fall out. The two main rebel forces in the Homs area, the Khaled Ibn Walid Brigade and Farouq, both work out of the rebellious town of Rastan, but their leaders are at loggerheads. ….
Syria: the myth of partition
Salam Al-Kawakibi , 25 August 2012, Open Democracy
…it seems that some western experts who are searching for excitement, are now leaning towards discussing the possibility of an "Alawite" state being set up on the Syrian coast, based on "advanced agriculture, modern infrastructure, and ports," claiming that the Syrian regime has developed these sectors in anticipation of such a scenario. …
Britain and US plan a Syrian revolution from an innocuous office block in Istanbul
An underground network of Syrian opposition activists is receiving training and supplies of vital equipment from a combined American and British effort to forge an effective alternative to the Damascus regime.
By Damien McElroy, Istanbul
26 Aug 2012
Dozens of dissidents have been ferried out of Syria to be vetted for foreign backing. Recipients of the aid are given satellite communications and computers so that they can act as a local "hub" linking local activists and the outside world.

The training takes place in an Istanbul district where handsome apartment blocks line the steep slopes and rooftop terraces boast views over the Golden Horn waterway.

Behind closed doors the distractions of outdoor coffee shops and clothing boutiques gives way to power point displays charting the mayhem sweeping Syria.

"We are not 'king-making' in Syria. The UK and the US are moving cautiously to help what has been developing within Syria to improve the capabilities of the opposition," said Alistair Harris, a British political consultant overseeing the programme. "What's going to come next? Who is going to control territory across Syria. We want to give civilians the skills to assert leadership."

Once up and running dissidents can expect help to deal with local shortages and troubleshooting advice from sympathisers….

But the activists also face two days of vetting designed to ensure that the programme does not fall into the trap of promoting sectarian agendas or the rise of al-Qaeda-style fundamentalists…..

Jon Wilks, the Foreign Office diplomat who serves as envoy to the Syrian opposition, told the Arabic newspaper al Sharq al Aswat last week that Britain was already working to lay the foundations of democracy in a post-Assad Syria…..

The scheme has, however, infuriated the exiled opposition body, the Syrian National Council. Its failure to provide a united and coherent front against the regime has led some western officials to brief privately that foreign governments were shifting support beyond the exiled body.

But in a barely furnished office in a tower block near Istanbul airport an SNC official decried the false promises of its allies. "We've heard a lot of promises from the very beginning of the SNC but none of those have been fulfilled," the SNC official said. "This has reflected absolutely negatively on our work. The opposition of Syria wants the world to provide humanitarian aid for the people in need and the Free Syria Army wants intervention to stop planes bombing their positions.

"Instead they go around behind our back undermining our role."…
A Critique of Joshua Landis
By The Global Perambulator
July 31, 2012
This is a response to a recent talk on C-SPAN by professor Joshua Landis of Oklahoma University…..

Rights of Women

One important issue that was missing from his talk (and is missing in almost all discussions on Syria) is the threat to the rights of women if the Assad regime falls. This is no small issue….

Christians, Kurds and Minorities

In the question and answer period after Mr. Landis' you will note that there is a Syrian Christian man asking a question about the rights and status of Christians in Syria after a Sunni extremist takeover of the country. He is very concerned about this issue and he has good reason to be. Since the beginning of the so-called 'revolution' there have been many incidents of rebels killing Christians and bombing churches all over Syria. The chant of the fighters has been: "The Alawite and Christians to Beirut!" The intentions can't be made any clearer. Nobody will be safe in Syria after Assad except orthodox Sunni Muslims. Mr. Landis made this very clear to the Christian man when he said that the solution for Turkey was ethnic cleansing. The reason there is no problem in Turkey with Christians is because there are no more Christians. They used to be 20% of the population. …All that is left of Christianity in Turkey are ancient Christian sites that are advertised to attract tourists to the country. Istanbul, which is still the seat of the Eastern Orthodox Church, barely tolerates what is left of the Christian community there. The Church has virtually no sovereignty and is at the mercy of the government and its flock has dwindled to almost nothing, when compared to its vibrant past.

If ethnic cleansing and forced conversion has been Turkey's solution for diversity, take a look at the other country that is supplying weapons and Islamist fighters to topple Assad: Saudi Arabia. There is no country in the world that as intolerant and anti-democratic as Saudi Arabia….

"Non-Lethal" Support

Hillary Clinton regularly acknowledges that the United States is providing 'non-lethal' support to the rebels. There is no such thing as 'non-lethal' support. The U.S. claims to be supplying material logistical support and training. That is lethal support. They are training people to kill other people and giving them the logistical means to do so. But to claim that the Americans limit themselves to these forms of support is disingenuous. Turkey and Saudi Arabia are two very close allies of the U.S. Saudi is America's biggest customer in weapons and military hardware. The Turkish military is trained and armed by America. The weapons come from America, go to Turkey and Saudi and end up in the hands of militant Islamic fighters in Syria. This is not an attempt to make a connection between America and weapons on the ground in Syria. This is the actual flow-chart of weapons from origin to destination: From America to Syria.

Geo-Political Agendas

It is in this area where Mr. Landis must seriously be taken to task. When he spoke about his shock when dealing with the Chinese about geo-political concerns in the region, one must wonder what planet he is living on. He claimed that America was helping the 'good guys' and China was helping the 'bad guys'.* One needs to merely look at the public record on the history of the region and the world to find where Washington's sympathies lie. The best place to access this history is William Blum's website: Killing Hope: US Military and CIA Interventions Since World War II.

If we focus on the Middle East we can find an atrocious record of war, sabotage, coup d'etats, mass-murder, assassinations and the creation of failed states as a result of American foreign policy of global hegemony.

America claims to promote democracy….

When Mr. Landis goes abroad representing the U.S. government and supporting its policies, let us remember what agenda he is pushing forward. In General Wesley Clark's 2003 book Winning Modern Wars he wrote that in November 2001 he had visited the Pentagon and was completely stunned when he came across a list of countries that were to have their governments overthrown by the United States. That list included: Iraq, Iran, Syria, Libya, Sudan and Somalia.

So when you turn on the evening news and see the chaos, killing and destruction, you will now understand what a work in progress looks like.
Robert Fisk: The bloody truth about Syria's uncivil war
Those trying to topple Assad have surprised the army with their firepower and brutal tactics
By Jean Fleury, General, former Chief of Staff of the French Air Force
LE MONDE | 23.08.2012
….But for aviation to destroy tanks or artillery threatening civilians, it must have the prior control of the sky, that is to say, knocked out air and ground batteries as well as enemy fighter planes.

In the case of Libya, it was not too difficult because the dictator's Air Force had little operational and terrestrial means of defense and his airplanes were quickly destroyed.

For Syria, the song is not the same. Its Air force totals approximately 500 combat aircrafts, more than twice ours although some of them only are modern, yet the number and quality of a training directed to a possible war against Israel are a serious contender. We are not big enough to cope.

In June, when the Turks wanted to test the Syrian air defense (for any expert, this is evident in the review of published trajectories), the reaction was not long in coming, and the airplane was shot down. To overcome Bashar al-Assad today's aviation, the whole American war machine must be used as well as the airports of Greece and Cyprus, or the Middle East. For Libya, it is our airforce who led the first raid of liberation of Benghazi. If U.S. assistance was essential for the continuation of the war, we have done no less than a quarter of the protection missions of the population threatened by Gaddafi, placing us at the forefront of the coalition.

Against Syria, we would be just a little extra strength under the orders from Washington, it would not be very glorious.

As for the no-fly zone demanded by others, it raises exactly the same problem as for destroying Syria's plane it would require a mastery of the sky even more perfect!

It seemed surprising that this view has not been discussed further in France. But there is a good reason for this: it would recognize the weakness of our military aviation.
Syrians are torn between a despotic regime and a stagnant opposition
The Muslim Brotherhood's perceived monopoly over the Syrian National Council has created an opposition stalemate
By Hassan Hassan, Guardian, Thursday 23 August 2012
…A year ago this week, the Syrian National Council was formed in Istanbul by a coalition of political forces and figures that presented themselves as society's representatives. In the absence of a mechanism to determine the power base of each political force, the Muslim Brotherhood came to dominate the council, benefiting from its relations with Islamist-leaning Turkey.

The Brotherhood's perceived monopoly over the council has led to a chronic political stalemate within the opposition and will most likely undermine an orderly transition if the situation persists. But the appointment of Algerian veteran diplomat Lakhdar Brahimi as the new UN-Arab League envoy to Syria, along with the recent defections of high-level technocrats, presents a new opportunity to reverse the group's domination.

…When the Brotherhood was part of the political system, the business community in both Aleppo and Damascus allied itself with the People's party, a nationalist non-Islamist party, and then to the Ba'ath party. Politically, the business community today is also more likely to ally itself with non-Islamist groups.

Also, in both of these significant cities, the business community is socially tied with a local pragmatic clergy that adheres to a classical Sunni religious school similar to that of al-Azhar in Egypt….

the country appears set for a war that will continue until the regime falls. Significant segments of society in Syria are torn between a despotic regime that is committing atrocities on a daily basis and a stagnant political opposition that has so far failed to present a viable alternative and is dominated by a group they view suspiciously. That is a torn majority, not a silent majority.
Damascus
Torrent of Syrian Refugees Strains Aid Effort and Region
International relief agencies reported an alarming increase in Syrian refugees on Friday, shattering calculations made by the United Nations and spreading fears that the violence in Syria is creating a broader humanitarian crisis that could further destabilize the Middle East.
….
But those forces also have dropped leaflets encouraging people to flee, especially from Aleppo,
suggesting that Mr. Assad may be trying to use refugees to punish Syria's neighbors, especially Turkey, a former Assad ally that turned on him as the repression in Syria worsened.

"It is a way for Assad to put pressure on Turkey," said Ayman, a Syrian activist working with refugees at the Turkish border, who used only one name for security reasons. "He is seeking to destabilize Turkey."
Libya Islamists let loose in their frenzy of destruction
Libya Islamists destroy Sufi shrines, library: military
25/08/2012
ZLITAN, (Reuters) – Conservative Islamists blew up the tomb of a 15th century Sufi scholar and burned down a library in the Libyan city of Zlitan, a military official said on Saturday, the latest attacks on sites in the region branded idolatrous by some sects.

The attackers used bombs and a bulldozer to destroy a complex of shrines that included the tomb of Abdel Salam al-Asmar on Friday and ruined thousands of books at the Asmari Mosque library, said witnesses and Zlitan military council official Omar Ali.

Hardliners, many of them emboldened by the Arab Spring revolts, have targeted a number of sites belonging to Islam's mystical Sufi tradition in Libya, Egypt and Mali over the past year.
Syrian Christians in 2-week blockade by rebel fighters, residents desperate
25 August, 2012, 17:01
An estimated 12,000 people have spent two weeks blockaded in the Christian town of Rableh, Syria, near Homs in the south. Experiencing a shortage of food and medical supplies, residents could not leave as rebel snipers were shooting at them.

­The town, close to the border with Lebanon, was liberated by Syrian government forces on Friday, according to Beirut-based Al-Mayadeen satellite channel. These reports are yet to be verified. Sixty militants were reportedly eliminated.

Syrians are torn between a despotic regime and a stagnant opposition

Hassan Hassan: The Muslim Brotherhood's perceived monopoly over the Syrian National Council has created an opposition stalemate
How the Syrian Revolution Became Militarized – The Nation
Sharif Abdel Kouddous, August 23, 2012
Zabadani, Syria — Emad Khareeta says he had no choice but to defect. The 23-year-old member of the Free Syrian Army stands outside his family home in a deserted section of town. Shards of concrete and…

"I was ready to die after what I had seen and been through," he says. "I don't want to oppress anyone." He eventually bribed an officer 20,000 Syrian pounds (approximately $300) for a three-day vacation leave. On January 26, Emad left and never returned, making his way back home to Zabadani.

Emad is just one of thousands of army defectors who are switching sides in a conflict that began as a nonviolent popular uprising but has since spiraled into an increasingly bitter and polarizing civil war, one that has become a theater for geopolitical interests.

The armed opposition to the Assad regime first began to take form in the late summer of 2011, following months of mass demonstrations that were overwhelmingly nonviolent. Facing repeated crackdowns and mass detentions by security forces, protesters began to arm themselves, many by purchasing smuggled weapons from border countries like Lebanon, Iraq and Jordan. The revolt was further militarized by increasing numbers of army soldiers defecting to their local communities and bringing their weapons with them.

"They dragged us into arming ourselves," says Malek al-Tinnawi, a 25-year-old FSA volunteer. He limps badly as he goes to retrieve a newly acquired assault rifle. Two months ago, he was shot through the ankle in clashes with the army. The local doctor inserted a metal rod in his leg to replace the shattered bone. "It's a good one, isn't it?" he smiles, brandishing the German-made H&K Model G3 rifle. "Not too used, almost like new."…
Don't Fear All Islamists, Fear Salafis
By ROBIN WRIGHT, August 19, 2012, New York Times
As Syrian War Drags On, Jihadists Take Bigger Role (July 30, 2012)
….A new Salafi Crescent, radiating from the Persian Gulf sheikdoms into the Levant and North Africa, is one of the most underappreciated and disturbing byproducts of the Arab revolts. In varying degrees, these populist puritans are moving into the political space once occupied by jihadi militants, who are now less in vogue. Both are fundamentalists who favor a new order modeled on early Islam. Salafis are not necessarily fighters, however. Many disavow violence.

In Tunisia, Salafis started the Reform Front party in May and led protests, including in Sidi Bouzid. This summer, they've repeatedly attacked symbols of the new freedom of speech, ransacking an art gallery and blocking Sufi musicians and political comedians from performing. In Egypt, Salafis emerged last year from obscurity, hastily formed parties, and in January won 25 percent of the seats in parliament — second only to the 84-year-old Muslim Brotherhood. Salafis are a growing influence in Syria's rebellion. And they have parties or factions in Algeria, Bahrain, Kuwait, Libya, Yemen and among Palestinians.

Salafis are only one slice of a rapidly evolving Islamist spectrum. The variety of Islamists in the early 21st century recalls socialism's many shades in the 20th. Now, as then, some Islamists are more hazardous to Western interests and values than others. The Salafis are most averse to minority and women's rights.

A common denominator among disparate Salafi groups is inspiration and support from Wahhabis, a puritanical strain of Sunni Islam from Saudi Arabia. Not all Saudis are Wahhabis. Not all Salafis are Wahhabis, either. But Wahhabis are basically all Salafis. And many Arabs, particularly outside the sparsely populated Gulf, suspect that Wahhabis are trying to seize the future by aiding and abetting the region's newly politicized Salafis — as they did 30 years ago by funding the South Asian madrassas that produced Afghanistan's Taliban.
The case against intervening in Syria
HENRI J. BARKEY, August 25, 2012
One thing unlikely to come of American involvement: Goodwill.
…Taking sides and delivering power to one group does not always induce the winners to be magnanimous. Iraq is the perfect example of this. It's sad to say, but civil wars have to be fought and won by locals — and it is generally only after experiencing the horrors of war that the participants learn to compromise….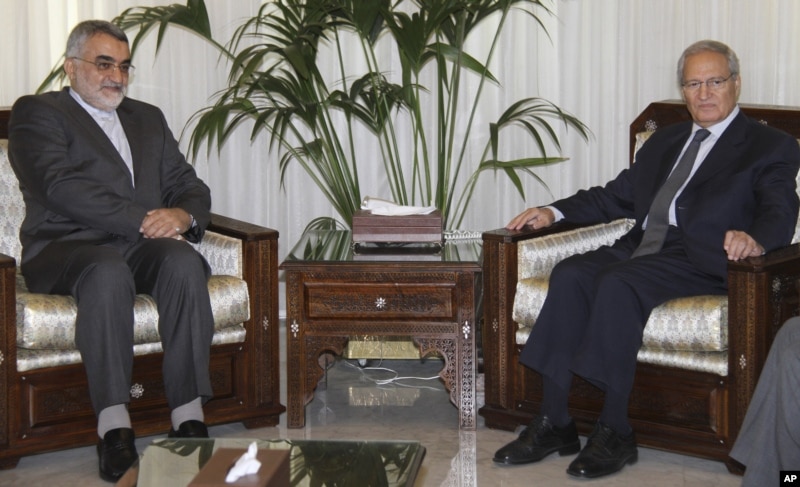 Syria VP Dispels Defection Rumors – VOA
Alaeddin Boroujerdi, left, head of Iran's powerful parliamentary committee on national security and foreign policy meets with Syrian Vice President Farouk Al-Sharaa, ending rumors that Al-Sharaa had defected to Jordan in Damascus, Syria, August 26, 2012.

Syrian Vice President Farouk al-Sharaa has appeared in public for the first time in weeks, ending speculation that he had defected from President Bashar al-Assad's embattled government.
Q&A: Free Syrian Army deputy leader, Anita McNaught – aljazeera
Colonel Malik al-Kurdi says opposition fighters only need another two months to take the Assad regime down.
Report: Egypt turns down U.S. request to inspect Iranian arms ship on way to Syria – Aug. 26, 2012
Suez Canal Authority chairman tells Al-Ahram newspaper Egyptian navy refuses to inspect ship's cargo; President Morsi to attend Tehran summit later this month.
Olmert struck Syrian nuclear reactor in 2007 immediately after Bush refused to do so
2012-08-26
Olmert struck Syrian nuclear reactor in 2007 immediately after Bush refused to do so 'If you're not going to act against the reactor, then we are,' PM told president, says advisor Elliot Abrams. Then, as now on Iran, the US favored diplomacy …