Posted by Joshua on Saturday, March 12th, 2011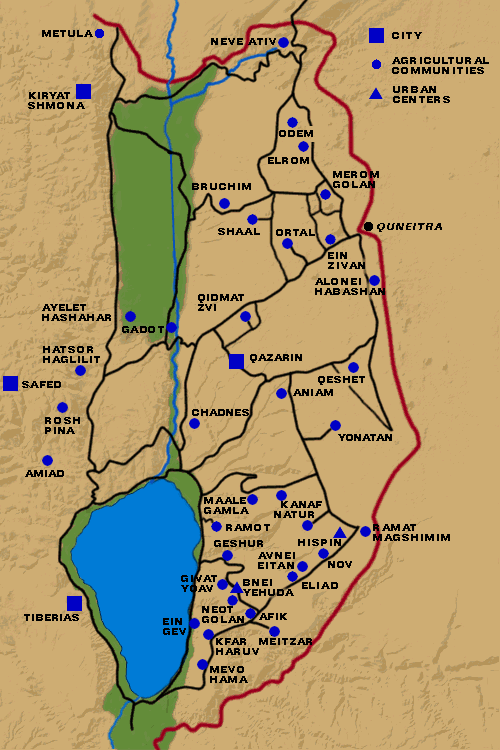 The head of Egypt's military council expressed his hope to meet President Assad soon and to open a new page of Egyptian Syrian relations. Also, el-Baradei said during an interview on ON TV that Egypt's relations with Israel were the master-slave type and he would never allow that again. For Syria, it is all about the Golan.
The Arab League unanimously called today on the United Nations Security Council to impose a no-fly zone on Libya, Secretary General Amr Moussa told a news conference in Cairo. Two countries — Syria and Algeria — had reservations about the decision because they feared that foreign influence in Libya might be open ended. Syria views the Arab revolutions largely in terms of which new governments are likely to line up with Syria to pressure Israel to give back the Golan. So far Egypt and Tunisia are distancing themselves from Israel. The prospect the Libya may fall under Western influence as the price of getting ride of its terrible leader has Syria worried.
Here's a tweet from an influential Libyan: "To the govts of #Algeria & #Syria: the #Libyans will remember your actions against us & when your people turn against you we fight with them."
Syria has issued this statement denying all allegations that Syria has two fighter jets in Libya and a ship on the way to help Qaddafi. The Syrian Foreign Ministry denies that Syria has any military presence in Libya and reports that allegations to the contrary are false.
بيان صحفي
للتوزيع و النشر (12/3/2011)
إشارة إلى المعلومات التي نشرتها بعض الجهات الإعلامية المغرضة و أدعت فيها وجود طيارين سوريين يقاتلون ضد أحد أطراف الصراع في ليبيا ، ووجود سفن سورية تغادر مرفأ طرطوس لتزود السلاح للحكومة الليبية أو وجود معسكرات تدريب في ليبيا فيها ضباط سوريين.
تؤكد وزارة الخارجية في الجمهورية العربية السورية أن هذه المعلومات عارية عن الصحة و لا أساس لها على الإطلاق . كما نؤكد عدم وجود أي حضور عسكري سوري على الأراضي الليبية. و سورية حريصة على وحدة و استقرار الأراضي الليبية وأمن و أمان الشعب الليبي الشقيق و إن البواخر السورية التي زارت ليبيا كانت حصراً لنقل الرعايا السوريين لسورية، و كل هذه الادعاءات عارية عن الصحة و لا تتماشى اصلاً مع المواقف السورية
السفارة السورية في لندن
Syria's Ambassador to the US defends the Vanity Fair article in the WSJ:
Instead of targeting Vogue's profile on Syria's first lady, the anger and indignation emanating from Bari Weiss and David Feith's op-ed "The Dictator's Wife Wears Louboutins" (op-ed, March 7) should be directed toward matters of grave proportions, such as the recent killing of nine boys in Afghanistan by the U.S. military, the hundreds of thousands of dead Iraqis as a result of the U.S. invasion, or the "war crimes and crimes against humanity" committed by Israel in Gaza (as reported by the United Nation's Goldstone Report).

Indeed, such vitriol on behalf of Ms. Weiss and Mr. Feith begs the larger question: Why does the Journal turn down op-ed submissions on the aforementioned momentous topics, and instead devote so much space for an op-ed that finds as a grievance the first lady's "manicured toes"? One possible explanation: Vogue succeeds in showing a side of Syria that the editors at the Journal don't want, or refuse, to see: "a country that's modernizing itself, that stands for a tolerant secularism in a powder-keg region, with extremists and radicals pushing in from all sides," as a Western ambassador observes in the article. Make no mistake, this is what angered the authors, not red soles on a first lady's feet.

Imad Moustapha, Ph.D., Ambassador of Syria to the U.S.
Those unhappy about Western institutions engaging with Syria will also be dismayed at several other events taking place this spring.
Harvard's Alumni Association is sponsoring a conference in Damascus on March 17, at the Four Seasons Hotel. The university's vice provost for international affairs, Prof. Jorge I. Dominguez, will deliver the Harvard guest address.  I will be sorry to miss it, but the guest list is long and illustrious. A number of fellow Alumni will be there. I know that Rami Khouri will be covering it.
In April, the First Lady will be sponsoring the "Cultural Landscapes Forum" beginning on Sunday April 10.  Many French, British, German and Italian officials will be giving talks to celebrate Syria's heritage, museums, and archeology. Both Frédéric Mitterrand, France's Minister of Culture, and  Henri Loyrette, the Director of the  Musée du Louvre will be giving talks.
Aleppo Chamber of Commerce comes out swinging against cutting fuel subsidies
On April 1, the Syrian government plans to cut fuel subsidies which cost the state billions of Syria pounds every year. The subsidies encourage smuggling and overuse. Turkey, Lebanon and Jordan all pay much more for fuel products than Syria so much of the subsidies go to helping neighbors. Syrian industry is helped by the subsidies. The looming fuel price rise is about to go into effect, and the Aleppo Chamber of Commerce is fighting back. Faris Shihabi, the head of the Chamber argues that 100,000 textile workers may lose their jobs. Aleppo has always been the home of Syria's thriving textile business. He argues against having a 3 tier pricing system that will hit the larger manufacturers hardest. Aleppo is spinning this price hike as an attack on the city's industrial base. Two other factors are hitting Syria's textile industry. Higher cotton prices due to the drought and lower import taxes on foreign competition due to liberalization and economic agreements with neighbors. Already several textile businesses have collapsed. The pressures on the budget will mount in the coming years…….at some stage a devaluation will become unavoidable — or the government will have to resort to printing money. Either Syria must cut cut subsidies, raise taxes, borrow,  print money or devalue its currency. )
لشهابي يبرهن رياضياً أن عجز شركة المحروقات لن يتجاوز 17% جراء رفع سعر الفيول
08-03-2011
ضمن تحقيق مطول نشرته مجلة الاقتصادي مؤخراً حول ارتفاع أسعار الفيول، ردّ رئيس غرفة صناعة حلب فارس الشهابي على مبررات الحكومة برفع أسعار الفيول، بالقول: إن العجز التجاري لشركة المحروقات والبالغ 47.7 مليار ليرة سورية هو لجميع المشتقات النفطية، وأعتقد أن دراسة موضوعية توضح أن العجز يتركز في المازوت والبنزين، حيث بلغ استهلاك القطاع الخاص الصناعي من الفيول حتى النصف الأول من العام 2010 ماقدره 250000 طن، وكان السعر العالمي للفيول بتاريخ 31/8/2010 هو 20705 ل.س للطن، والسعر المحلي لهذه المادة بتاريخ 1/9/2010 هو 9000 ل.س، وعلى هذا فإن المبلغ الإجمالي لعجز مبيعات الفيول إلى القطاع الخاص الصناعي هو 250000× (9000_ 20705)= 2.937.500 مليار ل.س، وأن نسبة هذا العجز إلى العجز الكلي لشركة محروقات البالغ 47.705 مليار ليرة، هو 2937/ 47.705 = 6.1% وأن العجز الكلي لمبيعات القطاع العام الصناعي (عام وخاص) من هذه المادة هو 700000× (20750 _ 9000)=8.225.000 مليار ليرة، وأن نسبة هذا العجز إلى العجز الكلي لشركة محروقات هو 8.225 / 47.705 = 17% من كامل العجز، والنسبتين السابقتين تعتبران حسب الشهابي نسباً ضئيلة مقارنة بمجمل العجز. مقترحاً اعتبار الخسائر التي تتكبّدها شركة محروقات جرّاء دعم سعر الفيول والبالغة 2.9 مليار ل.س جزءاً من المبلغ المخصّص من الدولة لدعم الصادرات وهو 16 مليار ل.س لعام 2010، والذي يفترض أن يكون أكبر من ذلك برأيه في العام 2011.
ويحذّر الشهابي من لجوء المنشآت الصناعية في حلب التي تستخدم مادة الفيول وتشغّل عمالة قدرها 100 ألف عامل، إلى تسريح هؤلاء جميعاً كنتيجة حتمية، متسائلاً كيف للصناعة السورية التي تعاني من أزمة كساد وارتفاع في تكاليف الإنتاج ونقص السيولة المادية أن تواجه زيادة كبيرة في أسعار الفيول تقارب 100%، وهذه الزيادة على تكاليف الإنتاج ستجعل الصناعة السورية تفتقد حتى للأسواق.
كما يلفت الشهابي إلى أن اعتماد مبدأ الشرائح في تسعير الفيول سيشجع السوق السوداء بشكل غير مباشر، فالشريحة الأولى المستهلكة لأقل من 50 طن شهرياً ستتحول من الصناعة إلى تجارة السوق السوداء لمادة الفيول، مقترحاً استبدال هذه الشرائح بشريحة واحدة هي شريحة الصناعة بغض النظر عن فروقات استهلاك المعامل.
يذكر أن وزير النفط قدّم اقتراحه لتعديل أسعار مبيع مادة الفيول، بحيث تكون ضمن ثلاث شرائح: الأولى حين يكون الاستجرار كحد أقصى 50 طناً شهرياً لكل زبون، ويباع الطن لهذه الشريحة بـ 10000 ليرة سورية، وتقدّر نسبة المستهلكين من هذه الفئة بـ 69.9%، وتستهلك 22.2% من إجمالي الاستهلاك.
الثانية حين يكون الاستجرار من 51 إلى 200 طن شهرياً لكل زبون، وضمن المخصصات الشهرية، ويباع الطن في هذه الشريحة بـ12500 ليرة سورية، وتقدّر نسبة المستهلكين من هذه الفئة بـ25.2%، وتستهلك 39.1% من إجمالي الاستهلاك.
والثالثة حين يكون الاستجرار أعلى من 201 طن شهرياً لكل زبون، ويباع الطن في هذه الشريحة وفق السعر العالمي والذي يحدد شهرياً من شركة محروقات، وتقدر نسبة المستهلكين من هذه الفئة بـ 4.6% وتستهلك 36.1% من إجمالي الاستهلاك
انتخابات بلديات 2011. .استرد حارتك وبلدتك
Population surge in Syria hampers country's progress
Phil Sands, Mar 6, 2011, The National
With 500,000 people added to the country's numbers every year, the huge growth rate severely hampers efforts to tackle widespread poverty and raise living standards for Syria's more than 20 million citizens.

….The government is putting together a strategy to slow the rate of population expansion but those plans are not expected to be drawn up before the end of this year, at the earliest, and will take years to implement or take effect. In the meantime, development experts are warning Damascus can ill afford to wait if attempts to rein in a booming populace are to succeed.

Mohammad Akram Alkech, the dean of the Higher Institute for Population studies at Damascus University, said: "Until today there is still no clear or official policy to use family planning in order to contain the growth rate." He said such a "hands off" policy towards population growth was no longer viable.

"There have been a few laws and piecemeal measures that are supposed to stop women just being seen as machines for producing babies but that is not a comprehensive policy and will not be effective," he said. "By the time the growth rate is reduced through that method, there will be 100 million people in Syria and it'll be too late."
In Syria's parched farmlands, echoes of Egyptian woes, Thu Mar 10, 2011
By Khaled Yacoub Oweis
TISIA, Syria, March 10 (Reuters) – Under rainless clouds covering Syria's strategic Hauran plateau, grave digger Khalil al-Meqdad toils for 12 hours a day to feed his eight children.

"I barely make enough money to buy bread. I keep sinking in debt," Meqdad said, as he stuck his shovel in the volcanic soil that made Hauran a Middle East bread basket when rain was plentiful during Ottoman times.

With its faded vineyards, pomegranate tree groves and historical sites, Hauran is hundreds of miles from the political upheaval shaking the Middle East, and Syrian officials say the unrest will not spread to their country.

But Meqdad's lot is similar to the masses who toppled Tunisia and Egypt's presidents and who are taking to streets in Yemen and elsewhere, driven by frustration with falling living standards and perpetuation of corrupt autocratic systems they consider an affront to their dignity.

Syria, a country of 20 million people, has been ruled by the Baath Party since it took power nearly 50 years ago, imposing emergency law still in force and banning any opposition.

Since the uprisings in Tunisia, Egypt and Libya in the last three months, officials have insisted that the government, a self-declared champion of Arab rights and foe of what it describes as Islamic extremism, is "close to the people".

They say gradual economic liberalisation, since President Bashar al-Assad succeeded his late father 11 years ago, has changed Syria, pointing to banks, insurance companies and private schools, in contrast to decades of nationalisation. But parallels with Egypt, which failed to translate economic reform into rising living standards, are hard to ignore…..
See this An Interview With Gary Gambill, by Qifa Nabki. At his site.
Nicholas Noe responds to it on his site, here
ElBaradei Says Israel-Egypt Relation Is That of Master-Servant, 2011-03-09 By Nadeem Hamid
March 10 (Bloomberg) — Egyptian opposition leader Mohamed ElBaradei, who earlier said he would seek to run for president, said he favors a strong ties with Iran and that the relationship with Israel is that of master-servant. He spoke with Egypt's ONTV channel.
Jerusalem Post: Shalom predicts collapse of Iranian, Syrian regimes, 2011-03-11
The protests in Syria and Iran, and intensified sanctions against the latter, will succeed in bringing down the regimes of Iranian President Mahmoud Ahmadinejad and Syrian President Bashar Assad, Vice Premier Silvan Shalom told The Jerusalem Post
Hezbollah on Offense, March 8, 2011
Nicholas Blanford, Bilal Y. Saab in National Interest
The spate of popular uprisings in the Arab world has overshadowed all other "traditional" problems in the Middle East. That is why when Sheikh Hassan Nasrallah, Hezbollah's secretary-general, recently called upon his fighters to be ready to invade Galilee in case Israel wages war against Lebanon, it attracted little attention.

His threat to dispatch Hezbollah units into Galilee is the first public articulation of a tactic Hezbollah fighters have privately hinted at since the end of the last conflict in August 2006. It bolsters Nasrallah's previous carefully phrased warnings of what Israel can expect from Hezbollah in the next war. They include a vow in February 2010 to rocket Tel Aviv's Ben Gurion airport if Israel bombs Beirut's Rafik Hariri International airport. And a declaration by Nasrallah three months later that Hezbollah can and will attack shipping along Israel's entire coastline if the Israeli navy shells Lebanese infrastructure.

Now, with his vow to send fighters into Galilee if Israel invades Lebanon, Nasrallah is announcing that Israel can no longer take for granted its long-established doctrine of fighting wars solely on the soil of its neighbors.

This tit-for-tat approach is a cornerstone of Hezbollah's military strategy. The group claims it serves as deterrence during times of peace and as a plan to be implemented in the event of war.

Hezbollah's statements and actions since 2006, therefore, suggest that the next war with Israel is not likely to be one based on defensive "resistance" on Lebanese territory as in the past but one of offense, penetrating deep into Israel. Israel's home front will become a front line for the first time since 1948.
إعلان دمشق: إنهاء حالة الطوارىء مهمة راهنة
بيان إلى الرأي العام :
اليوم يتم الشعب السوري عامه الثامن والأربعين أسيراً في قبضة قانون
الطوارىء سيء الذكر . تلك الحالة التي عطلت الحياة السياسية في سورية
وأدخلتها في سلسلة من الأزمات التي لا تنتهي ، وشكلت استباحة فاضحة
لكرامة السوريين وحقهم في الاجتماع والرأي والتعبير .
يصر أهل النظام على صم آذانهم عن المطالبات الدائمة للخروج من هذه الحالة
Jordan's king accords unlimited powers to anti-corruption panel, 2011-03-07
Amman (DPA) — Jordan's King Abdullah II on Monday told the country's anti-corruption watchdog that it would have a free hand in ridding all the government's institutions from corruption, including the royal court.

"There are no red lines for the panel's work, because no corruption should be entitled to protection in this homeland," the monarch said during a meeting with head and members of the Anti- Corruption Department.

"All the country's institutions, including the royal court, should be subject to the scrutiny of the department, and those found guilty should be sent to the courts," he added.
Al Akhbar
, a newspaper with a 'casual' association with PM designate Mikati had this: "US Sources informed Lebanese officials that the new strategy towards Lebanon is based on the premise of preventing President Najib Mikati from forming his government, and to allow economic, political and diplomatic pressures to take their tolls, … rendering him unable to commit to a  joint strategy with the components of March 8. The hoped for result is to, either give March14 (13 really) a 'blocking third' or declare forfeit. US sources said that the Lebanese-Canadian Bank episode is but an 'appetizer.'"
Search on for Syrian opposition activists missing in Lebanon, Mar 6, 2011
Beirut – Lebanese authorities began a search Sunday for four Syrian opposition activists who went missing shortly after passing out fliers in Beirut calling for a demonstration to oppose Syria's government. The four brothers were taken in by Lebanese security for questioning shortly after passing out the fliers in front of the Syrian embassy, reported a Lebanese security source Sunday. It was not immediately clear when they had been detained.
A new Turkish satellite has Israelis eyeing the end of a U.S.-backed blackout on high-resolution commercial photography of their turf from space.The GokTurk satellite due in orbit by 2013 will sell images of objects more detailed than 2 meters across — currently the finest grain available when it comes to pictures of Israel, thanks mainly to U.S. legislation from the 1990s. Turkey's leap into the aerospace market treads on Israeli security sensitivities given the former allies' recently strained ties. Unlike with other nations that have fielded commercial satellites, Israel has little leverage over Ankara. "We try to ensure that we are not photographed at high resolutions, and most [countries] accommodate us," a senior Israeli defense official said. "Should we request this of the Turks? We won't ask for it. There is no one to talk to." ……..Turkey, whose Islamist-rooted government froze relations with Israel after its deadly raid on a Gaza aid ship last year, has shown no interest in veiling the Jewish state from GokTurk. "We decide how to use the images taken by our satellite," an unnamed Turkish official told the newspaper Today's Zaman…. The Israeli official said such measures helped prevent "sensitive material falling into the hands of terrorists". Israel also frets about its nuclear facilities and other secretive projects becoming too open to public scrutiny……"
UK Tourists on the Road to Damascus
February 20 (Press Association) — Syria is seeing a surge in interest from British holidaymakers, according to latest figures. There was a 486% rise in internet searches for hotels in the Syrian capital Damascus last month compared with January 2010, Hotels.com said. This made Syria the fastest-rising destination last month, with the Spanish island of Menorca in second place (up 466%) and Medina in Saudi Arabia third (up 457%)…
Syria: Weapons Intercepted
By REUTERS, March 11, 2011
Syria said Friday that its security forces seized a large shipment of weapons, explosives and night-vision goggles this week in a truck coming from Iraq. The official news agency SANA said the shipment, intercepted at the Tanaf border crossing on Monday, was intended "for use in actions that affect Syria's internal security and spread unrest and chaos." It did not say how many weapons were seized, but published pictures showed dozens of grenades and pistols as well as rifles and ammunition belts.