Posted by Joshua on Wednesday, May 23rd, 2012
Bourhan Ghalioun has officially resigned from his post, a statement issued by the Syrian National Council said Thursday after a two-day meeting in Istanbul. The SNC "office decided to accept the resignation and to ask the council president to pursue his work until the election of a new president at a meeting on June 9-10," it said. If the SNC can establish a mechanism for transparent and regular elections, it will have done Syrians a great favor.
Ghalioun has been a success. He represents the best that Syrians living abroad have to offer. He is a deeply cultured and honest man, who could not put his heart into the military option that the opposition is now pursuing. However, he was able to give an inspiring and intelligent face to the Syrian revolution, one that the West and many Syrians living in the West needed to see  in order to get organized and throw their weight behind the international effort to condemn the Assad regime and make the decision to isolate and sanction it. He played a tremendously important role in mobilizing international opinion behind the revolutionary effort. No one can minimize the importance of that achievement.
The fact that Syrians inside distrust those outside the country is perhaps natural, but it is also a product of years of indoctrination, xenophobia and anti-Westernism that has been preached by the Baath Party. It is unfair to blame only the Baath. Arab nationalism as a movement has preached distrust of the West and those Arabs who have lived in the West for decades. That ideology is coming back to haunt the revolutionary movement today.  It will be very hard for Syrians living in the West to gain the trust of those inside the country. The Assad regime has driven or expelled many of the best and brightest from the country. It has then denigrated them as traitors and agents of the West.
The center of gravity of the opposition has now moved to the fighters and coordinators inside Syria. The SNC needs a major overhaul to preserve its usefulness and regain its public support. By stepping down, Burhan Ghalioun is demonstrating that not all Syrian leaders must cling to power in the face of opposition. He should be championed for what he is: a man who has sought to do the best he could in an extremely difficult situation. He has been a beacon of reason and champion of democracy for decades and his is living by his word.
The Assef Shawkat controversy continues to gain traction. Was he assassinated? Not since JR of Dallas fame, has murder been so mysterious and talked about. Chances are, however, that he is alive and kicking. Assef Shawkat's town-folks deny that he is dead, according to the on-line news site, "Syria Politic." When their journalist, called people in the town, townfolks laughed at the news, claiming that they don't even have a tradition of raising a black flag for the dead. Opposition sources claimed that the people of Madhale had raised a black flag for him. The townsfolk interviewed by Syria Politic say the news about his death is bunkum. This doesn't prove much, but it does suggest that opposition members who write about the assassination are making parts of the story up.
Those who argue that the fact that he hasn't come on TV to denounce the story is proof of his death forget that the last time there were rumors about Shawkat's demise – that he was under house arrest and that this wife had fled to Dubai – the rumors were false, but Assef never went on TV to denounce the rumors. The rumors persisted from February to August of 2008. Friends of mine had a chalet on the beach next to his, where he was frequently seen swimming with his wife and children.
Cooking gas is just not available in Aleppo, as I reported a few days ago. The energy minister is finally admitting that sanctions are killing them. For the longest time, they blustered about finding other buyers and sources.
 Antoine writes in the comment section of my commentary of the SNC and external opposition:
Nothing can be more insulting to the "real" Syrian opposition, Dr. Landis. The Syrian opposition, unlike the oppositions of someother authoritarian regimes, is almost totally locally based, with a very, very strong grassroots presence.

The Syrian opposition is NOT the SNC, the Syrian opposition is certainly not the NCB, the Syrian opposition is not some Ahmad Chalabi-like scam artists, the Syrian opposition is not a Masoud Rajavi's MKO or PLO / PFLP -like external terrorist group.

The Syrian opposition is Abdel Razzaq Tlass, it is Khaled Abu Salah, it is Abdel baset Sarout, Captain Qais Qataaneh, and Lieutenant Khabir. It is the people who bring out every week's edition of Oxygen (http://www.guardian.co.uk/world/2012/may/22/syria-local-newspapers-revolution) in Zabadani. It is the thousands of young men and women who chant in Aleppo University, and the millions of faceless individuals who bare their chests to bullets every day. It is the people Martin Chulov writes about in Guardian.

The Syrian Revolution is NOT SNC. Let me say this on record, and this the view of 90 % of the people in FSA and the LCCs. The Syrian Revolution is not even Riad al Asaad and other officers cooling their heels in Turkey.

Dr. Landis pretends as if the LCCs don't even exist. He only sees suited individuals like Ghalioun and Kodmani and Manaa and Abdulhamid and some other names as "the Opposition." and most of his posts on SC have a strong bias in showing these individuals as "Opposition" and ignoring to a very large extent the Local Coordination Comittee activists and the FSA foot-soldiers.

Fortunately, the Western media has focused on the grassroots local opposition and not these external non-oppositions….
Subject: (NS8) Ya Libnan: Assad's brother-in-law Assef Shawkat
Ya Libnan: Assad's brother-in-law Assef Shawkat buried, report
2012-05-23
According to anti-Syrian regime activists, President Bashar al-Assad's brother-in-law Assef Shawkat who was Syria's deputy defense minister was buried on Wednesday in his hometown, which they identified as Madhale, near the …
قرية "المدحلة" تنفي وفاة آصف شوكت..وتسخر من قصة رفع الأعلام السوداء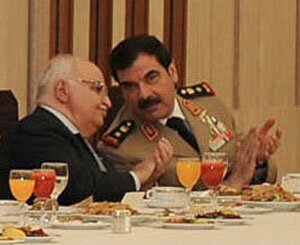 23 مايو 2012 –  PM : سيريا بوليتيك
آصف شوكت في مدارس أبناء الشهداء عام 2010
نفى أهالي قرية "المدحلة" في "ريف طرطوس" رفعهم الأعلام السوداء، كما نفوا وفاة العماد آصف شوكت نائب وزير الدفاع، بحسب عدد من مراسلي "سيريا بوليتيك" الذين اتصلوا ببعض أبناء القرية. وكانت مواقع معارضة، إضافة إلى مواقع إخبارية عربية، زعمت أن قرية المدحلة، التي ينحدر منها شوكت، رفعت الأعلام السوداء حدادا على وفاته بعد أن وصل من دمشق بحوامة إلى طرطوس، حيث تم إفراغ مشفى الباسل من المرضى بالكامل
Up to 25 people were killed across Syria on Tuesday. Government troops bombarded the central city of Rastan on Wednesday, shelling at the rate of "one shell a minute." Additionally, a bombing in Damascus killed five people. According to Syrian authorities, the bomb hit a police station. However photos indicate that in fact a restaurant was targeted. Meanwhile, the kidnapping of 11 to 13 Lebanese Shiite pilgrims near Aleppo has raised fears that the Syrian conflict is spreading into Lebanon, and has aggravated sectarian tensions in Beirut. The Lebanese pilgrims were traveling from Iran when their bus was intercepted. The Syrian government and opposition have traded accusations over the abductions. Hezbollah has said that it has been in communication with a Syrian fundamentalist group that has promised the release of the pilgrims.

A bomb planted under a military bus exploded Wednesday near the Damascus airport, killing one soldier and wounding 23 others, a military official at the site said on condition of anonymity under army rules. Anti-regime activist reported government rocket attacks on parts of the central city of Homs and clashes between rebels and government troops in the central town of Rastan, outside of Damascus and elsewhere.

Egypt holds elections today. Many voters say the election is not about religion or politics, but rather "who can put food on the table." Egyptians must count themselves lucky to be settling their disputes in the fairer manner.
Fox News: Sanctions on Syria have cost country $4 billion, oil minister says
2012-05-23
DAMASCUS, Syria – Syria's oil minister acknowledged the heavy toll international sanctions have taken on the country's oil sector, saying Wednesday that they had sucked about $4 billion from the economy.

Sufian Allaw said the sanctions levied by the United States and the European Union to put pressure on President Bashar Assad were to blame for the shortages that have left Syrians across the country standing in long lines to pay inflated prices for cooking gas and other products.

Allaw's comments are part of a delicate rhetorical balancing act by the Damascus regime 14 months into the crisis that has posed the biggest threat to Assad family rule in four decades. The regime must acknowledge that international measures are squeezing the populace while denying that Assad's control of the country has been shaken.

Before the Syrian uprising began in March 2011, the oil sector was a pillar of Syria's economy, with oil exports — mostly to Europe — bringing in $7-8 million per day, according to David Schenker of the Washington Institute for Near East Policy. This income was key to maintaining the $17 billion in foreign reserves that the government had at the start of the uprising.

Speaking to reporters in Damascus Wednesday, Allaw said sanctions had cost Syria's oil sector about $4 billion. Prices for a tank of cooking gas have more than quadrupled as shortages have spread across the country, and Allaw said Syria's gas production covers only half of the country's needs.

To fill the gap, officials are seeking imports from countries not party to the sanctions. A Venezuelan tanker carrying 35,000 tons of fuel docked in Syria on Tuesday, Allaw said. Another is supposed to follow. He said officials were seeking to arrange further gas imports from Algeria and Iran..
أ
ثرياء حلب يواجهون أزمة الغاز بالوجبات السريعة والفقراء بالكاز وسرقة الكهرباء
تاريخ المقال: 2012-05-23
واجه سكان مدينة حلب من الأثرياء أزمة الغاز بالاعتماد على الوجبات السريعة الجاهزة، التي زاد الطلب عليها بمقدار الضعف، في حين اعتمد الفقراء على الكاز والتيار الكهربائي «المسروق» للحد من اتكالهم على المادة في المطبخ المنزلي لقناعتهم بأن الأزمة آخذة بالتصاعد مستشهدين بقول أحد المسؤولين المعنيين «دبروا راسكم
.
Feltman Leaving Key Post
Yesterday, Assistant Secretary for Near Eastern Affairs Jeffrey Feltman, the top U.S. diplomat for the Middle East was reported to be stepping down from his post to take on a senior role at the United Nations (potentially as deputy to UN chief Ban Ki-moon). It is unclear when Feltman will step down or who will replace him, but with Hillary Clinton also leaving the administration at the end of this term, it looks like U.S. policy toward the Middle East will undergo a significant change next year, regardless of who wins the election.
Syria's downtrodden flock to Lebanon for work By Erika Solomon and Laila Bassam
BEIRUT | Wed May 23, 2012
(Reuters) – Huddled under Beirut's concrete bridges and around street corners are thousands of Syrian men who have left home and crossed the border in recent months in the hope of finding work as day laborers.

From 13-year-old schoolboys to limping elderly men, most of them represent impoverished families from Syria's rural regions who are suffering the brunt of a deepening economic crisis as a 14-month-old revolt against President Bashar al-Assad drags on.

"We could barely buy a pack of bread. We're suffering from hunger, so I had to come here and do whatever I can," said Mohammed Mahou, 23, a father of three from an eastern farming town called al-Qamishli.

Syrians who once headed for day work in Aleppo and Damascus have found construction projects halted. Farmers like Mahou say they are unable to work their fields because prices of fertilizer have risen sharply and some areas are unsafe to farm. Meanwhile, prices for basic food staples in Syria have nearly tripled, they say….
Analysis: Rifts widen in Syrian opposition
By Khaled Yacoub Oweis
AMMAN | Mon May 21, 2012 6:56pm EDT
(Reuters) – A power struggle within Syria's main opposition group is pitting Islamists against secular politicians and exiled leaders against activists at home, further undermining its claim to be an alternative to President Bashar al-Assad.

Fourteen months into an uprising, the squabbling in the Syrian National Council makes it even less likely to be able to win international recognition or to get more than half-hearted foreign support against Assad. On the ground, the council shows no sign of exerting control as grassroots activists organize protests themselves and rebel fighters operate under nobody's orders but their own.

More than anything, critics say, the disarray within the opposition mirrors the chaos of Syria itself. "You have a classic situation in the SNC, not much different from the four-decade old totalitarian Assad family rule the uprising aims to topple," said veteran opposition figure Fawaz Tello.

The internal conflicts have come to a head over the position of Burhan Ghalioun, who offered to step down as leader of the 313-member council last week if a replacement can be found – not that there is guarantee one will be. Some critics brand the 67-year-old liberal sociologist a stooge of the Islamist Muslim Brotherhood and say he was chosen because he would attract Western support.

Some criticize him for monopolizing the position of council leader, which is meant to rotate every three months. Others fault him for failing to back the armed rebellion against Assad.

"DYING"

"Burhan Ghalioun: the Syrian National Council is dying… We accept your resignation," read placards at an anti-Assad rally in the eastern city of Deir al-Zor on Friday. There are signs that foreign patience with the council is running thin too. That does not bode well for the opposition's chances of getting diplomatic or military support. The Western and Arab countries which recognized Libyan rebels within weeks of them taking up arms against Muammar Gaddafi are still holding back when it comes to Syria.

A military source in France, one of Assad's most vocal opponents, said the opposition needed to be better organized. "We don't have that and now it's playing into the hands of Islamist groups and making it even more difficult for the opposition to organize itself," the French source said.

The first step is sorting out the leadership position and the Islamists who dominate the council say they are trying to convince Ghalioun to stay on. "If he insists on leaving it will be time to convene the whole council and choose a new leadership on every level," said Mulhem Droubi, a high-level Muslim Brotherhood official.

Ghalioun is well-connected with France and with Qatar so may still be as close as possible to a consensus figure. But counting against Ghalioun is opposition from inside Syria because of his skepticism over armed resistance by majority Sunni Muslims to the rule of Assad, who is from the minority Alawite sect.

"The rift between the SNC and those inside is growing," said Yasser Saadeldine, an opposition leaning commentator living in the Gulf. "Ghalioun lacks charisma and he has not embraced armed struggle after Assad killed thousands of his peaceful opponents."

A senior member of the Free Syrian Army rebel group said Ghalioun was not even "in the equation" but did acknowledge that the Islamists who support him were trying to build serious links with the rebels.

Another candidate for leader could be George Sabra, who came second to Ghalioun in the last leadership vote. Sabra is an ally of Syria's top dissident Riad al-Turk, an 81-year-old former leftist who spent 25 years as a political prisoner and operates underground inside Syria. The Islamists might also put forward another candidate of their own.

BIGGER CHANGE

But demands are growing for a more radical change than simply a new leader. "There is an elite in the SNC who have brought their own cohorts into the council. They will essentially re-elect themselves unless the SNC is seriously restructured," said Tello, jailed for five years after a brief period of openness in 200, when Assad inherited power from his father.

Critics say the council needs to better articulate its policy on a U.N. and Arab League peace plan that envisages talks with the authorities on a transition, but not removing Assad's family or dismantling the police state. Some believe the council will fall apart if it does not undergo a radical overhaul.

"The SNC is on the verge of collapse unless it becomes representative of the whole opposition," said Rima Fleihan, a human rights campaigner who quit the SNC last year. "It needs to become democratic from A to Z. What is needed now is a broad opposition meeting to escape the vicious cycle of infighting and division."
How Washington Lost Syria
By Gary C. Gambill
Foreign Policy Research Institute (FPRI) E-note, May 2012
With the failure of former UN Secretary General Kofi Annan to broker a ceasefire in Syria, Western policymakers and pundits are increasingly coming to acknowledge that the country's descent into civil war is all but inevitable. But this begs the question of when and why it became so. Was it a foregone conclusion when the uprising against President Bashar Assad began last year?

Civil war was always the most likely end to the saga. Syria is the only majority Sunni Muslim country of the modern era to be governed by a largely heterodox Muslim elite, a peculiar historical anomaly that Daniel Pipes likens to "an untouchable becoming maharajah in India or a Jew becoming Tsar in Russia."[1] The Alawite-dominated Assad regime survived for over four decades in the heart of the Sunni Arab Levant in much the same way that Saddam Hussein's Sunni-led government endured in the heart of the Shiite Crescent—through brute force. As Iraq's recent history illustrates, minoritarian autocracies cannot be peacefully unmade.

If there was a window of opportunity for avoiding a full-blown civil war, it came early in the uprising,….
Palestinian writer describes Syrian prisons as 'slaughterhouses'
Associated Press – May 23, 2012
AMMAN // A prominent Palestinian writer who spent nearly three weeks in jail in Syria described the prisons as "human slaughterhouses", saying security agents beat detainees with batons, crammed them into stinking cells and tied them to beds at night.
World not doing enough for Syria, says Turkey's president
22 May 2012
AFP reports: The international community is not doing enough to help resolve the Syrian crisis, Turkish President Abdullah Gul said Tuesday as he urged an orderly transition to democracy. "The international community as whole has so far performed poorly in providing an effective response to the crisis at hand," Gul said in a public address […]
UN Observers Concede Presence of Terrorist Groups in Syria
UN peacekeeping observers have acknowledged the presence of terrorist groups in Syria, which are hindering the peace process between the government and the opposition, China's Xinhua agency has reported, quoting UN peacekeeping head Herve Ladsous.

"We know that there are … a third party (of the conflict), terrorist groups, who are trying to gain advantage for themselves… but we have to see this as an issue within Syria, between the Syrians," Ladsous said at a news conference held in Damascus.

Syrian President Bashar al-Assad has said that foreign fighters, some of them Al-Qaeda members, are fighting in extremist groups operating in Syria. Ladsous added that 270 observers are working in six cities across Syria. According to him, observers will arrive in four more cities. {…}
Why Assad shouldn't worry about NATO
By Elise Labott
As NATO leaders discuss the winding down of its 10-year war in Afghanistan and pat themselves on the back for helping in the bloody ouster of Moammar Gadhafi in Libya, there is one increasingly deadly conflict that is taboo for the alliance to even think about wading into: Syria.

Practically every NATO leader has publicly condemned the regime of President Bashar al-Assad and called for him to step down and make way for a democratic transition in Syria. Yet U.S. ambassador to NATO Ivo Daalder said Sunday that not one leader even raised the issue of Syria during the opening day of the summit.

While saying NATO is "very much concerned about the situation of Syria," NATO Secretary General Anders Fogh Rasmussen made clear the alliance has "no intention whatsoever to intervene."

NATO's radio silence has prompted criticism among human rights groups and on Capitol Hill, where lawmakers for question why the alliance supported military intervention in Libya but has ruled out similar action in Syria. One congressional source called the refusal to even talk about the issue "pretty shocking."…