Posted by Joshua on Wednesday, December 9th, 2009
Iraqi Prime Minister Maliki has accused Syria of being behind the car bombs that have killed several hundred Iraqis.
The Guardian reports, based on a dossier provided to them by Iraqi authorities, that a conspiracy involving leaders of Islamic militant organizations [al-Qaida], Iraqi Baathists and the Syrian government hatched a plan "to topple the [Iraqi] government,." "They elected a leader and made a unified front." This is explosive stuff.
Oddly, reporters from the New York Times, Washington Post, and LA Times have not picked up on this plot or the Iraqi intelligence dossier. The US papers, although they report on Maliki's blaming of Syria, concentrate on the confusion and back-biting taking place within Iraq, due to upcoming elections and the ongoing power struggle between parties and between sectarian groups.
The LA Times writes, for example: "Some believe political blocs in the central government could be sponsoring attacks in an attempt to bring down Iraqi Prime Minister Nouri Maliki." But it seems that at this stage no one knows and everyone is speculating.
Syrian authorities insist that they want stability in Iraq for economic reasons and have no interest in destabilizing the Maliki government, which they recognized before most other countries and with which they have signed all sorts of economic agreements. Most important of these is a new oil pipeline which could bring billions of dollars of revenue to the Syrian economy.
Syria's enemies argue that Syria is behind the bombings because the Syrian regime "exports violence" by its nature and thrives on destabilizing others. They also argue that the Syrian regime likes Sunnis more than Shiites in Iraq. These accusations do not make much sense and seem to contradict the obvious national interests of Syria.
These national interests are to improve relations with its neighbors, cooperate with Iran in Iraq, and grow its economy as a transit hub in concert with Turkey, Iran, and Lebanon.
Yes, Syria has given refuge to many Iraqis, including ex-Baathists and Sunni opponents of the Maliki government. This does not mean, however, that Syria supports efforts to kill Iraqis or subvert and overturn the government in Iraq. Enemies of the Syrian regime will try to make hay out of Maliki's accusations in order to stop Syria's re-integration into regional and international affairs. Until there is some proof of Syrian complicity, it is foolish to join in the finger pointing.
Syrians face automatic additional secuity checks at US airports
"Passport-holders from Cuba, Iran, North Korea, Libya, Syria, Sudan, Afghanistan, Lebanon, Somalia, Iraq, Yemen and Algeria" automatically face additional screening at US airports. This is revealed in a government document recently posted to the internet.
Today the Cairo Institute for Human Rights Studies released its second annual report on the state of human rights in the Arab world for the year 2009.  The report, entitled Bastion of Impunity, Mirage of Reform, concludes that the human rights situation in the Arab region has deteriorated throughout the region over the last year.
Shai – our resident optimist and peace maker – writes:
Netanyahu: "Any historic peace agreement I bring will be based on support from majority of public"
The Knesset is gearing up to vote on Wednesday on an amendment to a law requiring a referendum ahead of any Israeli territorial withdrawal. The amendment is expected to be approved, as the government has already approved it by ministerial committee.
This should not frustrate anyone.  Netanyahu knows that he can receive much more support from the people of Israel, than he can from his own government or the Knesset.  Menachem Begin couldn't even convince the "moderate" Ehud Olmert – who voted AGAINST return of the Sinai to Egypt – but he got through to most Israelis.  The public acts on emotions, the politicians on self-interest.

I believe Netanyahu is starting to prepare the public in Israel for an "Historic peace agreement".  He won't waste his time on the politicians. Read This
'Israel can't hold referendum on land it doesn't own'
By JPOST.COM
There was no official Syrian response to a Knesset vote that paved the way to continue legislative work on a bill that would mandate national referenda before any territorial compromise was made in the Golan or Jerusalem, but sources in Damascus said that the law reflected the "extreme tendencies of the Israeli parliament."

The bill was approved by an overwhelming majority of 68 to 22.

The Syrian sources told the BBC-Arabic radio station that "Israel has already annexed the Golan Heights after conquering the area and as far as we are concerned [the referendum law] makes no difference; every action that Israel would take in the Golan Heights is illegitimate.

"Israel cannot hold a referendum on land that it does not own," the sources said.

Yehuda Harel, a resident of Kibbutz Merom Golan near the Syrian-Israeli border, told Israel Radio that the people living in the Golan "continue as usual" and would do so even without the referendum law.

Harel, an activist and one of the heads of the "Israel is with the Golan" campaign from the 1990s, is one of the founding members of the kibbutz, which was established on June 14 1967. Merom Golan is one of the Israeli communities nearest the border and is only five kilometers west of the Syrian town of Kuneitra.

"The law signifies the consensus over the Heights. We are calm and unworried," Harel said. He added that in his opinion, Israelis would not change their mind regarding the Golan Heights even if negotiations with Syria would proceed and reach an advanced point. "Polls, people we meet and the amount of people who come to live here prove that the Heights are a part of Israel," he said.

Harel also said that news reports concerning the Golan Heights have no influence on the residents' day-to-day lives and "have no basis in reality. It's like the weather, it changes every few months but has no influence over us."

He said Syria would one day forgo its demands and "as it has recognized that the Alexandretta is Turkish and pulled its forces out of Lebanon, it will recognize the Golan [is Israeli]."

He rejected a notion of returning the land to Syria but leasing the territory from Damascus for a long term in any future peace deal, saying "we will not rent the Golan from any foreign party." "If a referendum will be held we have no doubt what the results would be, and since the Syrians too know what the results would be, the sheer legislation of a referendum will prevent the necessity to hold it."
Baghdad bombings kill at least 127
Residents lash out at leaders, fear more carnage in vote run-up
By Ernesto Londoño, Washington Post, Wednesday, December 9, 2009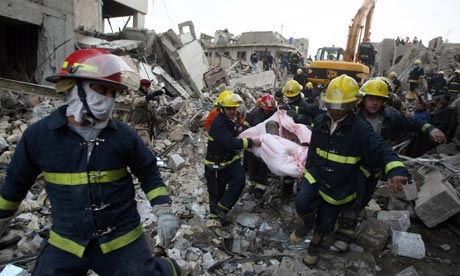 ….In a statement Tuesday afternoon, Maliki blamed the attacks on "remnants" of Saddam Hussein's Baath Party and on al-Qaeda in Iraq. The prime minister accused the attackers of "gloating in the blood of our innocent" and attempting to "abort our democratic experiment."

Lawmakers scheduled a special session for Thursday to review the government's response to the latest attacks and its investigations into bombings in August and October that left key ministries in ruins and killed more than 250 people.

As U.S. troops sharply downscale their presence in Iraqi cities in the summer, Maliki hailed the first phase of their withdrawal as a "victory" for Iraq and many Iraqis took to the streets to celebrate their new sovereignty. Days later, Maliki's government said it would start dismantling the concrete walls that reminded Iraqis daily of the dangers that had come to shape their lives.

The recent carnage has given those celebrations a retrospective air of hubris and led Iraqis to fear that their country may not yet be on the mend…..

BAGHDAD — Four large bombs exploded near education facilities, judicial complexes and other targets in Baghdad on Tuesday, killing at least 127 people and triggering recriminations against the Iraqi government and its security forces. Nearly 500 people were wounded, according to Iraqi police officials.

The blasts, which occurred minutes apart shortly after 10 a.m., fueled fears that elections, now scheduled for March 7, as well as the ongoing withdrawal of U.S. forces, will usher in a new phase in the battle for control of Iraq. Although that fight is now unfolding primarily in the political arena, many Iraqis fear that a rise in violence and political instability could again turn politicians into combatants.

Iraqi officials accused the Sunni insurgent group al-Qaeda in Iraq of responsibility for Tuesday's carnage, the latest in a campaign of powerful bombings apparently designed to undermine the Shiite-led government, which insurgents deride as a byproduct of the U.S. occupation.

Al-Qaeda in Iraq has little support among residents, but the anger and sense of impotence apparent here Tuesday suggested that the insurgents have succeeded in portraying the government as feeble and incompetent.

"Everyone knows that the interior minister doesn't speak to the prime minister because of political problems," Shiite lawmaker Nasar al-Rubaie said during a televised parliamentary session in which lawmakers chastised security commanders and key ministers. Prime Minister Nouri al-Maliki and Interior Minister Jawad al-Bolani lead slates vying for seats in the upcoming elections.
ad_icon

"How can we provide security for Iraqis with security ministries that respond to political parties?" Kurdish lawmaker Mahmoud Othman demanded.

The Baghdad security command, which reports to Maliki, provided a lower death toll, saying that 77 people died in the explosions. Two of four statements it issued about the bombings lambasted media coverage. It described journalists with one Western agency as "liars" and said it would sue an Iraqi television station for "defamation, abuse and incitement to violence." ….

Iraqis, notoriously hardened after years of sanctions and war, lashed out at their leaders for failing to keep the populace safe.

"We don't care who ends up leading us as long as it's safe again," said Delal Mahdi, a woman who was passing the Karkh courthouse. "At this point, even if it's an Israeli, as long as he's a good person, we would agree."…

"These people are a failure," the woman's father, Jamal Mutar, fumed. "All they want to do is cover up their failures."
It was not known who was responsible for the bombings. Some believe political blocs in the central government could be sponsoring attacks in an attempt to bring down Iraqi Prime Minister Nouri Maliki. Others believe that dissidents, including some army and police officers resentful of the political order installed by the United States, are intent on overthrowing the system.
The Guardian: Baghdad Car Bombs Blamed on Syria and Islamists by Iraqi Government
Iraq and Syria have remained at diplomatic loggerheads since the bombings in August. Both countries withdrew their ambassadors after Iraqi officials accused Syria of harbouring enemies who had vowed to direct and fund a bombing campaign in the run-up to a general election, which is scheduled for 6 March….

Iraqi officials have offered only scant support for their accusations. However, they appear to fervently believe that Damascus has at least given implicit consent to a subversive campaign that was allegedly plotted on Syrian soil.

A dossier prepared by Iraq's security forces and shown to Syrian and Turkish intelligence officials, including the Syrian spy chief, Ali Mdouk, [Mamlouk?] in late August, centres on a meeting that allegedly took place on 30 July in the Syrian town of Zabaniyi.

Details of the dossier, which was presented to the Syrians by the chief of intelligence for Iraq's interior ministry, Hussein Kamal, were made available to the Guardian before Tuesday's attack.

It suggests the meeting was penetrated by intelligence agents, who reported that it was chaired by two well-known Ba'athist figures. Also in attendance were former Iraqi army officers and representatives from militant groups who were active in Iraq's Anbar province throughout the blood-soaked years of 2006-07, including Jaish al-Mohammed, the Salaheddin Army and the Islamic Army of Iraq. "They agreed then to topple the government," the report said. "This was the first time these groups had worked closely together. It was a critical event. They elected a leader and made a unified front."

The official Iraqi version of events is that an unlikely co-operative of secular Ba'athists and militants who eschewed any form of government in favour of a return to Islamic law conspired from 30 July to pool their resources and wreak havoc during the pre-election period.

According to a senior Iraqi intelligence official, the original targets had been bridges spanning Baghdad's rivers, rather than government ministries.

"They wanted to attack four bridges on the same day – the first day of Ramadan," the source said. "But they found out we were following them and they changed their plan and their method. For them, it was a case of my enemy's enemy is my friend."

He said the insurgents initially planned to draw from an arsenal of about 2,000 artillery and mortar shells stored in a cache near Baquba, north of Baghdad. "But we found that," he said. "That's why they abandoned the bridge plan. They instead switched to ammonium nitrate bombs hidden in trucks and water tankers."…
Europe Rejects a Plan for Jerusalem
By ISABEL KERSHNER in NYTimes
Israel expressed satisfaction on Tuesday that the European Union did not accept a Swedish proposal to explicitly recognize Palestinian claims to East Jerusalem as the capital of a future state.
US Chastises Turkey for reaching out to Iran
….The U.S. official said following their meeting that they have a problem with Turkey reaching out to Iran "and they can only play that potential role, useful role, if their message is consistent with that of the rest of the international community and ours, which is that we want to engage Iran." …. Turkey PM: Israel can not bomb Gaza then hold drill in Turkey. Turkey has also denied a U.S. request to transfer more Turkish troops to Afghanistan, were they already have 1750 soldiers stationed.
Comment / On peace with Syria, Israeli leaders only talk the talk
By Elie Podeh in Haaretz
The ritual "track dance" is in full swing: the Syrian track first – no, the Palestinian track first. A future scholar researching the history of the main contacts between Israel, Syria and the Palestinians starting in the 1990s will discover a marvelous cyclical pattern: Whenever the Palestinian track reached a dead end or a breakthrough beckoned, the Israelis began talking about the Syrian track, and vice versa.

What the two tracks have in common is that no breakthrough has really occurred in either. The reasons for this are many and varied, but there is no denying that Israel bears much of the responsibility. The Barak, Sharon and Netanyahu governments seem to have preferred making noises about peace to doing anything about it. The Olmert-Livni government seems to have been the only one that took steps toward reaching an agreement, behind the scenes via Turkey.

Making do with noises about peace has a number of advantages. Psychologically, it gives our leaders, and perhaps some of our citizens, the feeling that Israel really wants peace, while the other side just talks about it. Politically, it doesn't cost anything.

There's nothing new in that the Syrian arena is more amenable. The Syrians are not as internally divided as the Palestinians, there is apparently "someone to talk to" there, and the issues and possibilities for resolving them are familiar. Some of them have already been agreed on. So why has the Syrian track been pushed aside? The answer is to be found in the inability of Israeli prime ministers to make a clear decision about withdrawing from the Golan Heights.

They fear the electoral implications of such a move because of the Golan's special status in Israeli public opinion. Unlike Judea and Samaria, an ideological question is not at issue, and different pretexts are given for not negotiating with Syrian President Bashar Assad: His government bankrolls terror attacks, it's in a strategic alliance with Iran, Hezbollah and Hamas, all he wants is to dip his toes in the Kinneret, and so on.

Without belittling the importance of these matters, it should be stressed that if Anwar Sadat's positions had been scrutinized like this, there would have been no peace deal with Egypt. His first demands included not only Israeli withdrawal from all Egyptian territory it had conquered, but also a solution to the Palestinian problem. This linkage made the negotiations so difficult that Sadat walked out.

The Egyptian precedent teaches us several things about the Syrian track: First, Israel will not receive any advance concessions that could be used as bargaining chips in negotiations. Even if Syria is not prepared to formally cut its close ties with Iran, Hezbollah and Hamas, a serious diplomatic move would drive a wedge through this axis, with a significant affect on the regional balance of power. Second, tough initial bargaining positions do not necessarily reflect the final positions. Significantly, the Syrian position, unlike the initial Egyptian one, does not call for a solution to the Palestinian problem.

Israeli politicians mouth lofty slogans about the importance of peace with Syria, but they aren't prepared to face up to the price to be paid. Instead, they pose preconditions. Israel's situation in the Middle East is at rock bottom. Beyond the familiar regional threats, Turkey has moved away and the regimes in Egypt and Jordan have to defend themselves against public opposition to peace with Israel. We need from our decision makers a more active and effective policy, as well as cooperation with moderate elements. The Syrian arena, unlike the Palestinian one, offers an abundance of opportunities for bold and creative leadership, but that has not been forthcoming.

The writer teaches in the Department of Islamic and Middle Eastern Studies at the Hebrew University of Jerusalem.
Syria seeks to grill Lebanese officials in Hariri case
BEIRUT | AFP – December 09, 2009
A Syrian court has asked 25 Lebanese figures, including the police chief and top prosecutor, to appear for questioning over the murder of their country's ex-premier, a Lebanese official said on Wednesday.

"The foreign ministry last night received from the Syrian embassy in Beirut 25 letters addressed to various (people) sought for questioning in connection with (Rafiq) Hariri's murder," the official told AFP on condition of anonymity.

The request came as Hariri's son and political heir Saad Hariri, who was recently appointed premier, prepares to make his first official visit to Syria, Lebanon's neighbour and former powerbroker.

There have been widespread accusations in Lebanon, including from the younger Hariri himself, that Damascus was behind the 2005 assassination. A UN commission of inquiry said it had found evidence to implicate Syrian and Lebanese intelligence services but there are no suspects in custody.

Syria has consistently denied any involvement in the crime.. Those called for questioning include police chief Ashraf Rifi and prosecutor general Saeed Mirza, as well as several MPs and journalists.

The Syrian court acted after former Lebanese security services director Jamil Sayyed filed a lawsuit in Damascus in October in connection with his detention for four years over Hariri's murder. The Hague-based tribunal was set up by a UN Security Council resolution in 2007 to try suspects in the murder of Hariri.

Sayyed was freed last April along with three other generals after a the tribunal ordered their release on grounds there was insufficient evidence to indict them.

"We filed the lawsuit in Syria because the Lebanese justice system and the Special Tribunal for Lebanon decided they had no jurisdiction in the matter," said Sayyed's attorney and son, Malek. He added that those sought for questioning had allegedly lied, along with five Syrian witnesses, about his father's alleged involvement in Hariri's murder.
Israel Must Unpick Its Ethnic Myth
BY: TONY JUDT | FINANCIAL TIMES

If the Jews of Europe and North America took their distance from Israel, over time even Washington might come to see the futility of attaching American foreign policy to the delusions of one small Middle Eastern state….
The Syrian government is now using Google Earth to fine those who build without permits.
DJ Lebanese PM Hariri Keen On Improving Ties With Syria
2009-12-08 15:31:15.664 GMT
BEIRUT (AFP)–Lebanese Prime Minister Saad Hariri said Tuesday his government was keen on improving its ties with Syria, strained since the killing of his father, Rafiq Hariri, in 2005. "The government wants to raise brotherly ties between Lebanon and Syria to a level in line with the two countries' historical ties and mutual interest," Hariri told Parliament.

He said relations between the two neighbors must be "based on trust, equality and mutual respect for each other's sovereignty and independence so that neither country feels threatened by the other." Hariri, who in the past has implicated Syria in his father's killing, has never had any official contact with the Syrian regime of Bashar al-Assad. But he indicated last week that he planned to visit Damascus soon, which in 2005 was forced to withdraw its troops from Lebanon after a 29-year presence. Presenting his cabinet's policy statement to lawmakers before a vote of confidence due later this week, Hariri also reiterated Hezbollah's right to its arsenal in order to protect the country from Israeli aggression, despite
opposition by some members of his majority coalition. "The government insists on the right of Lebanon, its government, its people, its army and its resistance [Hezbollah] to liberate" all occupied territory and to defend Lebanon from any aggression.

Hezbollah, which is supported by Syria and Iran, has two ministers in Hariri's 30-member cabinet.
Michael Young, "Syria Exports Trouble," provides a characteristic rant on how all regional and Lebanese troubles come from Syria. Here are the money shots:
…Assad had surrendered nothing to warrant the embrace….Assad has been getting away with murder, literally….Syria continues to export instability in defense of its regime and interests, and the reality is that no one is doing anything about it–not the United States, the United Nations, the Arab states or the European Union….Syria has also benefited from Obama's impatience to leave Iraq…..Prime Minister Nuri al-Maliki publicly blamed Syrian-backed Iraqi Baathists….Syria has not only used Hamas against Israel, it has also pushed the movement to thwart Egypt's ability to act as principle Arab mediator between Israelis and Palestinians……The Saudis believe that one way to contain Hezbollah's power, and therefore Iran's, is to endorse a Syrian resurgence in Lebanon…..Everyone is knocking at his door while Hariri lies forgotten.
Etisalat Eyes Syria, Lebanon and Libya
Emirates Telecommunication Company, or Etisalat, plans to invest in telephone services in Syria and Lebanon as the governments of those countries begin selling off their state-owned telecoms assets in coming months….