Posted by Joshua on Wednesday, February 27th, 2013
What does Kerry really plan to do for Syria? More non-lethal aid – body armor and night vision goggles – does not merit the headlines that suggest the US is preparing a major shift in its policy. Syria remains a difficult policy problem.
The United States has other vital foreign policy objectives that make it difficult to double down on Syria. Kerry's Rome talks with Syrian opposition groups coincide with the need for delicate diplomacy with Syria's two main supporters: Iran and Russia. Not only is the US resuming negotiations on Iran's nuclear ambitions that convened Tuesday in Kazakhstan after an eight-month hiatus, but Washington is struggling to maintain civil relations with Moscow — Syria's key ally — if it wants to withdraw troops from Afghanistan via Russian territory over the next two years. The US has to balance its interests in Syria with those of maintaining a civil relationship with Russia. To underscore the importance of US-Russian relations the result of a meeting in Berlin between U.S. Secretary of State John Kerry and Russian Foreign Minister Sergei Lavrov during which Russia called for the United States to urge for the Syrian opposition to drop President Bashar al-Assad's resignation as a precondition for direct talks with the Syrian regime.
Also, Egypt is headed toward bankruptcy, and the US will have to help it through that process and the political violence that may well be a result of the cruel privations that such a process will visit on the impoverished masses as their bread and fuel subsidies are snatched from them.

WSJ [Reg]: Kerry Calls Time on Assad Regime, 2013-02-27
PARIS—New U.S. Secretary of State John Kerry said the time has passed for Syrian President Bashar al-Assad to leave power. His first official meetings with France's leadership …
WSJ [Reg]: U.S. Is 'Developing Ways' to Hasten Ouster of Assad, 2013-02-27
Secretary of State John Kerry said Wednesday that the Obama administration and its allies are "developing ways" to hasten the ouster of Syrian leader Bashar al-Assad, a vow that came as U.S. officials said they are considering sending non-lethal aid …
Kerry has made repeated indirect references to a policy  shift during his travels. He told a group of German students Tuesday that while the United States wants a "peaceful resolution" in Syria, if its leaders refuse to negotiate and continue to kill citizens, "then you need to at least provide some kind of support" for those fighting for their rights.  On Monday in London, he said: "We are not coming to Rome simply to talk. We're coming . . . to make decisions about next steps."
The Syrian Coalition's Closing Statements: Cairo, Egypt. February 18, 2013.
The Syrian Coalition's General Assembly has decided to form an interim government for Syria that will carry out its duties from within the Syrian territories. The Coalition set a date of March 2nd, 2013 to select a prime minister from amongst the candidates nominated by the General Assembly, within the agreed upon parameters and after consultation with Syrian opposition forces and the revolutionary movement.
Fox News: AP Interview: Iraqi premier warns fall of Syria's Assad would will spark war in Iraq, Lebanon, 2013-02-27
BAGHDAD – Iraq's prime minister cautions that a victory for rebels fighting to overthrow the government in neighboring Syria will spark a sectarian war in his own country and Lebanon That would create a new haven for al-Qaida that would …
John Kerry should challenge the hawks on Syria
The US secretary of state should resist the SNC and Washington's lobby and push for talks, not more arms
Jonathan Steele.  The Guardian, Monday 25 February 2013
….The western-sponsored opposition grouping, the Syrian National Coalition, has rejected a meeting with Kerry that was due in Rome on Thursday. It accuses the US and its allies of being complicit in the destruction of Syria by not intervening militarily, either by arming the rebels or by direct intervention as in Libya…..

What makes their unexpected hardball doubly awkward is that they coupled it with a repudiation of their own president Moaz al-Khatib's recent initiative in coming out in favour of talks with Bashar al-Assad's government. The SNC's general assembly says it, alone, has the right to propose any initiatives and the end of Assad's regime remains the top priority…..

As a man who saw the folly of the Vietnam war in his youth, Kerry should have the wisdom to choose a better course. Where his predecessor was a hawk on the issue, he needs to confront the SNC and the Washington rightwingers who back them, and say Khatib had the better vision.
Jerusalem Post: Syria claims Turkey enabling al-Qaida, 2013-02-27
NEW YORK – Syria submitted a letter of complaint last week to the UN Secretary-General Ban Ki-moon alleging that Turkey is enabling "Al-Qaida, as well as the Nusra Front and other terrorist organizations, to assemble, take refuge, receive …
U.S. weighs plan to provide direct, nonlethal aid to Syrian rebels
Karen DeYoung FEB 26 – Wash Post
In a shift, the Obama administration could provide body armor and other equipment to anti-Assad forces.

A string of ballistic missile attacks carried out by the Syrian government killed 141 people, including 71 children, in Aleppo last week, according to a new report by Human Rights Watch that raised the death toll much higher than previously reported.
LA Times: Failure on the part of Washington to come to the embattled Syrian people's rescue could irreparably undermine U.S. credibility. It could also embolden Assad to press on with a murderous campaign that has already killed about 70,000 people, drive rebels fighting for democracy into the arms of Islamic extremists and create what the Economist called "a new Somalia rotting in the heart of the Levant."
لؤي زعبي جبهة النصرة بلاء على الشعب السوري
Of myths, monsters and gods in modern Syria
Rita from Syria 12 February 2013 – Open Democracy
…..Assuming that I was an Alawi, she shared some fuzzy images from her mobile phone, shedding light on the kind of ideas that were circulating amongst this closed Alawi Damascene community –originally from the coastal mountains.

" Al-Khidr is here finally!!! It is he who is the light in Tahrir square in Cairo!! It is he who is holding aloft Dhul-fiqar, the sword of Imam Ali! He has arrived on his horse to rescue us from oppression and to stand by the president Bashar al-Assad against the enemies" – The video was taken in Tahrir square, the poor picture quality playfully blended the light and shadows so as to present an image of what could quite easily be interpreted as a man on a horse!!!

……A priority of any revolution is to overthrow all threadbare and retroactive beliefs. Before fighting Alawis who deify al-Assad and kill in his name, we should work to stop the systematic corruption of the Alawi faith, which has far more to offer than making deities out of killers and criminals. This is a burden to be carried by Alawi religious leaders and opposition activists who must play a greater role in raising awareness among their communities.
Syria Willing to Talk with Armed Opponents, Foreign Minister Says
By ANNE BARNARD, February 25, 2013, NYTimes
BEIRUT, Lebanon — Syria's government is willing to hold talks with members of the armed opposition on ending the country's nearly two-year-old civil war, the Syrian foreign minister said on Monday.

It was the first time that a high-ranking Syrian official had signaled that the government is open to talking with Syrian rebels who have taken up weapons against the armed forces. Syria's president, Bashar al-Assad, called in January for talks to resolve the conflict, but appeared to rule out dialogue with armed opponents.

The foreign minister, Walid al-Moallem, made the statement during a visit to Russia,…
Saudis Step Up Help for Rebels in Syria With Croatian Arms
By C. J. CHIVERS and ERIC SCHMITT
Weapons that Western officials say were bought by Saudi Arabia and funneled to opposition fighters in Syria have been a factor in the rebels' small tactical gains this winter against President Bashar al-Assad.
Weapons From Former Yugoslavia Spread Through Syria's War
Globe Mail [Reg]: How did Syria's rebels get their hands on powerful new weapons?
2013-02-26
A long-standing complaint from rebels affiliated with the so-called Free Syrian Army has been that they lack weapons and ammunition with which to fight. In some parts of Syria that seems to be changing. Earlier this month video footage (whose …
Is Iran essential to Syria's future?
By Loren White Monday, February 25, 2013 – FP
…Iran has reportedly begun forming large sectarian militias in Syria to bolster the regime in the short term, and also to preserve its influence should Assad be overthrown. With so much at stake, Iran will only continue to increase such efforts as the regime's position becomes more vulnerable. These militias pose a huge threat — it is imperative that the United States and the international community try to prevent the formation of a Syrian style-Hezbollah by bringing Iran into peace mediations led by the U.N. Special Envoy Lakhdar Brahimi….Senior advisor to Iranian Supreme Leader Ali Khamenei, Ali Akbar Velayati, said as much when he publicly stated that the overthrow of Assad was a "redline" for Iran. Iranian cleric Hojjat al-Islam Mehdi Taeb went even further, referring to Syria as Iran's 35th province and claiming that if Iran lost Syria it could not keep Tehran…..Iran has shown interest in bringing the Syria subject into the nuclear negotiations with the permanent five members of the U.N. Security Council plus Germany. With a new round of nuclear negotiations approaching, conceding a role in Syrian negotiations to Iran may be the good faith gesture needed to motivate Iran to reciprocate with a more conciliatory stance on its nuclear file and help end the current nuclear stalemate….Getting Iran to cooperate with the international community on Syria and getting the United States to relinquish its desire to see Iran isolated by Assad's fall will be an uphill battle. Yet with the stakes so high in Syria a novel and pragmatic approach is badly needed.
Syria: Thinking Strategically by Frederic C. Hof | February 19, 2013 – Atlantic council. Hof spells out the seven things the US wants from Syria.
What, in the end, do we want of Syria? A Syria fundamentally inclined to cooperate with the United States in the region and beyond: that is the objective. Fundamental cooperation is not necessarily an alliance. It has nothing to do with patron and client. It has everything to do with shared values. It means a minimum of mutual suspicion and a basic agreement on the big things….Replacement of corrupt, incompetent, and brutal family rule with something reflecting modernity and decency would make possible elements three through seven of fundamental bilateral cooperation from the US standpoint: a Syria that terminates all military, intelligence, and terror relationships with Iran and Hezbollah; a Syria that rejects terror as a state instrument and tolerates no terrorists on its territory; a Syria that supports comprehensive Middle East peace and commits itself to the peaceful, diplomatic pursuit and resolution of its claims on Israel; a Syria that respects the territorial integrity and independence of each of its neighbors; and a Syria favorably disposed toward ridding itself of weapons of mass destruction.
FT- Editorial Leader
Monday, February 25, 2013
For Syrian peace, prepare for war
Kerry should push the case for arming rebels
John Kerry, US secretary of state, believes there may be a window of opportunity for a negotiated solution to the bloody civil war in Syria. As a new member of Barack Obama's cabinet, he is right to explore all the options on his first foreign outing. However the rising death toll, now at more than 70,000, is a grim reminder that time is not on his side.

The US secretary of state may be hoping to take advantage of recent comments by senior members of both opposition and regime forces that they would be open to dialogue. He may also want to exploit growing frustration in Moscow with Syria's dictator, Bashar al-Assad, who relies on Russian support to stay in power. It is encouraging that the noises out of Moscow are positive about a co-ordinated effort with Mr Kerry despite otherwise tense relations with the US. Nonetheless, this is a road that has been travelled before.

Mr Assad is well versed in the game of appearing to concede in order to gain time. Meanwhile, Russia will resist any effort that smacks of regime change and Mr Assad has said he intends to stay until the next election in 2014. Finally, the political opposition remains disconnected from fighters on the ground, who refuse talks while he is in power. The battle is at a desperate stalemate. Mr Assad has been unable to regain control of Syria, while the disparate rebel forces cannot topple the regime as long as the west refuses to deliver the weapons they need. In the interim, the civil war is being hijacked by jihadist forces positioning themselves for a post-Assad era.

A negotiated settlement would be the ideal solution. But the chances of striking a deal appear remote. In this context, the new secretary of state cannot allow talks to drag on interminably. He should also press President Obama to re-examine his refusal to consider arming rebels.

If Mr Kerry is to have any diplomatic force in discussions he must be able to threaten an alternative. Mr Assad has cynically exploited the west's reluctance to intervene to stay in power. This bluff has to be called. This applies equally to the EU, which last week rejected a UK call to lift its arms embargo to allow shipments to rebels.

If western powers continue to stand on the sidelines, the war will drag on. The longer it continues, the more likely it is that jihadis will build a bridgehead in the eastern Mediterranean that will contaminate the region and beyond. In that case, the west may have intervention forced upon it.
In Syria, new influx of weapons to rebels tilts the battle against Assad
By Liz Sly and Karen DeYoung, Wash Post, February 25, 2013
The Washington Post reports: A surge of rebel advances in Syria is being fueled at least in part by an influx of heavy weaponry in a renewed effort by outside powers to arm moderates in the Free Syrian Army, according to Arab and rebel officials.

The new armaments, including anti-tank weapons and recoilless rifles, have been sent across the Jordanian border into the province of Daraa in recent weeks to counter the growing influence of Islamist extremist groups in the north of Syria by boosting more moderate groups fighting in the south, the officials say….
Syria rebels say they don't have the weapons to end the war
Opposition leaders mostly blame the U.S., which they believe is pressuring Persian Gulf allies to keep heavy weapons out of rebels' hands.
By Raja Abdulrahim, Los Angeles Times
February 19, 2013, 5:10 p.m.
BEIRUT — Just when they expected a flood of heavy weapons to help them make a major push against the forces of President Bashar Assad, rebel commanders in Syria say, arms shipments from outside the country have instead slowed, prolonging a conflict now nearing the end of its second year.

Though rebels have made gains in the north and east, seizing military bases and checkpoints, opposition figures who had made predictions of quick victory now say their arsenal is at a level that can support only a war of attrition.

"There will be no quick and practical end," said Nabil Amir, spokesman for the Damascus Military Council, a key rebel group.

Although arms for the Syrian opposition have come primarily from Arab states in the Persian Gulf region, rebel commanders almost uniformly blame the slowdown on the United States, which they suspect of exerting pressure on its regional allies.

Commanders of Syria's fractured opposition said they believed they had been promised weapons as an incentive to unite. In December, provincial councils in the Free Syrian Army, an opposition umbrella group, gathered from across the country under the banner of a Supreme Military Council at the behest of Qatar and Saudi Arabia.

"We were promised that if we unified our ranks that we would be given legitimacy as well as salaries and heavy weapons," said Col. Qassim Saad Eddine, a member of the 30-member council. "But from that day we have gotten nothing."

The reluctance of Arab and Western countries to arm the rebels is based at least in part on concern that the weapons would fall into the hands of groups that those nations view as extremist. But it has paradoxically served to increase the influence of Islamist fighters in Syria, who have emerged as the best-armed members of the insurgency.

Strong and better disciplined, the Islamists have had more success in capturing Syrian military weapons. Some people suspect they also benefit from wealthy supporters, possibly linked to Al Qaeda.

Top Pentagon officials, including Defense Secretary Leon E. Panetta, recently revealed that they had supported a recommendation last summer by the State Department and CIA to arm the rebels, but were overruled by the White House.

And on Monday, the European Union decided to continue its arms embargo against both sides in the conflict.
Syria: Behind Rebel Lines (CBC, 9 p.m on Doc Zone )
by Rania Abouzeid (Time magazine) and directed by Sylvene Gilchrist
From a review in the Globe and Mail
…It is a rare look inside Syria as it is now. It's a fine piece of journalism rather than a carefully crafted documentary with a forged story arc. And because of that, it is all the more galvanizing….

Rania Abouzeid tells us, "There is chaos in the Syrian civil war." She says there are shadowy groups of foreign fighters in the country and "criminal elements" who engage in kidnapping for ransom, looting homes and taking every advantage of the lawlessness.

With two million people displaced and thousands fleeing every week, the chaos has allowed warlords to emerge, but we are told that the current political situation is "like a marketplace." That is, people can pick and choose their allegiance from the elements among the rebel forces.

She meets a group of men she describes as "Islamists who want an Islamic state." Their leader is a charismatic figure who had left Syria for Italy and returned when the Hosni Mubarek regime fell in Egypt. He believed the Assad regime would fall next. A former champion discus-thrower, he's now battle-hardened, claiming to have dozens of pieces of shrapnel in his body, and he has a broken jaw.

To the camera he says, "Yes we are mujahedeen, holy warriors until the fall of the regime. After the regime, everyone can display their wares. I want to stress this point. We will display our wares, not force them on anyone. The people will decide." He also claims to be wary of foreign influences in Syria's future. "We started with a stick and a pump-action shotgun and we will return to the stick rather than allow anyone to force anything on us."

We meet a man, a former civil servant, who now makes rockets for the rebel forces. And we meet a female fighter with the rebels. The woman, who fights on the front line with an AK-47, says she tried to form a women's brigade, but other women weren't interested. An extraordinary figure, she has a personal message for Bashar al-Assad, the President of Syria – that's she is coming for him .

There are many vignettes that make the program interesting . But the overall portrait is what makes it memorable and a formidable act of reporting. The war in Syria goes on and on, in bleak outposts where the regime hangs on, having laid waste to the area; on stretches of highway that are controlled by one side, then another….
The Syrian foreign minister said that his government is willing to sit down for talks with armed rebels.
According to Syrian state media, a football player was killed after two mortar shells hit the Tishreen stadium in Damascus's al-Baramkeh district. The attack came a day after two mortars reportedly exploded outside one of President Bashar al-Assad's palaces in the capital's northwestern district of Muhajireen. Opposition activists said that the Free Syrian Army fired up to seven mortar rounds at the Tishreen Palace. No casualties have been reported. Assad has two other palaces in the city. Opposition fighters previously claimed to have fired rockets at the presidential palaces, but the attack on Tuesday was confirmed by the Syrian government. Meanwhile, the death toll from Monday's rocket attack on Aleppo has risen to an estimated 31 people.
Musa al-Gharbi: Is authoritarianism anti-democratic?
"The international community must allow for the emergence of illiberal democracies, or even a popular rejection of democracy altogether"
Last updated: February 25, 2013
How an ordinary Syrian became a Kalashnikov-wielding fighter
Sunday, February 24, 2013
by Daniel Lippman
Brothers in arms: the 10 brothers fighting for the Syrian uprising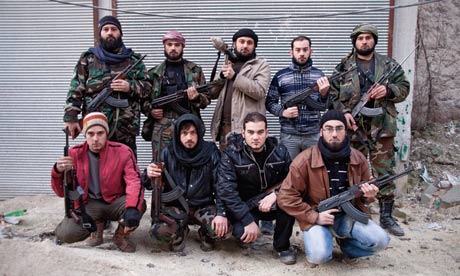 From peasant sons of the northern plains to rebels at the heart of the Syrian uprising: a family at war
Martin Chulov, The Guardian, Friday 22 February 2013
Syrian rebel commander on a post-Assad Syria
by David Ignatius on February 22, Wash Post
…The commander of the Free Syrian Army, encouraged by recent successes on the battlefield, said that he is ready to meet with military officers from the regime of President Bashar al-Assad to "discuss how to keep order in the country" should Assad give up power.

Brig. Gen. Salim Idriss, who became commander in chief of the rebel forces three months ago, made the surprising offer of talks in a telephone interview Friday from Turkey. His comments follow a similar proposal last month by Sheik Ahmad Moaz al-Khatib, the head of the coalition of political opposition groups, to meet with officials of the regime to discuss a political transition.

Idriss's comments were the first clear sign that the Free Syrian Army command is making serious plans for how to stabilize the country if Assad falls. His statements are likely to reassure top U.S. officials, who have been debating in recent days whether to support Idriss's private request for training and weapons.

"We can say in the Free Syrian Army that we are ready to meet any parties in the [Syrian] army who didn't have any role in making decisions to kill Syrians," Idriss said. He specified two conditions for such talks: Assad must state publicly that he is stepping down, and there must be trials of security-force commanders who killed unarmed Syrian protesters.
The Missing Journalists of Syria's War: The Struggle to Save Those Who Bear Witness
By Andrew Katz – Time
An Al-Nusra Preacher giving his Khitab in Aleppo بو حفص الليبي أحد قياديي جبهة النصرة في حلب يخطب خطبة الجمعة الأول من شباط2013
Syrian Economy Loses $48 Billion in 22 Months
Report Shows War's Impact On Syrian Economy
By: Samar Ozmichli Translated from Al-Hayat (Pan Arab).
A report by a Syrian research center has estimated the economic losses of the Syrian economy over the last 22 months at about $48.4 billion — equal to 81.7% of the country's GDP for 2010. The losses impacted a number of sectors, with 50% being attributed to a loss in GDP and 43% a result of damage in capital stock. The report, entitled "The Socioeconomic Roots and Impact of the Syrian Crisis," was prepared by the Syrian Center for Policy Research (SCPR), which is affiliated with the Syrian Society for Culture and Knowledge. The report noted that Syria has lost nearly two decades' worth of human-development achievements and that the level of economic collapse was "substantial" even when compared to conflict losses in other countries.

The report predicted that the crisis would lead to an 18.8% decrease in GDP for 2012, while the deficit balance is expected to reach 18.5% of GDP for the same year. This means that the crisis will have a strong negative impact on the balance of payments, bringing the cumulative deficit to $16 billion. This deficit has been financed by net foreign assets, which declined from approximately $18 billion in 2010 to $2 billion by the end of 2012.

The report estimated that the losses in Syrian capital stock amount to nearly $42 billion, concentrated in three components. First, there is a decrease in net investment equal to $12.4 billion. Second, there are losses due to poor capacity utilization and idle capital stock, which no longer contribute to the production process. The mining and tourism sectors are particularly affected. The estimated loss due to this component is $8.9 billion. The final component is the partial or full damage to capital stock (destroyed firms, equipment and buildings), and these losses are estimated to amount to $20.8 billion.

Macroeconomic indicators

In a report prepared for the United Nations Economic and Social Commission for Western Asia (ESCWA), Syrian experts reported that the country's GDP had decreased by about 35% (approximately $20 billion), and predicted that this figure would see an 18% decrease each year. They noted that as soon as the crisis ends, Syria will need approximately $45 billion to fund reconstruction efforts. If the crisis continues, the reconstruction process will face many challenges, both in terms of cost and capabilities. In the event that the crisis persists until 2015, unemployment rates are expected to rise to 60%.

The SCPR report, however, estimated that by the end of 2012 the Syrian GDP had lost $24.1 billion — equaling 45.7% of the 2010 GDP….
Prolonged crisis drives up divorce rate in Syria
2013-02-20
Feb. 20, 2013 (Xinhua) — Divorce rate has gone up 45 percent and marriage rate has dropped over 40 percent in Syria since the outbreak of mass protests against the government almost two years ago, according to a recent survey by local media….
INTERVIEW: Tlass: Regime fall could turn Syria into another Somalia By DPA correspondents
2013-02-21
Paris (DPA) — The defection of General Manaf Tlass in July was a bitter, personal blow to Syrian President Bashar al-Assad. Tlass, a Republican Guard commander and son of a former defence minister, was a childhood friend of al-Assad.    Now based in Paris, Tlass' phone never stops ringing. Since his defection he has been taking part in military and political moves to support the uprising that began almost two years ago against al-Assad's regime….. dpa: What scenario do you see for a solution?

Tlass: There is a risk that the regime's fall will lead to chaos, reprisals and a civil war that could turn the country into another Somalia. The regime has not taken any serious steps towards (implementing) any initiative requiring al-Assad's resignation and a transitional government, and it is not going to. That is because it has not come under any real international pressure.    We must work hard to create a protective network, a sort of united umbrella organization that involves Syrian society in all its diversity, before and not after the fall of the regime, so we can avoid the fall of the state and society along with it – which is what the regime is betting on.    This is why I say that it must be Syrian society, with all its components and national minorities, that brings down al-Assad, in the framework of a national project aimed at preventing a collapse into civil war…..
Syrian regime battles rebels for control of highway to its safe haven
Lebanon appears closer than ever to getting dragged into Syria's war as the regime and rebels battle just over the border and Hezbollah's growing involvement raises rebel ire.
By Nicholas Blanford, Correspondent / February 22, 2013 – CSM
…."If Assad gets driven out of Damascus… Qusayr will be very important as it links Damascus with the Alawite mountain. The highway will be crucial," says Joshua Landis, professor of Middle East history at the University of Oklahoma and author of the influential Syria Comment blog.

The Qusayr pocket is a microcosm of Syria's tangled sectarian demographics, where Lebanese and Syrian Sunnis and Shiites live beside Syrian Christians and Alawites. Some 23 villages and 12 farms west of Qusayr are inhabited by Lebanese Shiites, even though the area lies inside Syria. Border restrictions here are historically lax and there are numerous trails, tracks, and small paved roads used by smugglers and residents alike to move across the frontier…..

A critical corridor

Some analysts suspect that the Shiite villages to the west of Qusayr could eventually form part of a corridor linking Hezbollah-controlled areas of Lebanon's northern Bekaa Valley to the southern edge of an Alawite enclave that could stretch up the coastal mountain chain to the port town of Latakia. If such a corridor were secured, it would have significant strategic consequences. It would allow Hezbollah to help the remnants of the Assad regime defend the enclave from attacks by Sunni groups. It could also become a new conduit for the flow of arms to Hezbollah.

Traditionally, the bulk of Hezbollah's weapons are smuggled into Lebanon from Syria. The fall of the Assad regime, however, would complicate Hezbollah's ability to bring in arms and, more critically, restock its arsenal in the aftermath of a future war with Israel. The theoretical Alawite enclave would have access to the sea through the ports of Tartous, Banias and Latakia, allowing for the potential import of weapons which could then be trucked to Hezbollah in Lebanon via the secured corridor….
Time: Assad's Big Ally: How Deeply Entrenched Is Iran in Syria?
2013-02-26
The killing last week of a senior Iranian Revolutionary Guards Corps commander near the Lebanon-Syria border has rekindled speculation about Iran's activities in Syria, particularly its ties to the militia groups fighting alongside the Syrian …
Time: Syria 1940
2013-02-26
The ongoing chaos and violence that have come to define the Syrian civil war — a war that has now raged for close to two years, with no signs of abating — not only forced the names of ancient cities (Aleppo, Homs) back into today's headlines, …
When doing nothing is a policy
By Richard Cohen, Published: February 25
In the movie "Lawrence of Arabia," the attempt to unite the Arabs comes apart in Damascus. Lawrence bangs on his desk with the butt of his gun to bring the assembly to order, but to no avail. Chaos erupts. Now something similar is happening in Syria. 1e62-7f77-11e2-b99e-6baf4ebe42df_story.html
Fox News: As atrocities pile up, Syrians collect evidence
2013-02-26
Syrian activist Yashar hopes the security agents who tormented him during five months of detention will one day be put on trial.
Hawks in Syrian Opposition Resist Dialogue Initiative – Al-Monitor
Syria opposition mulls 5 candidates for "premier" – NOW
"Friends of Syria" ramp up pressure on Assad, call for enhancing sanctions against Syria – NOW 
Jordan Prepares for Return Of Salafists From Syria – Al-Monitor
Conflict between Sunni and Shia Muslims seen as escalating across Middle East – globalpost.com
Syria's Armenian minority flees from conflict – Toronto Star