Friday, July 11th, 2008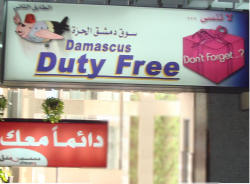 Beware Syrians Bearing Duty-Free: Urs Fruehauf in Damascus has alterted me to the ExportLawBlog.com where Clif Burns explains the delicacies of banning Rami Makhlouf's Syrian duty free and Syriatel.
Makhlouf is President Assad's cousin. Any US citizen with a prepaid sim card bought from Syriatel will be breaking the law. US embassy staff will now be changing their sim cards to the network owned by Mikati and company. They will also refrain from purchasing nice perfumes or other good deals on their way home. After all, OFAC has designated Makhluf as an SDN based on the novel (and dubious) theory that Makhluf's leveraging of his family relationship to al-Assad to obtain improper business advantages for himself in Syria threatens the security of the United States.
Syria calls off fees applied to Arab travelers and Lebanese trucks. (The Daily Star) "Sources believe that Damascus reversed the decision after Jordan and Saudi Arabia slapped similar taxes on all Syrian trucks.
It is interesting to see how many ministers aoun got compare to his allies. his party got 5 (all cabinet ministers), amal got 3 and Hizbullah just got 1. very strange when you look at it like that
QN Answered:
I think that Hizbullah gave their ministers to Aoun for three reasons:

a) The Hizb is slowly dipping its toes into cabinet politics. It doesn't want to jump in head first, because it is still benefiting from the image of being outside the dirty game of politics.

b) Given that this will be a short-lived cabinet, it wants to minimize any possibility of tarnishing its image before the important elections in 2009. If they had 5 or 6 ministers in the cabinet, there would be many opportunities for them to get embroiled in sticky little political messes, whether they are over telecommunications or the electricity plant, etc.

c) Hizbullah doesn't really need ministers to maintain its agenda or its constituency. All the Shi`a are basically going to vote Hizbullah/Amal in the next election. The real swing vote is among the Christians (especially the Armenians). This is why they gave so many seats to Aoun (who has a sizable bloc anyway). They want to hold on to his supporters, to make sure they come out in droves to vote.

It was a smart bet on their part, I think. By giving 5 seats to Aoun they were effectively saying to the Christians: "We are equal partners, you and us."
The cabinet, headed by premier Fouad Saniora, groups 30 ministers from the seven major sects in a nation made up of 18 religious communities.
Maronite Ministers: Ziad Baroud, Nassib Lahoud, Tony Karam, Gebran Bassil and Mario Aoun.

Greek Orthodox ministers: Issam Abu Jamra, Elias Murr, Ibrahim Najjar and Tareq Mitri.

Catholic ministers: Elie Skaff, and Youssef Takla and Raymond Audi.

Druze: Talal Arslan, Ghazi Aridi and Wael Abu Faour.

Sunnis: Fouad Saniora, Bahia Hariri, Mohammed Safadi, Tammam Salam and Mohammad Shatah and Khaled Qabbani

Shiites: Mohammed Fneish, Ali Qanso, Ibrahim Shamseddine, Mohammed Jawad Khalifa, Fawzi Salloukh and Ghazi Zoayter.

Armenians: Jean Ogassapian and Alain Taborian.
Israeli-Syrian Negotiations: The Need For A Bold Move: Alon Ben Meir
….. By Tuesday. the violence had ended, but prisoners and guards remained in a standoff, with more than 300 soldiers held hostage, reported Beirut-based media watchdog Menassat.

"The demonstration started after prisoners demanded an improvement in their living and health conditions, also demanding prison officials provide greater access to information about their trials and convictions," human rights groups working on the issue told MENASSAT.

Reports from these sources say the rioting has ended but that a tense standoff is still taking place between the prison authorities and the prisoners after the latter managed to take a number of hostages, including the prison director.

Syrian authorities will not reveal the number of fatalities and injuries nor the timeline of events that led to the fighting. …..
Syria software pirate lives by own code of ethics: Abdul-Rahman Mahaini says he hacks into programs because U.S. sanctions block their sale in his country. But he is not above helping Western clients.
By Borzou Daragahi
Los Angeles Times: July 11, 2008
DAMASCUS, SYRIA — Small, thin and pale, with a reddish beard, Abdul-Rahman Mahaini estimates that he has stolen millions of dollars' worth of software, hacking his way into the most complex programs in the world.