Posted by Joshua on Tuesday, March 3rd, 2009
[Landis Comment] Clinton's deliberate handshake with Syria's Foreign Minister at the Gaza donor Conference promises a thaw in Syria-US relations. The U.S. will also send two officials to Syria for talks, Clinton said in a press conference in Jerusalem today with Israeli Foreign Minister Tzipi Livni. "We have no way to predict what the future of our relations might be, but we want to engage in a discussion" she said in relation to the talks with Syria. She said that one of the officials was from the State Department and the other from the White House.
All the same, some things seem not to be changing. The US is still seeking to "flip" Syria away from Iran, which HIllary doubts can be pursuaded to fall in with America's regional security designs. (More promising would be an effort to engage both, rather than trying to split them). Hillary has set out strict preconditions for US support for Israeli-Syrian dialogue. Syria must cut relations with its allies, Hizbullah and Hamas. The demand that Syria abandon its supporters and friends before entering into full dialogue with the US is no more likely to work under Obama than it did under Bush. Why? Because Syria fears that the US will again fail to deliver Israel, as it did under Bill Clinton in 2000. Netanyahu will decline to return the Golan, as he promised during his campaign, and Syria will be left without a deal and with with no friends or regional leverage. Syria suspects this is, in fact,  Washington's desired outcome – to weaken Syria.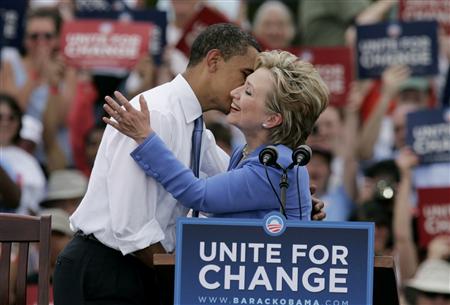 Clinton Shakes Syria's Hand: Secretary of State Hillary Clinton shook hands with her Syrian counterpart Monday as the two attended a conference in Egypt on rebuilding the Gaza Strip. The simple handshake before lunch was the highest-level contact between the two countries in years.
Clinton stopped in front of Muallem, shook his hand and exchanged a few words with him, the reporters said. "With respect to talking with the Syrian foreign minister, again I will reiterate that in consultation with our friends and allies, our partners, we are reaching out to determine what, if any, areas of cooperation and engagement are possible," Clinton later told a news conference of the brief meeting.
In the Guardian: Clinton began her first round of Middle East diplomacy yesterday by promising to pursue peace between Israel and the Arabs on "many fronts" … Her mention of peace on other fronts suggested the Obama administration may also push for a deal between Israel and Syria. …
The international conference raised pledges of more than $4bn in aid to the Palestinians. However, it is still unclear how much reconstruction can take place in Gaza while Israel continues its blockade, which prevents the import of materials such as concrete, glass and metal.
Clinton promised to "vigorously" pursue a two-state peace agreement between Israel and the Palestinians… Clinton made no reference to the closure of the Gaza crossings, or to Jewish settlements in the occupied West Bank, which are a prime concern for the Palestinians.
Clinton expressed doubt Monday that Iran would respond to the Obama administration's diplomatic initiatives toward Tehran on nuclear and other issues, a senior State Department official said.
Syrian P.M. Ottri begins an official visit to Tehran heading the Syrian delegation to the Iranian-Syrian Higher Committee
Moscow raises the ante against Washington, saying the time has come for the White House to begin negotiations with Iran in earnest.
Middle East Peace and the U.S.-Saudi Relationship:
A Conversation with Tom Lippman
Saudi-US Relations Information Servic
SUSRIS: Thank you for taking time today to share your perspective on US-Saudi relations and current developments in the Arab-Israeli conflict. Let me start by asking you about recent public pronouncements, rebukes of Washington over the Gaza conflict, from prominent Saudi Arabians including Prince Turki al-Faisal, former Ambassador to the U.S. and Dr. Abdulrahman Al-Saeed, an advisor to the Royal Court [links below]. The criticisms were accompanied by warnings the current developments are of a different nature than any before, and portend a diminished relationship, not just the Saudi-US relationship, but the east-west dialogue. There was also King Abdullah's statement that the Arab Peace Plan wasn't going to be on the table indefinitely. What do you think about these criticisms being aired in public?
THOMAS LIPPMAN: Let me put it this way. I certainly understand why the frustration among prominent people would come to the surface now and even boil a little bit. I don't necessarily agree that the current state of play is more dire than it has been in the past, say as it was after the Israeli invasion of Lebanon in 1982. To me, what these statements represent is kind of an outpouring of sentiment from well-intentioned people, who don't know what to do. What are their choices here? What are their options?
If you were in this situation, you would know a certain number of things. You know that there is a deep split among the Palestinians, which Riyadh has made vigorous efforts to at least paper over if not rectify; and you have not succeeded. You know the Palestinians, as before, are their own worst enemies. You know that in Israel, whoever becomes Prime Minister just gave a substantial vote to the forces of power that have no intention of giving up territory. They are not committed to the Arab League Peace Plan or, at this point, any other.
You should not have been disappointed by the position taken by the United States because "what's new?" Why would you expect something different this time? It's been a long time since 1956.
In my assessment I would say it is unlikely — but not impossible — that these statements portend any serious policy changes. I don't see what the choices are. I don't see the Saudis or any of the other people in their camp suddenly going back to the boycott of Israel, an oil embargo, or any kind of confrontational policy. They're not in a position to make a military challenge. They're unable to move public opinion in the United States in any clear way. So where are they going with this?
SUSRIS: What do you think? Are these signals to shape the behavior of the Obama Administration?
LIPPMAN: When you combine these statements with a very, very elaborate and well-publicized show that was given to Chinese President Hu Jintao [Feb 10], clearly the Saudis are expressing their disappointment at the state of play, but they've been disappointed at the state of play since 1948. I don't see what any new policy options are.
SUSRIS: Specific policy courses of action are indeed open questions but the public rebukes of the U.S. Government and the level of the rhetoric suggests that the Gaza strikes are being viewed in a new framework and the comments don't seem to be getting any public response from Washington officials or thought leaders.
LIPPMAN: I agree that there's a higher level of outrage. And it's probable that in this time of instant communication everybody was watching what happened on satellite TV. So the Saudi leadership is feeling, I wouldn't say public pressure — they run the country — but sentiment, a very strong sentiment to do something. But they're hemmed in.
One, they're severely hemmed in by the desire not to be in the same camp as the Iranians. That's a big issue, that's a big problem here. They're hemmed in by their desire not to be seen as making common cause with Syria.
So I certainly sympathize with the dilemma that the Saudis find themselves in. After all, a month before Gaza, the Saudis were among the fifty or so Muslim and Arab countries that put those full-page ads in the New York Times and the Washington Post, restating their commitment to the Arab League Peace Plan. It couldn't have been a more public affirmation. The timing clearly suggested they were talking to the incoming administration; and then this happened.
I also understand why they're not in a position to stand up and make, at this point, the case that they really did make at one point, which was that Hamas asked for it. Hamas very cynically provoked this, knowing it could not lose. If it inflicted suffering on the Palestinian people, well, that's not their problem. That's useful to Hamas. The Saudis know that. They're just not in a position to say that right now.
So I certainly understand their rhetorical position. I understand their frustration. What I don't see is actual policy consequences, game changing policy consequences. I just don't see them.
SUSRIS: The criticisms in some of these messages were ameliorated somewhat by the positive comments about the Obama Administration naming George Mitchell as the U.S. envoy. Do you see a possibility of Mitchell making a difference?
LIPPMAN: Absolutely not. I'm not optimistic, especially if Netanyahu becomes Prime Minister. [Mr. Lippman was interviewed before the Israeli election.]
SUSRIS: What will these developments do for the relationship between the United States and Saudi Arabia as we have a new administration and Saudi requests for American action, in your estimation, will go unfulfilled?
LIPPMAN: It's a serious question that deserves a serious answer, and I'm kind of at a loss to figure it out, because I don't see who's going where with this. We don't know what's going to happen, we don't know the outcome in Israel, except that if even if Livni becomes Prime Minister, she's going to have to form a coalition with pro-settler right-wingers in some way or another. So the Israelis are not going to dismantle the settlements.
I'm just in the middle of reading Martin Indyk's book ["Innocent Abroad"] about Middle East diplomacy in the Clinton Administration. There was a point where the Americans believed that they were on the verge of a Syrian deal, independent of the Palestinians. Now if Netanyahu becomes Prime Minister, you won't even get that.
By all accounts, even if you were to get a legal separation of Israel and Palestine and the formation of a Palestinian state, the prospect of contiguity and economic viability in that Palestinian state diminishes with every passing day. So it's one of those things where everybody who looks at this is horrified but nobody knows what to do about it. What's not going to happen is that the President of the United States will stand up and publicly issue an ultimatum for the Israelis and enforce it. That is not going to happen. Absent that the Israelis are not going to make substantive changes or take the gamble of the Arab League Peace Plan. That being the case, I understand why Secretary Clinton is going to the Far East on her first trip instead of to the Middle East. What would she bring? They already appointed George Mitchell. So what else does she have to offer? There'd be nothing on the table.
So, if I sound very negative about this, it's not because I don't respect the Saudis' views. I understand their views. I just don't see a game-changing event here. In the history of the Middle East in my lifetime there's always been some unpredictable, game-changing event that made things happen. Whether it was the 1967 war, or Sadat suddenly getting rid of the Russians and going to Israel, or whatever it was. In this case, I don't believe that the Israeli campaign in Gaza was a game-changing event.
SUSRIS: What do you think about what Mr. Riad Kahwaji, CEO of the Institute for Near East and Gulf Military Affairs, writing in the online forum Bitterlemons, said, "The moderate Arab camp finds itself in a paradoxical situation. It cannot afford to see the Iranian axis grow stronger, and at the same time cannot but oppose Israel when the latter resorts to indecisive and bloody military campaigns. By failing to get Israel to accept the Arab Peace Initiative, or to generate progress in the peace process, the moderate camp is weakened every time Israel unsuccessfully engages any of Iran's allies."
LIPPMAN: He agrees with me, and I agree with him. My view is that in Gaza, Hamas set a trap for Israel and Israel walked into it. Israel may not have had any choice in terms of its own domestic politics. They couldn't just sit around on their hands and let those rockets continue to fall. But the consequences of this were fairly predictable. Yes, there was terrible damage. Yes, Hamas' military infrastructure may have been weakened. But look at the outcome if you were Hamas. You drove another wedge between the moderates and Saudi Arabia, and the United States. You put an end to the indirect Turkish-mediated Syrian/Israeli talks. And you emerged still in power in Gaza with the relief money that's going into Gaza being distributed through you, which enhances your political position. You embarrassed King Abdullah of Jordan, raising the possibility that Jordan might have to back away from it's own peace treaty. You made life miserable for the Egyptians. I think Hamas knew exactly what it was doing and it was, in that sense, successful. I just don't see what the so-called moderate camp is going to do about it.
SUSRIS: Let's return to our fundamental question. What are the effects on the U.S.-Saudi relationship and what are the next steps for Washington and Riyadh? Are the open reactions among Saudis a blow to American credibility as a new administration tries to get its arms around difficult issues in the region?
LIPPMAN: I agree with your sense that the relationship has been damaged, not in any specific policy way. Let's keep it in perspective. The business relationship is not going to change. Just this week the Saudis announced they gave a huge turbine contract to General Electric, for example.
But I think that to the extent the King of Saudi Arabia, the Foreign Minister, Prince Turki, and other leaders of the Saudi political, economic, and intellectual establishment become more, what would you say, despairing, realistic about what any United States government is going to do in this situation, I think the relationship will continue to thin out. Maybe it will accelerate. I don't believe Abdullah is going to back away from the interfaith dialogue, because that's not really just about the United States. He's personally committed to the dialogue.
I think you could make a case that for the Saudis, there's nothing to do for the next year or so but wait and watch. What happens in the Iranian elections? What happens as the power in Gaza sorts itself out? What happens to the succession in Egypt? What Bashar in Syria decides to do? Whether Iraq holds together. There are so many imponderables right now. Who becomes Prime Minister of Israel? What is his or her policy? What is Mitchell going to offer? There's not much that you can do in this moment to ameliorate the effects. What you have to do is try to manage public opinion. So you don't do anything irreversible while you wait to find out what happens.
SUSRIS: What can Washington do?
LIPPMAN: Well, I think there's a difference between what the U.S. could do and what the U.S. is likely to do. That's been true as long as I've been at this game. The United States could issue an unequivocal statement of support for the Arab League peace initiative. And you could present this as being in Israel's best interests – a tough love policy. I don't think that's going to happen, because the American position is that we can't make decisions for the Israelis. They're a sovereign country with their own interests to preserve and protect, and they feel seriously threatened by the Iranian nuclear program. They're not inclined to do anything to make them more vulnerable right now, and the United States is not going force them to do that.
SUSRIS: Thank you, Mr. Lippman, for your perspective on these critical questions.
Thomas W. Lippman is an adjunct scholar at the Middle East Institute in Washington. In four years as the Washington Post's Middle East bureau chief, three years as the Post's oil and energy reporter and a decade as the newspaper's national security and diplomatic correspondent, he traveled extensively to Saudi Arabia. He is the author of "Arabian Knight: Colonel Bill Eddy USMC and the Rise of American Power in the Middle East," "Inside the Mirage: America's Fragile Partnership with Saudi Arabia,"