Posted by Joshua on Sunday, September 12th, 2010
Muhammad al-Habash has been forced to resign from all his religious activities by the Ministry of Awqaf.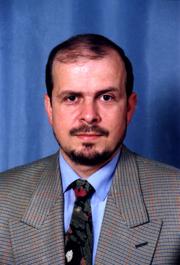 Muhammad al-Habash, a public intellectual, religious authority, and member of parliament, goes many steps further than most liberal Syrian Imams in proposing a reinterpretation of teh Qur'an. He argues that Islam is not the only path to salvation, that women are the equals of men, and that holy texts must be interpreted in the light of modern day requirements.  For example he has called for abandoning corporal punishment, such as cutting the hands off of thieves. In his view, such commands are to be merely taken as a message that theft is forbidden in Islam. He was one of three imams who spoke up in support of the government ban on the niqab. His liberal interpretations have been met with considerable opposition, as one can gather from reading this post at "Marifah." All4Syria has reported on this story in Arabic.
It is suggest that he was forced to resign by the Minister of Awqaf because Habash's wife, Asma' Kaftaru, the daughter of the former Grand Mufti Kaftaru, has been critical of the minister. There are other conjectures as well.
الشيخ محمد حبش يستقيل من كافة نشاطاته الدينية بوزارة الاوقاف
واوضح المصدر أن الوزارة قد انهت عمل محمد حبش بالحقل الديني نهائياً ..
لكن المفارقة التي فاجئت البعض ان وزير الاوقاف السوري د.محمد عبد الستار السيد قد عين بدلا منه عميد كلية الدعوة في مجمع الشيخ أحمد كفتارو د. بسام عجك المشهود له بالكفاءة العالية والخلق المستقيم وهو أحد تلامذة الراحل كفتارو .. والذي كان يخالف الدكتور الحبش بكثير من الفتاوى والآراء ..
وفسر مصدر مطلع على خفايا التيار الاسلامي في سوريا لكلنا شركاء هذه الخطوة من (الوزير الصارم ) على أن يوصل رسالة أنه لا يستهدف نهج الشيخ الراحل أحمد كفتارو ..عن طريق اقالة صلاح كفتارو وغيره وانما يريد تنظيم التعليم الشرعي بمباركة الشيخ العلامة البوطي …الذي تربطه علاقة طيبة بالوزير الحالي.
من الأسباب التي دفعت محمد حبش للاستقالة : اتهامه بالسلفية ؟ !
واحد من ثلاثة علماء دين ومشايخ في كل سورية تجرؤوا ان يعلنوا تأييدهم لقرار منع النقاب في قطاع التربية والتعليم.
وكانت ( كلنا شركاء) أول من كشف عن قرار وزير الأوقاف عزل حبش عن إمامة وخطابة مسجد الزهراء في منطقة المزة، وكانت أول من كشف أن حبش، عضو مجلس الشعب عن مدينة دمشق، قد قدم استقالته من كافة نشاطاته الدينية التي تتبع لوزارة الأوقاف السورية.
وفيما لم تعلن الوزارة عن سبب العزل، نقلت مصادر مقربة من الوزارة أن السبب هو الاحتقان الذي شاب العلاقة بين الطرفين (حبش والوزارة) على خلفية اغلاق مقر مركز الدراسات الاسلامية الذي يرأسه الحبش ومقالات للسيدة أسماء كفتاور وهي زوجة الحبش انتقدت فيه بشكل غير مسبوق وزير الاوقاف الحالي متهمة إياه بعدم الحكمة في التعاطي مع الحقل الديني ..
إلا أن مصادر أخرى سخرت من تفسير تعيين الدكتور بسام عجك، خلفاً لكفتارو بأنه لا يعني استهداف نهج الراحل أحمد كفتارو من قبل وزارة الأوقاف. وقالت أنه ربما يكون الاستهداف الظاهر هو لعائلة الشيخ كفتارو، لكن فكر الشيخ كتفارو ليس بعيداً عن هذا الاستهداف لأن الشيخ العجك، ورغم كونه عميد كلية الدعوة في مجمع أبو النور، إلا أنه لا يمثل فكر الشيخ أحمد كتفارو، والدليل أن أعداد المصلين يوم الجمعة في مسجد الزهراء تناقصت بشكل كبير بعد عزل الشيخ حبش.
وفي سياق ذو صلة علمت كلنا شركاء أيضاً أن أسماء كفتارو، زوجة الشيخ حبش، قد طالها قرار منعها من السفر منذ قرابة الأربعة أشهر، وهو الاسلوب الذي يلجأ له النظام السوري لابتزاز المثقفين والاعلاميين، فيما تردد في أوساط وزارة الأوقاف أن الوزير شخصياً قد طلب من المخابرات هذا المنع.
This is from Habash's resume: Damascus – Syria 1962
Degrees Diplomas:   Ph. D. In Islamic Law
* B.A. In Arabic Lit.                             Beirut Univ.
* B.A. In Islamic Studies                      Islamic Call College.
* The High License in memorizing the Holy Qur'an and mastering reading it.
* M.A In Islamic Studies                      Univ. of Higher studies-Karachi.
* ph. D. In the sciences of the Quran     Univ. of the Holy Quran-Khartoum.
Jobs Positions:
•    Prof. at the University of Damascus
•    Director of the Islamic Studies Center in Damascus
•    President of the association of Arbab Al-Sha'a'er (the league of scientists)
•    Member of the High Council in the International Islamic University -Islamabad
•    He was elected as a Member of Syrian parliament 2003 (independent)
•    He was elected three times as an administrative committee in Syrian parliament
•    He has a daily T.V. programs on four satellite channels
Paul Heck of Georgetown University has written an interesting and short article about Habash's important role in supporting ecumenicism and tolerance in Syria.
Paul Heck, "Muhammad al-Habash and Inter-religious Dialogue." (Here are a few excerpts)
…..His central theological point is not simply that Islam can exist amicably alongside other religions, but that its own message is one of religious plurality.  Remarkable for being based entirely on Islamic sources (e.g. Q 4:123-124), his argument underscores that Islam did not come to abrogate other religions but to confirm all religion as submission to the one God, Creator and Judge of all, who rewards and punishes according to good works, not religious affiliation…. Although viewed with some suspicion by local Christian leaders, al-Habash's position, meant to counter sectarian tension within Syrian society, looks to reinforce a national unity that embraces all religions and is not monopolized by any one; his inter-religious engagements thus have specific national implications….

His vast scholarly erudition allows him to highlight long forgotten rulings which, even if not enjoying a preferred status (arjah), still legitimately represent Islam and speak more appropriately (aslah) to the conditions of today's world – a way for Muslims to be reconciled to contemporary life as Muslims.  One example of this is his ideas on women in Islam, a reading of the religious heritage that does not reject but rather challenges — not without controversy — the claim that traditional Muslim attitudes towards women are the only ones recognized by Islam.  This type of reflection has potentially important ramifications for the relation of Syrian law to international agreements: A recent treatise by al-Habash demonstrates that Muslim values do indeed conform with the 1979 UN Convention on the Elimination of All Forms of Discrimination against Women, highlighting that human rights and equality of women are not reducible to western constructions but belong to the human heritage universally……