Friday, March 1st, 2013
Give Us the Weapons We Need to Beat Assad
The chief of staff of the opposition Syrian Military Joint Command calls on the United States to provide arms, not just non-lethal aid.
BY SALIM IDRIS (Commander of the Military Joint Command of the Free Syrian Army)| MARCH 1, 2013 – FP
…The Syrian Military Joint Command has built strong links with FSA brigades around the country in order to develop a countrywide military strategy. But there is only so much that can be done without the determined support of the United States. What Syrians need today to bring an end to the conflict are anti-aircraft weapons systems, not more words…..
Syria crisis: European countries expected to start arming rebels
Syrian opposition representative in UK says 'breakthrough' is expected after relaxation of EU rules
Julian Borger, The Guardian, Friday 1 March 2013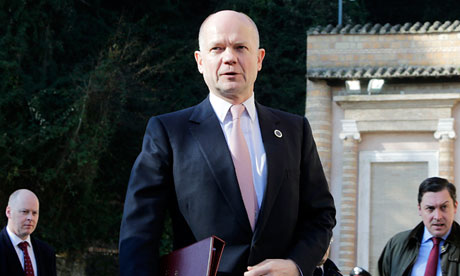 William Hague at the Friends of Syria meeting in Rome, where he stressed that military aid was possible in future.
Some European countries are expected to break with Washington and start supplying the Syrian rebels with weapons in the next few months, the representative of the Syrian opposition in Britain has told the Guardian. The National Coalition's London representative, Walid Saffour, predicted that by the next meeting of the western and Arab Friends of Syria group in Turkey, due in late spring or early summer, "there will be a breakthrough that will end the restrictions of the European countries".

Heartbreaking: young man describes what happened to his neighborhood, family and friends in Aleppo scud attack
Paul Mutter — "I'd just like to note that the $60 million in aid Kerry has promised the rebels is equal to one week's worth of US direct military aid to Israel and sixteen days worth of direct military aid to Egypt."
U.S. vow of non-lethal aid for Syrian rebels fails to satisfy Assad opposition
By Hannah Allam and David Enders | McClatchy Newspapers
Kerry visits Turkey for talks as Syrian opposition blasts U.S. aid announcement – FP
The Syrian opposition responded to the announcement by Kerry, and the expectation that Britain will provide combat gear, as insufficient; they have been appealing for weapons supplies. In recent months, senior U.S. officials have advised President Barack Obama to send arms to moderate factions within the Syrian opposition. However, the White House continues to refuse over fears that the weapons will end up in the hands of Islamist radicals. Head of the opposition coalition, Sheik Moaz al-Khatib stated, "The media pays more attention to the length of the beards of the fighters than the massacres." He said the opposition is working to appoint the head of an interim government that will operate inside Syria, and attempted to quell fears that an Islamist government will take power. A meeting on the transitional government was scheduled for March 2 in Istanbul, but has been delayed for "logistical reason."
Kerry has also said that he will criticize Erdogan for recent comments comparing Zionism to fascism, anti-Semitism, and Islamophobia.
Putin told reporters that while there was a significant gulf between the two countries' approaches to the Syrian conflict, this might be resolved "only with a bottle of vodka, or a bottle of fine wine".
CBS News: McCain: U.S. is "raising a generation of Jihadists" in Syria,  2013-03-01
(CBS News) On Thursday, Secretary of State John Kerry extended non-lethal aid to Syrian rebels, promising food and medical supplies to rebels in the first offer of direct aid since the Syrian conflict erupted two years ago. Kerry said the aid is …
Syria's Foreign Legions – Sada Journal
Mona Alami: Who are the jihadis in Syria—and where are they coming from?
Syria's Hard Landing, by Marc lynch – february 2013 – Policy brief – CNAS
Rebel cooperation in Syrian town shows challenge of isolating Islamists
Syrian rebels and their weapons cropped
By David Enders | McClatchy Newspapers
KFAR NBOUDA, Syria — Sophisticated new weapons now in the hands of rebels in north-central Syria underscore how difficult it will be, once more lethal aid begins to arrive, to keep those weapons from Islamist extremists who've become key to rebel military advances throughout the country.

Rebels who belong to the Victory Brigade – a group whose alliance with the Hama provincial military council makes it acceptable to U.S. officials who are deciding where aid should go – were giddy as they showed off their new weapons this week. They included Russian-made RPG-27s – shoulder-fired rocket-propelled grenades capable of piercing the armor on the Syrian military's most advanced tanks – and RG6 grenade launchers, another Russian-designed weapon, this one capable of spewing projectiles that explode on contact.

But the brigade doesn't fight alone, and a video that another rebel group, the Islamist Ahrar al Sham, posted to YouTube this month showed fighters using the same kinds of weapons in an assault that was coordinated with the Victory Brigade.

"Of course they share their weapons with us," said Ali Ankir, a spokesman for Ahrar al Sham. "We fight together."

Indeed, Victory closely coordinated its offensive in December to seize the town of Kfar Nbouda from forces loyal to President Bashar Assad not just with Sham, but also with fighters from the Nusra Front, which the State Department has designated a terrorist organization aligned with al Qaida in Iraq.
Nusra and Sham share the goal of establishing an Islamist state in a post-Assad Syria, and unlike Victory they don't recognize the authority of the Hama military council.

Victory rebels were cagey about how they'd gotten the new weapons. "We have our ways," said Ahmed Darwish, a brigade leader. The timing of the weapons' arrival suggests they were part of a recently publicized shipment brokered by Saudi Arabia from Croatia. The RG6 rounds the rebels displayed this week were manufactured in Serbia…..
WSJ [Reg]: Islamists Gain Momentum in Syria, 2013-02-28
BEIRUT—Extremists intent on establishing an Islamist state in Syria have gained power within the rebel insurgency, while moderates have lost clout since moves by Washington late last year aimed at the opposite result, U.S. officials and rebel …
WSJ [Reg]: Fouad Ajami: John Kerry's Syrian Second Chance
2013-02-28
Not so long ago, the new secretary of state was among those who saw hope in reasoning with Bashar Assad.
Syrian rebel put his dreams on hold in civil war
By BEN HUBBARD | Associated Press
…. "I try to ask myself where I'll be after the revolution, and I can't imagine myself anywhere but in the grave," Qadi told me the last time I saw him in person.

I saw Qadi again earlier this week: As I sat at my computer in Beirut, a YouTube video flashed across the screen showing his body after he had been killed in northern Syria during government shelling and airstrikes. The video, posted online by the rebels, declared him a "martyr" in the fight against President Bashar Assad…..
Ben Hubbard, an Associated Press correspondent based in Beirut, interviewed rebel fighter Abdullah Qadi during reporting trips into Syria. Here is his remembrance of the young brigade commander who died this week while fighting in northern Syria.
The Economist (@TheEconomist) – 2/28/13, 5:50 PM
Not everyone agreed with our Syria cover last week. A young Syrian designer's more optimistic version went viral econ.st/ZMumIE
Manaf Tlass is in Russia (arabic) Here is English
Fighting Shortages, Syrian Civilians Take Reins in Rebel Areas
By DAVID D. KIRKPATRICK, February 28, 2013 – NYTimes
TILALYAN, Syria — Bundled in a thick overcoat against the frosty afternoon, Mohamed Moussa watched with concern as the town baker worked by flashlight to repair the conveyor belt on his aging oven, the town's principal food source.

Miles from the front lines of the Syrian civil war, Mr. Moussa, the 33-year-old English teacher who leads the new governing council of this rebel-controlled town, spends his time locked in a more mundane battle against desperate shortages of almost everything.

Until about three weeks ago, Tilalyan's roughly 3,800 residents had bread at most twice a week, and its appearance set off a fierce melee among hundreds of families. There was no consistent supply of electricity or water, to say nothing of medicine or heating fuel.

"The people get crazy," he said. "They will have a revolution against the revolution because they are so hungry." …
LA Times [Reg]: Damascus in the grip of a tense stalemate
2013-03-01, BEIRUT
Rebel forces have dug in to the north, east and south of Syria's capital, occupying stretches of suburban and rural terrain and threatening to break through to the heart of Damascus. Government troops have largely pulled back to a well …
Many were still too afraid of Mr. Assad to link their names to a rebel government.

"Not to be slaughtered with their families," Mr. Moussa said, chuckling. "The old people think Bashar Assad is very strong and he will never leave," he said. "But we think they are not thinking the right way, because we see every day that he is vanishing and going away."

Exasperated, Mr. Osman made a surprise announcement late last year at Friday Prayer: a new council had already been set up and was ready to hear complaints. Two hours later Mr. Osman summoned Mr. Moussa and four others: the job was theirs, the imam told them, by his own unilateral appointment.

All are bookish graduates of Aleppo University with little aptitude for combat. Two are 26, one is 27; the oldest is 34. Until then, their only involvement in the war was forming a "media committee" to spread information. (Mr. Osman and the town's military leader, Mustafa Jaber, 38, sit on the council as well.)

The elders were scornful. "I need men standing in front of me, I need men to talk to, I don't need children!" one patriarch complained, as Mr. Moussa, the imam and others recalled.

The local military brigades resisted more forcefully.

"The civil council takes away some of their power," Mr. Moussa said. "They say, 'Where did we see you when they were shooting at us? Where were you when we were outside in the cold? You were in your house and going to work, so shut up!' "

Each brigade, most of them loosely organized under the banner of the Free Syrian Army, now has its own rival relief and political wings to position itself for post-Assad Syria, and at one point the Tawhid Brigade from the town of Marea confiscated about a ton of flour from Tilalyan's dwindling supply.

Ahmad Khatib, in charge of relief efforts for the Tawhid Brigade, said Mr. Moussa had no right to make demands since his town had paid so small a price in the fight.

"If you bring them 10 prophets from God they will still keep complaining!" Mr. Khatib said of Tilalyan's young council.

But the young civilians quickly shouldered their mandate. With $1,000 given to the council by the Western-backed Syrian national coalition, they fixed damaged converters to restore electricity, needed to power the well in the town. They then set out to negotiate for electricity. A brigade from the town of Al Bab had recently seized control of the hydroelectric generators at the Tishreen Dam but initially refused to share the power. How did they know that the council was not a pack of thieves, the brigade demanded?

Then the larger neighboring town of Tal Rifaat was hogging all the electricity, refusing to allow any to pass through to Tilalyan or Marea, Mr. Moussa said. But when it came to electricity, Marea's powerful brigade and civilian leaders stepped in to help; Marea and Tilalyan are on the same power line.

To supply bread, the council pleaded in vain for flour from the international groups camped at the Turkish border. Then they tried to buy it through Tal Rifaat and finally in the battle-torn provincial capital, Aleppo.

The answer, council members said, came from Jabhet al-Nusra, the Islamist militia that the United States recently classified as a terrorist organization. The group has distinguished itself not only through its battlefield prowess, aid workers say, but also through its determination to capture resources like wheat silos from the government, so that the group could dispense the spoils as patronage.

"They give us flour at less than 20 percent of the real price from the black market," said Mr. Moussa, surveying the 14 metric tons stored in the Tilalyan bakery, enough for 13 days.

Adhan Naser, 34, another teacher on the council, interrupted him.

"Jabhet al-Nusra now controls the most important things for life — like flour, water and electricity — to make the people see Jabhet al-Nusra as the model, the perfect thing," he said. "This plan is very clear to all of us. But this kind of game is not going to work, because our future is not Jabhet al-Nusra. We don't need Afghanistan in Syria."

To end the daily melee for bread, the council counted the town's 3,824 adults and children and arrived at a ration of two loaves of flatbread per person and arranged to have it delivered for five Syrian pounds — less than a dime. By then, the council had spent all of its $1,000 in seed money and $300 more from its own pockets. …
Syrian Rebel Leader Deals With Old Ties to Other Side
By NEIL MacFARQUHAR
Published: March 1, 2013
ANTAKYA, Turkey — Gen. Salim Idris, convinced that the last stand of the Syrian Army in the long, grisly fight to control Aleppo will take place soon at the Academy of Military Engineering, dreads the moment.

It is not just the 2,000 or so well-armed soldiers already holed up there, inside the square-kilometer campus on Aleppo's eastern outskirts. Nor is it the reinforced concrete bunkers built under every building to withstand an Israeli air raid.

The toughest part for him is his fondness for both the officers in charge and the campus itself. When he defected in July 2012, General Idris, now chief of staff of the rebel forces, was a brigadier in the Syrian Army and dean of the academy after teaching there for 20 years.

"I cannot imagine that we will attack the academy," General Idris said in a wide-ranging interview in a hotel cafe. "All the officers inside the academy are my colleagues. I don't want to fight against them; I don't want to see them killed or injured. I hope they leave before we attack."

General Idris, 55, a stocky figure with a neatly trimmed mustache who was wearing a dark suit and tie, said he planned to deploy outside the academy when the fight begins, to make one last-ditch attempt to persuade his old colleagues to defect.

"We cannot do anything about it if they don't," he said with a shrug.

Much of Syria's future rests on General Idris's success on the battlefield. Critics say the newly unified command structure he presides over lacks both the ground presence and the heavy weapons that are so desperately needed. Without both, they say, it will be impossible for him to forge a cohesive force from the thousands of fractious, fiercely independent rebel brigades arrayed against the still formidable military of President Bashar al-Assad.

Under intense pressure from Western and Arab backers, hundreds of Free Syrian Army commanders gathered in Turkey last December to select a 30-member Supreme Military Council, which in turn chose General Idris as chief of staff.

They unified, grudgingly, because they were promised heavy weapons, they said, in particular antiaircraft and antitank weapons, and other, nonlethal aid.

Some has materialized, although not nearly enough to transform the rebel effort, General Idris said. He spoke before Secretary of State John Kerry pledged $60 million in additional nonlethal aid and training this week.

Previous American aid seemed to amount to a trickle of small, odd lots. The Americans gave him nine ordinary black and gray Toyota pickup trucks, for example. General Idris kept three to move around with his staff and turned over the rest to field commanders. The communications equipment provided is too weak to reach across the country, he said, so he uses Skype. There were enough fatigues from the United States for 10,000 soldiers, which were nowhere near enough, given the roughly 300,000 rebel fighters, he said.

In addition to planned training efforts by the Americans, General Idris is urging Washington to train handpicked commando teams to help secure Syria's suspected stock of chemical weapons if the government teeters. As for financial support, General Idris said very little had been forthcoming.

"We were promised a lot," he said, "but when the moment of truth arrives, they think a lot and give very little."

General Idris and various aides say that some 70 percent to 80 percent of the field commanders are loyal to the joint military command, but other opposition leaders and rebel commanders say the number shrinks continuously because of the credibility gap created by the lack of a reliable weapons supply.

"He is excellent, well respected and well liked — he has a clean past," said Emad ad-Din al-Rashid, an opposition leader in Istanbul. "But the problem is that the Supreme Military Council is not a good representative of the battalions on the ground."

There is also no shortage of field commanders who say the council leaders are too identified with the Assad government and have too little battlefield experience.

"He is a professor, not a soldier, " said Abu Abdelrahman al-Suri, the pseudonym of a commander of Ahrar al-Sham, a jihadi fighting movement.

General Idris and his officers bristle at such criticism, rattling off their years of military training and pointing out that they defected at great personal risk
Turkey, the Unhelpful Ally By Halil M. Karaveli | The New York Times
The Arab Revolutions' Reality Check By Joschka Fischer | Project Syndicate
Islamists Gain Momentum in Syria By Nour Malas | The Wall Street Journal (Subscription Required)
U.S. Intervention in Syria Expert Q & A | Salman Shaikh | March 1, 2013 – Brookings – "the situation is critical and notes that the Syrian people need more than simply "biscuits and band aids" they need U.S. leadership."