Posted by Joshua on Sunday, April 18th, 2010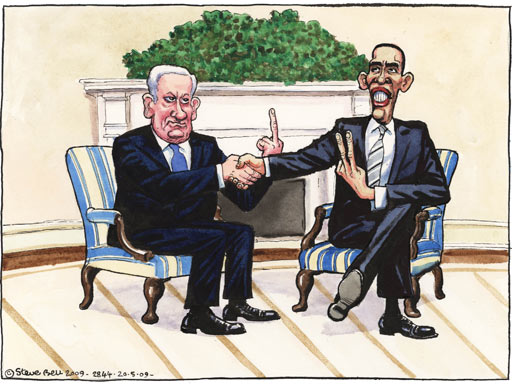 Analysis: Israel fears US wants to impose peace
By STEVEN GUTKIN (AP)
JERUSALEM — Israel's hardline government is deeply worried that the U.S. will try to impose a Mideast peace deal, that the Palestinians might declare statehood unilaterally and that Washington could be moving to end tensions with Syria.

These fears underscore how the current differences between the U.S. and Israel go far beyond a still unresolved diplomatic row over Israeli settlement building. Instead, there is a deepening chasm between the visions of Israeli Prime Minister Benjamin Netanyahu and President Barack Obama, raising questions about the strength of the U.S.-Israeli alliance despite mutual pronouncements that the bond is unshakable. JRL117

Netanyahu fears Israel could be forced into unwanted concessions and its enemies' hands will be strengthened. His government is pushing to keep the focus firmly on threats from Hezbollah, Hamas and — particularly — Iran and its disputed nuclear program.

Obama, in contrast, is speaking about the promises of peace and has taken a new unusual step, publicly characterizing Israeli-Arab strife as harmful to U.S. interests — which many interpreted as a prelude to taking action to push through a peace.

A forum of Israel's top seven ministers met three times this week to try to find ways to warm the chilly relationship with the Obama administration, but failed to agree on any specific measures, such as stopping Jewish construction in east Jerusalem, officials said on condition of anonymity because the meetings were closed.

Israeli officials have been phoning U.S. congress members for help in repairing the ties that were damaged last month when Israel announced a massive new Jewish housing project in east Jerusalem during a visit by U.S. Vice President Joe Biden. Palestinians hope to make that part of the city their future capital.

Israel still has not given its response to a series of demands Obama reportedly made in a tense meeting with Netanyahu in Washington on March 23. This has led to speculation that Netanyahu might be seeking to buy time in the hope that Obama would be less inclined to pressure Israel in the run-up to November's U.S. congressional elections, in which Jewish American support is key.
US sources say unclear if Syria sent Scuds to Lebanon YNET
WASHINGTON – The United States does not believe Syria transferred long-range Scud missiles to Hezbollah, but has no doubt that Damascus had the intention to deliver missiles to the terror organization, US officials told the Reuters news agency on Saturday. "We think the intent is there," a senior US official said. But the official and two others briefed on the case said it was unclear whether the missiles, which could hit deep inside Israel, were actually handed over in full to the group. The officials spoke on condition of anonymity because of the sensitivity of the matter.

Another official said doubts were growing that Syria had delivered the Scuds in full and allowed them to transit to Lebanese territory: "We don't believe it happened."  "It's unclear at this point that a transfer has occurred … and the United States has no indications that the rockets have moved across the border," a third US official said.

Such comments come in contrast with remarks made by White House Spokesman Robert Gibbs on Wednesday, who said the US administration was "deeply concerned" with the alleged weapons transfer, which he said could undermine stability in the Middle East.
Obama to Sarkozy: I'll keep up pressure on Israel, Palestinians
By Barak Ravid
Haaretz, April 16, 2010
U.S. President Barack Obama has told French President Nicolas Sarkozy that he is determined to keep the pressure on Israel and the Palestinians to renew peace talks and implement confidence-building measures. Obama made his comments despite potential political damage at home ahead of the mid-term congressional elections in November.

According to a Western diplomat familiar with the details of the Sarkozy-Obama meeting two weeks ago in Washington, Obama said the administration's latest moves were not meant to cause a crisis with Israel, but to create an atmosphere that would allow the peace process to proceed. Obama made clear that he was pressuring both Israel and the Palestinians.

However, Obama said he was skeptical about Prime Minister Benjamin Netanyahu's ability and willingness to advance the peace process. The source said the U.S. president was disappointed that Netanyahu was unwilling to distance himself from his right-wing governing coalition.

Obama said he was aware that he was paying a political price domestically for pressuring Israel, especially in relations with the Jewish community. But he added that he was willing to do so.

Republicans have criticized Obama for pressuring Israel since Netanyahu's visit to Washington a few weeks ago. Evidence of political pressure on Obama includes a letter signed by 76 Republican and Democratic senators sent Tuesday to Secretary of State Hillary Clinton.
The Times (GB): Israel warns Syria over Hezbollah attacks
2010-04-17
Israel has delivered a secret warning to Syrian President Bashar Assad that it will respond to missile attacks from Hezbollah, the militant Lebanese-based Islamist group, by launching immediate retaliation against Syria itself. In a message, sent …
The following three news items from Abdalnour's all4syria website are:
A Legal trial between the Hariri family and Khaddam to evict him from his Villa in Paris.
An Agreement to Ease Getting Visas for Syrians to France
The American School in Damascus will be Opening Soon
أنباء عن نزاع قضائي بين عائلة الحريري وخدام لإخراجه من القصر بباريس
ونقلت الصحيفة مصادر فرنسية وعربية في باريس، تأكيداتها أن القصر الذي اشترته عائلة الحريري من وريثة (اونازيس) الملياردير اليوناني الشهير بمبلغ 20 مليون يورو بشكل موقت. فيما يقول خدّام ان عائلة الحريري اشترت له هذا القصر ضمن ما أسماه التعويضات عن أملاكه في سوريا والتي اتفق عليها مع العائلة ومع شيراك، حيث دُفع له مبلغ سبعة ملايين دولار مقابل بعض ممتلكاته على الساحل السوري ووُعد بمبالغ أخرى.
إتفاقية لتسهيل الحصول على الفيز لفرنسا للطلاب السوريين
قرب افتتاح المدرسة الامريكية بدمشق
Jordan is talking, but is anyone listening? By Curtis R. Ryan on ForeignPolicy.com
Syria: New study on the situation of stateless Kurds
Reliable figures available for the first time.

(Berlin, April 15, 2010)—In a study published today, KurdWatch reports that there are 154,000 registered stateless Kurds (ajanib) living in Syria. This group has been living without Syrian citizenship since 1962 and thus without fundamental civil rights. In 1962 the Syrian government ordered a special census in the primarily Kurdish settled al‑Hasakah province and revoked the citizenship of 120,000 Kurds.

»This is the first time it has been possible to research reliable data that is independent of the official statements of the Syrian government,« said Siamend Hajo, project manager of the Internet portal KurdWatch.org, which operates from Berlin. »Our figures are from the year 2008. To this day, the Syrian government refuses to publish them.« The number of unregistered stateless people (maktumin) is unknown. KurdWatch assumes that 160,000 Kurds are affected. »We assume that a total of more than 300,000 stateless Kurds live in Syria,« Hajo continues.

The 26‑page study »Stateless Kurds in Syria—Illegal invaders or victims of a nationalistic policy?« outlines the discrimination currently facing registered as well as unregistered stateless Kurds. For example, stateless Kurds require special permission for simple administrative procedures such as marriage registration and are forbidden to stay in a hotel without prior consent. First and foremost, however, stateless people are confronted with significant restrictions to their political rights, their ownership rights, and their right to education and the free choice of profession.

With reference to the decree of 1962 that ordered the census, the report analyzes the census implementation and specifies the coalitions of interest responsible for its passage. »Here as well our study breaks new ground,« said Siamend Hajo. »The background information we publish in a condensed format was previously scattered and only available in Arabic.«

Policies toward the stateless Kurds have not changed under Bashar al‑Assad. The Syrian president who took office as a reformer almost ten years ago has repeatedly announced a solution to the problem of the stateless. Thus far, however, nothing has happened.

KurdWatch.org is an independent Internet portal that reports on human rights violations against the Kurdish population in Syria. [www.kurdwatch.org]
Syria in China's New Silk Road Strategy
By Christina Y. Lin
Jamestown Foundation
While the international community is fixated on Iran's nuclear program, China has been steadily expanding its political, economic and strategic ties with Syria. Since Syrian President Bashar al-Assad visited China in 2004 on the heels of the 2003 U.S. intervention in Iraq, there have been increased economic cooperation and more recently, a flurry of high-level exchanges on political and strategic issues. On April 5, while at the 7th Syrian International Oil and Gas Exhibition "SYROIL 2010" to attract local, Arab and foreign investors, Syrian Minister of Petroleum and Mineral Resources Sufian al-Allaw told the state-run Xinhua News Agency that he expects more contracts and cooperation with Chinese oil companies (Xinhua News Agency, April 5). This is in tandem with growing political and economic cooperation in the electricity, transport and telecommunications sectors dominated by Chinese enterprises such as CNPC, ZTE, Huawei and Haier (China's largest white goods manufacturer) (Xinhua News Agency, March 31, 2008; The Syrian Report, May 11, 2009)………….
"Down With Dictatorship!"
2010-04-17 AmSpec Blog:
As part of the Obama Administration's ongoing campaign to appease enemies and alienate allies, the President has decided to send an ambassador to Damascus for the first time since 2005. Laura Rozen's Politico report this week on the battle in the …
Aga Khan Helps Ravaged Syrian City Aleppo Regain Ancient Glory
By Daniel Williams
April 16 (Bloomberg) — It's hard to know which of history's episodes was worse for Aleppo, an ancient fortress city in Syria's north. Perhaps it was in the year 1400, when Tamerlane, the invading Mongol-Turkic chieftain, piled thousands of skulls at the town gates to persuade inhabitants to give up.

Or maybe the earthquake of 1136 that killed tens of thousands of inhabitants, or the massacre of Muslims by more Mongol invaders in 1260 or the 19th-century assaults by cholera and plague.