Thursday, July 9th, 2009
I just did a Radio NPR talk show with Mona Yacoubian for the Washington DC area: Kojo Nnamdi Show (July 9, 2009) Democracy Building & Consensus in Lebanon

Guests:
Joshua Landis, Co-Director of the Center for Peace Studies at the University of Oklahoma; Author of SyriaComment.com blog
Mona Yacoubian, Director, Lebanon Working Group, U.S. Institute of Peace
In recent elections, Lebanese voters sent a pro-Western majority to parliament, denying a challenge from the militant Hezbollah. We look at the challenges ahead for the newly-named Prime Minister Saad Hariri — son of slain former Prime Minister Rafik Hariri — and look at the foreign powers like Syria, Saudi Arabia, and the U.S. are likely to play. Windows Media
"French President Nicolas Sarkozy said on Wednesday that Syrian president Bashar Assad "kept the commitments" that he had promised France concerning Lebanon. Sarkozy was speaking to reporters in L'Aquilla, Italy at the opening of the G8 Summit. Following the assassination of former Lebanese Prime Minister Rafik Hariri, French-Syrian ties deteriorated considerably. However, in 2008 ties were revived following a visit by Sarkozy, newly elected at the time, to Syria …"
Maya Bengal in Ma'ariv: Obama Lets Settlements grow (Via Pulse and FLC)
The Americans have agreed to allow Israel to construct some 2,500 housing units in the settlements. This is in complete contrast to statements relayed to Israel in recent months, since the new administration took office.

The agreement was secured after Defense Minister Ehud Barak was able to convince the Americans to allow Israel to continue and build those units whose construction had already started. In other words, the Americans gave their consent to letting the construction continue of some 700 buildings, which amount to some 2,500 housing units.

Upon his return to Israel, the defense minister reported to the forum of six – which includes, besides himself, Prime Minister Binyamin Netanyahu and ministers Avigdor Lieberman, Dan Meridor, Benny Begin, Moshe (Bugi) Yaalon – on the results of the meeting.

In addition, an understanding was reached between Mitchell and Barak that if it was indeed decided to halt settlement construction in the West Bank, this would occur only in the framework of regional negotiations – in which both Syria and Lebanon would also take part.

The Americans have adopted the position that Israel should not be required to halt settlement construction as a precondition, but rather only when the peace process with the Arab countries and the Palestinian Authority gets on track.

A week from now, special envoy to the Middle East George Mitchell will arrive once again in Israel and is expected to meet with Prime Minister Binyamin Netanyahu. Incidentally, sources close to the defense minister are now saying that the level of tension between Washington and Jerusalem has abated.

According to them, the Americans have worked to accommodate Israel and the atmosphere in now more constructive.
Syrian Souvenirs for Steinmeier
By Yassin Musharbash in Damascus, Syria
German Foreign Minister Frank-Walter Steinmeier sees Syria and its president, Bashar Assad, as an important regional player, a key to Mideast peace. In Damascus, Assad did all he could to accomodate this leap of faith, showing a willingness to find a middle ground even on hot-button issues.

Steinmeier stressed in Syria, as he had done in Israel on Monday, that the current opportunity may be short-lived. He believes Obama provided impetus by indicating he's ready to take a tougher line with Israel. Now the players in the region have to position themselves. Negotiations have to start very quickly, Steinmeier said in Damascus. "The chances we have must be seized this year, otherwise the window will close," he said.

He wants Palestinians and Israelis to start final status negotiations this autumn to replace a "peace process" that has been torpedoed and watered down all too often. That's the position shared by the United States and Steinmeier. It's worth a try after the failure of previous attempts, they believe.

The Syrians, who until now have given the impression that time is the least of their concerns, were surprisingly clear on Tuesday in agreeing that time was now of the essence. Foreign Minister Walid al-Moualem hinted that Syria's ties with Iran — a sticking point with the international community — may no longer be a taboo issue.

Asked by a journalist what he thought of the US demand that Syria divorce itself from Tehran in exchange for a return of the Golan Heights occupied by Israel, he said no one could predict what would happen to the relationship once the Golan Heights were returned to Syria.

The minister also reaffirmed at a joint news conference with Steinmeier that his country remained ready to negotiate with Israel. But he added that he would prefer the talks initially to be held indirectly via Turkish mediation. Israel is currently signalling that it would prefer to negotiate directly with Damascus. So the issue here is not whether but how — a further tentative sign of rapprochement. …
بقرار من الرئيس الأسد، تسريح اللواء الدكتور شاليش!
السفير السوري في واشنطن: سوريا "صعقت" لتجديد العقوبات الأميـركية
في تقرير بريطاني: سورية ثالث أسعد دولة عربية والـ 38 عالمياً!
الرئيس السوري يصدر أمراً بخصوص المخابرات, يؤكد مصداقية (كلنا شركاء)!
القناة الفضائية نينار "رامي مخلوف" قريباً على الشاشة
The Syian and Iranian relationship:
Ray Takeyh's new book, Guardians of the Revolution: Iran and the World in the Age of Ayatollahs, has an interesting section on the Syrian-Iranian relationship. Here it is posted to the Oxford University Press Blog. Tayekh, a Senior Fellow for Middle Eastern Studies at the Council on Foreign Relations, writes about the relationship between Iran and Syria, beginning with the 1979 Iranian Revolution and the Iran-Syria alliance that followed.
Al Jazeera English signs first major US TV deal
Mossad chief Dagan stirs the pot
2009-07-07 16:28:05.10 GMT
TEL AVIV, Israel, July 7 (UPI) — Prime Minister Binyamin Netanyahu's decision to extend the tenure of former army Gen. Meir Dagan as head of the Mossad, Israel's foreign intelligence service, by a year has got the nation wondering what clandestine missions the man the liberal daily Haaretz calls "the angel of destruction" will think up next……

Dagan "is said to have returned the agency to its glory days," says the Jerusalem Post.
He has notched what his peers see as several major successes. Most of these remain shrouded in mystery, but there have been reports that key scientists in Iran's nuclear program died in mysterious circumstances.

More in the public domain, however, was the discovery of what Israel says was a North Korean-built nuclear reactor in western Syria and its subsequent destruction by the Israeli air force in September 2007 and long-range air strikes in Sudan against alleged shipments of Iranian arms being smuggled to Hamas in Gaza in January and February 2009.

But possibly the most spectacular operation widely attributed to Dagan's Mossad was the February 2008 assassination of Hezbollah's legendary operations chief, Imad Mughniyeh, in the heart of Damascus, the Syrian capital.
Controversial Bestseller Shakes the Foundation of the Israeli State
By Joshua Holland
What if the Palestinian Arabs who have lived for decades under the heel of the modern Israeli state are in fact descended from the very same "children of Israel" described in the Old Testament? And what if most modern Israelis aren't descended from the ancient Israelites at all, but are actually a mix of Europeans, North Africans and others who didn't "return" to the scrap of land we now call Israel and establish a new state following the attempt to exterminate them during World War II, but came in and forcefully displaced people whose ancestors had lived there for millennia?

What if the entire tale of the Jewish Diaspora — the story recounted at Passover tables by Jews around the world every year detailing the ancient Jews' exile from Judea, the years spent wandering through the desert, their escape from the Pharaoh's clutches — is all wrong?

That's the explosive thesis of When and How Was the Jewish People Invented?, a book by Tel Aviv University scholar Shlomo Zand (or Sand) that sent shockwaves across Israeli society when it was published last year. After 19 weeks on the Israeli best-seller list, the book is being translated into a dozen languages and will be published in the United States this year by Verso…..

Inventing a People?

Zand's central argument is that the Romans didn't expel whole nations from their territories. Zand estimates that perhaps 10,000 ancient Judeans were vanquished during the Roman wars, and the remaining inhabitants of ancient Judea remained, converting to Islam and assimilating with their conquerors when Arabs subjugated the area. They became the progenitors of today's Palestinian Arabs, many of whom now live as refugees who were exiled from their homeland during the 20th century.

As Israeli journalist Tom Segev summarized, in a review of the book in Ha'aretz:

There never was a Jewish people, only a Jewish religion, and the exile also never happened — hence there was no return. Zand rejects most of the stories of national-identity formation in the Bible, including the exodus from Egypt and, most satisfactorily, the horrors of the conquest under Joshua.

But this begs the question: if the ancient people of Judea weren't expelled en masse, then how did it come to pass that Jewish people are scattered across the world? According to Zand, who offers detailed histories of several groups within what is conventionally known as the Jewish Diaspora, some were Jews who emigrated of their own volition, and many more (90%) were later converts to Judaism. Contrary to popular belief, Zand argues that Judaism was an evangelical religion that actively sought out new adherents during its formative period.

This narrative has huge significance in terms of Israel's national identity. If Judaism is a religion, rather than "a people" descended from a dispersed nation, then it brings into question the central justification for the state of Israel remaining a "Jewish state."…..
Sexy Brit bringing Syria in from the cold
By OLIVER HARVEY
Chief Feature Writer for The SUN – what else
Born in the west London suburb of Acton, she speaks with a cut-glass English accent and her childhood friends called her Emma.
She is Asma al Assad – First Lady of Syria – and she is certainly not the average Arab dictator's wife.
She likes to show off her willowy form in figure-hugging jeans and her mousy brown hair is cut in a stylish flicked bob. ….
The Muslim Challenge to Nationalism
July 6, 2009, By James Brazier, London Correspondent
There is plenty of evidence that the world's Muslims do not take the nation-state for granted. WorldPublicOpinion.org, supported by the University of Maryland, has run two sets of surveys in Muslim-majority countries to gauge public opinion of geopolitical affairs. The most recent poll, "Public Opinion in the Islamic World on Terrorism, al Qaeda, and U.S. Policies", published in February 2009, produced much the same results as the first one two years earlier.

Both surveys showed majority support for a new Caliphate in some large Muslim countries. According to the latest survey, 70 percent of Egyptians believe Egypt should be erased in favour of a superstate. Sixty-nine percent of Pakistanis agreed that their country should be dissolved in a similar fashion while, according to the 2006 survey, 67 percent of Moroccans felt likewise. Indonesians, far-flung from the centre of Islamic geography and never a party to historical Caliphates, mostly rejected the idea (although 35 percent did not).

Respondents tended to view the system of nation-states as a foreign conspiracy designed to weaken and divide Muslims. Large majorities in every country polled (Egypt, Indonesia, Turkey, Pakistan, Morocco, Palestine, Iran, and Azerbaijan) cited "weaken and divide" as the main policy goal of the United States in the Muslim world. There was even greater unanimity as to why the U.S. sought this weakness and division: control over oil. This belief was "so widespread as to be consensual," according to the report's authors.

Few respondents believed that the U.S. genuinely supports democracy. Large majorities concluded either that the U.S. actively opposes free elections in their countries (especially respondents in Jordan and Egypt), or that the U.S. seeks democracy only when it is likely to result in a cooperative government.
Risking Israel's ire, US takes 1,350 Palestinian refugees
By Patrik Jonsson | The Christian Science Monitor, July 7, 200
The State Department confirmed today that as many as 1,350 Iraqi Palestinians – once the well-treated guests of Saddam Hussein and now at outs with much of Iraqi society – will be resettled in the US, mostly in southern California, starting this fall.

It will be the largest-ever resettlement of Palestinian refugees into the US – and welcome news to the Palestinians who fled to Iraq after 1948 but who have had a tough time since Mr. Hussein was deposed in 2003. Targeted by Iraqi Shiites, the mostly-Sunni Palestinians have spent recent years in one of the region's roughest refugee camps, Al Waleed, near Iraq's border with Syria.

"Really for the first time, the United States is recognizing a Palestinian refugee population that could be admitted to the US as part of a resettlement program," says Bill Frelick, refugee policy director at Human Rights Watch in Washington.

Given the US's past reluctance to resettle Palestinians – it accepted just seven Palestinians in 2007 and nine in 2008 – the effort could ruffle some diplomatic feathers.

For many in the State Department and international community, the resettlement is part of a moral imperative the US has to clean up the refugee crisis created by invading Iraq. The US has already stepped up resettlement of Iraqis, some who have struggled to adjust to life in America.

The resettlement of Iraqi Palestinians is "an important gesture for the United States to demonstrate that we're not heartless," says Alon Ben-Meir, a professor of international relations and Middle Eastern studies at New York University.

But some critics say the State Department is sloughing off its problems onto American cities, especially since in this case the Palestinians were sympathizers of Hussein, who was deposed by the US.

"This is politically a real hot potato," says Mark Krikorian, director of the conservative Center for Immigration Studies in Washington, adding, "[A]merica has become a dumping ground for the State Department's problems – they're tossing their problems over their head into Harrisburg, Pa., or Omaha, Neb."

SADDAM'S GUESTS
Palestinian refugees came to Iraq in successive waves over several decades, first in 1948, then in 1967, and in 1991. They were treated well under Hussein but were also used to attack Israeli policies, and their presence was resented by many Iraqis.

After Hussein was deposed in 2003, many of these Palestinians were driven out of their homes and now live "at the mercy of the weather" in rough camps along the Syrian and Jordanian border, says Mr. Ben-Meir. The number of Palestinians in Iraq has fallen from around 34,000 to an estimated 15,000, with about 2,773 living in camps, according to the State Department.

The US, which takes in about 80,000 refugees annually, hopes to bring 17,000 Iraqi refugees this year.

CATEGORIZED AS IRAQI REFUGEES
While the US generally doesn't accept Palestinians, Todd Pierce, a spokesman for the State Department's Bureau of Population, Refugees and Migration, says that the Iraqi population of Palestinians falls under a different category from those in Gaza and the West Bank. Each applicant will be carefully scrutinized for terrorist ties, he adds.

The US reluctance to accept Palestinians is because it "doesn't want the refugee program to become an issue in its relationship with Israel," says a diplomat in the region, who requested anonymity because he is not cleared to talk to the press. But these Palestinians, he says, will be processed as refugees from Iraq.

Mr. Krikorian says the US should be the last refuge for those fleeing persecution. Only Jordan of all the Arab countries routinely grants citizenship to Palestinian refugees, he notes. More recently, says Mr. Frelick, Jordan has also shut its borders to Palestinians coming from Iraq.

Frelick, who has visited a camp on the Jordanian border, said the Iraqi Palestinians are "apolitical," and "basically desperate, scared, miserable, and ready to just get out of Iraq."
Resettlement agencies urge an overhaul of America's 30-year-old refugee policy.

Many Iraqi refugees in US now in dire straits
By Patrik Jonsson and Kristen Chick
The Christian Science Monitor
June 18, 2009
Atlanta; and Lynn, Mass. – It hasn't been smooth sailing for the thousands of Iraqi refugees entering America's resettlement program. Only 11 percent are finding work this year, compared with 80 percent two years ago. Many are frustrated as benefits dwindle, cash runs out, and eviction notices pile up.

With such findings in hand, nonprofit resettlement agencies like the International Rescue Committee (IRC) are urging this week an overhaul of America's three-decade-old refugee policy.

Reforms should include more cash assistance from the US government to the refugees, the IRC says. The government should also offer a uniform and more substantial package of benefits, the IRC says.

Refugees "never imagined that they would be struggling to survive here in America," says Alaa Naji, a refugee from Baghdad who now works in Atlanta for the IRC. "They expected more from a country that was involved in the violence that destroyed our land, homes, and loved ones."

Complaints about the handling of refugees have risen as the United States has tried to welcome more Iraqi refugees. Until 2006, only 202 Iraqis had come to the US, partly because of security concerns. In the past three years, 25,659 Iraqi refugees have arrived.

Some argue that US officials have oversold refugees' prospects. "You'll see there's a universal theme to [Iraqis'] complaints, which is that they were told they were going to have a great life, and they're completely shocked when they're given jobs like washing cars," says Ann Corcoran, a Washington County, Md., farmer who runs a critical blog, Refugee Resettlement Watch.

It's often hard for people to reconcile themselves to the reality of life as a refugee, says Kay Bellor, IRC's vice president for US programs. Many refugees are highly educated, and they find it difficult to work in menial jobs and give up their earlier lifestyle, she says.

This spring, as a stopgap measure, the State Department released $5 million in emergency rent stipends to help refugees on the verge of eviction. …..
Costa Rica is world's greenest, happiest country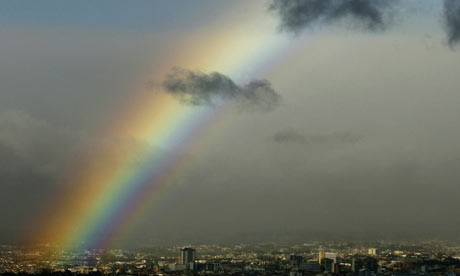 Latin American nation tops index ranking countries by ecological footprint and happiness of their citizens
(page 63 of 64 in the above pdf file)
syria is number 38
usa is number 114
uae is number 123
saudi is number 13
egypt is number 12
israel is number 67
lebanon is number 111
Egyptians cry racism in woman's slaying in Germany
By MAGGIE MICHAEL
CAIRO (AP) — Thousands of Egyptian mourners marched behind the coffin of the "martyr of the head scarf" on Monday — a pregnant Muslim woman who was stabbed to death in a German courtroom as her young son watched.

Many in her homeland were outraged by the attack and saw the low key response in Germany as an example of racism and anti-Muslim sentiment.

Her husband was critically wounded in the attack Wednesday in Dresden when he tried to intervene and was stabbed by the attacker and accidentally shot by court security.

"There is no god but God and the Germans are the enemies of God," chanted the mourners for 32-year-old Marwa al-Sherbini in her hometown of Alexandria, where her body was buried after being flown back from Germany.

"We will avenge her killing," her brother Tarek el-Sherbini told The Associated Press by telephone from the mosque where prayers were being recited in front of his sister's coffin. "In the West, they don't recognize us. There is racism."

Al-Sherbini, who was about four months pregnant and wore the Islamic head scarf, was involved in a court case against her neighbor for calling her a terrorist and was set to testify against him when he stabbed her 18 times inside the courtroom in front of her 3-year-old son.

Her husband, who was in Germany on a research fellowship, came to her aid and was also stabbed by the neighbor and shot in the leg by a security guard who initially mistook him for the attacker, German prosecutors said. He is now in critical condition in a German hospital, according to al-Sherbini's brother.

"The guards thought that as long as he wasn't blond, he must be the attacker so they shot him," al-Sherbini told an Egyptian television station…..