Posted by Joshua on Wednesday, May 19th, 2010
Syrian and Israeli bloggers try to resolve their differences online
Onemideast.org – a Website run by academics and activists aims to improve communication and negotiation between warring lands
Ian Black, Middle East editor
The Guardian, Wednesday 19 May 2010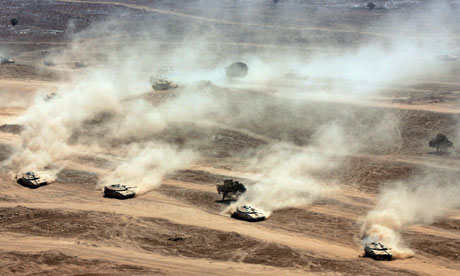 Israeli tanks on manouevre on the Golan Heights, which it captured from Syria in the 1967 Six Day War. Photograph: Jim Hollander/EPA
Syrians and Israelis are crossing one of the Middle East's great divides to co-operate – in cyberspace – to explore ways to advance peace between their countries.

The groundbreaking OneMideast.org website aims to bring together prominent Israelis and Syrian bloggers, academics and experts seeking ways to break the stubborn impasse in negotiations.

It will host the first Syrian-Israeli public online dialogue of its kind – a remarkable step for two countries which have been in a state of war for more than 60 years. The border between them – a UN-monitored ceasefire line on the heavily fortified Golan Heights, occupied by Israel since 1967 – is closed. Nationals from each country are banned from visiting the other; there are no direct communications. But the authorities in Damascus have tolerated previous ad hoc internet exchanges and are thought to be happy with the launch of this permanent platform.

"It is the first time there's been an organised effort on a specific issue between two enemies, and not only between Syria and Israel," said Camille Otrankji, a Canadian-Syrian who is helping run the website. "This is an experiment. We hope it will take things a step further."

Yoav Stern, an Israeli organiser of the site, sparked intense interest in both Syria and Israel when he reported on Syrian blogging in Ha'aretz, Israel's leading liberal Hebrew-language daily. "We are used to looking at each other in demonic terms," he said. "This is different."

For the last year, academics, political analysts, journalists, businesspeople and consultants from both sides have been debating the issues in a private online forum. They produced a list of all possible objections to peace from both sides and voted for the 20 most commonly encountered in Syrian and Israeli societies. The group then produced effective counter-arguments to each of them.

Despite the emnity between the neighbours, negotiations between them have come tantalisingly close to a deal three times during the last 20 years before obstacles emerged to scuttle the process. Syrian officials say that 85% of the problems, including crucial security arrangements, were solved in negotiations with four Israeli leaders from Yitzhak Rabin to Ehud Barak. Turkey mediated four more rounds of inconclusive talks in 2008.

Still, many analysts believe Syria would never sign a peace agreement with Israel even if it secured the total return of the Golan Heights — unless it was part of a comprehensive peace settlement that included the Palestinian issue.

Syria is nervous about unofficial peace initiatives, such as one involving a retired Israeli diplomat and an American-Syrian businessman who proposed turning the Golan into a nature reserve. "We are making sure that these are not negotiations," insisted Otranjki. "This is a communications exercise." The organisers want to avoid the experience of Syria Comment,

a respected US-based specialist website that has been targeted by pro-Israeli bloggers seeking to pressure the Obama administration not to continue its cautious dialogue with President Bashar al-Assad.

The next step is for OneMideast.org to invite experts and opinion formers from both countries to discuss the peace process and to submit constructive feedback for publication on the site.Israeli media reported yesterday that Assad had turned down an offer from the Israeli president, Shimon Peres, under which Israel would return the Golan if Syria severed its ties with Iran, Hezbollah and Hamas.
Avatar-like Syrians and Israelis Set Groundbreaking Rules for Web Diplomacy
Joe Macaron
Huffington Post, May 18, 2010
Computer-generated actors, Syrians and Israelis, are coming together in unlikely times of warmongering. They are reopening a dim flashlight of discussions, yet this time on the virtual world of endless possibilities where the invisible hand of censorship cannot reach. They do not need a passport to move around in disguise for secret talks and they believe their story is worth telling.

On the front page of the website, OneMideast.org, you find the Grand Mosque of Damascus, the Carmelite Monastery in Haifa, the Aleppo Synagogue, and the Minaret in the Old City of Jaffa in a choreography of religious and touristic photos reflecting an ideal yet sober initiative launched by ten Syrian expats unrestricted by the official tone in Damascus along with ten Israelis who feels at exile in their own country.

The bipartisan group defines itself as an "online discussion arena intended for raising and debating ideas central to the Arab Israeli peace process" and affirms in a press release that the initiative is "seeking to propose solutions to break the impasse of the stalled peace process" and its role is "facilitating dialogue that would otherwise be impossible through traditional means of communication".

The website unfolds in two parts, Israeli objections to peace with Syria and Syrian objections to peace with Israel, reflecting the popular mood on both sides in a communication exercise that offers a new approach to this conflict instead of the mundane common ground setting at traditional peace conferences. The group has a separate undisclosed online forum for simulation of tactics and ideas to come up with counterarguments that are more complex and touch the core of the conflict. ….

This online interaction started in June 2007 when Syrian Canadian blogger Camille Otrakji launched an initiative to keep the memory of the Golan Heights in the 40th anniversary of its occupation by Israeli troops, which was covered by Haaretz and prompted a traffic of over 5,000 Israelis on "Creative Syria". Since then, Israeli intellectuals and figures have been attempting to approach Otrakji by email but he replied back by referring them to another site, Syria Comment, run by Joshua Landis. This ended up having a space for Syrians and Israelis to comment, resulting in what could be an indirect public dialogue…..the Lebanese American blogger Elias Mhanna, who runs Qifa Nabki website, represents his own Lebanese point of view in this complex online discussion. Mhanna talks about a personal rapport that was established over the years between members of the group "even if we never met, there are good intentions between us, we all want a reasonable peace deal"….
Also, check out the new blog at Mideastwire by Nick Noe. Here is a sample post:
US Pours More Money into Israeli Military

"US to Put $205 Million Towards Israeli Rocket Defense System – The US Department of Defense has said it would allocate $205 million to Israel to complete its development and deployment of a defense system designed to protect civilians against incoming short-range rockets and mortars. The system, dubbed Iron Dome, is expected to become operational by the end of the year. Washington said the funding was a gesture that the US was committed to safeguarding Israel's security needs. The aid is in addition to the $3 billion in annual US defense aid to Israel. Most of that money must be spent in the United States, while the additional aid can be used to pay for the Israeli-built Iron Dome. The $205 million is reportedly the sum Israel spent so far on developing the one-of-a-kind system. When deployed, it will drastically reduce the threat of Kassam rockets fired at Israeli towns from the Hamas-held Gaza Strip and Katyushas fired from Lebanon."