Posted by Joshua on Tuesday, June 9th, 2009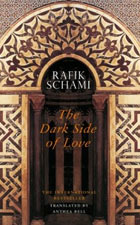 David Butter, who writes for the Economist Intelligence Unit dropped me a line to say:
I am also deeply into Rafik Schami's The Dark Side of Love, a magnificent Marquez-like novel of 20th century Syria that is a must-read for anyone interested in Syrian history and society — and deserves a much wider readership. It has just been published in English (from original German) — I fear it may never come out in Arabic — too much sex and politics.
Here is a link to a review by Robin Yassin-Kassab, who is an SC reader and writer. He states:
"Egypt, with its unending metropolis, is the home of the Arabic novel, and Egypt produced the Arabs' master of fiction, Naguib Mahfouz. But a flame equally bright now burns from Damascus, via Germany, as shown by what may turn out to be the first Great Syrian Novel."
All the best
David
Also read this review by The Armenian Odar Reads who read the book in two days.
Here are some other puffs from Amazon:
Rafik Schami's dazzling novel spans a century of Syrian history in which politics and religions continue to torment an entire people. Simultaneously, his poetic stories from three generations tell of the courage of lovers who risk death sooner than deny their passions. He has also written a heartfelt tribute to his hometown Damascus and a great and moving hymn to the power of love.

"A grandiose book–one of the richest, most venturous, and most beautiful projects of capturing the world…"
–Deutschlandradio

"A cascade of stories, which again and again inflame themselves… An Arab variation of Romeo and Juliet with a happy ending… A wonderfully easy read… A modern Arab genre tableau… an immense declaration of love to Damascus with its East-West tensions…"
–Neue Züricher Zeitung

"The strangeness of the Arab world in Schami's novel becomes immediately familiar–in 896 pages, in 300 stories, between grief and laughter, crime and poetry."
–Süddeutsche Zeitung

"Rafik Schami's novel is a festival for the imagination…"
–Süddeutsche Zeitung