Saturday, October 6th, 2007
High Level Debate Stalled Syria Air Strike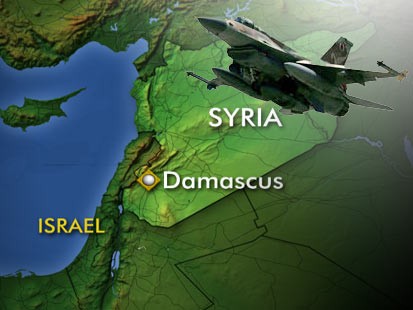 The September Israeli airstrike on a suspected nuclear site in Syria had been in the works for months, ABC News has learned, and was delayed only at the strong urging of the United States.
In early July the Israelis presented the United States with satellite imagery that they said showed a nuclear facility in Syria. They had additional evidence that they said showed that some of the technology was supplied by North Korea.
One U.S. official told ABC's Martha Raddatz the material was "jaw dropping" because it raised questions as to why U.S. intelligence had not previously picked up on the facility.
Officials said that the facility had likely been there for months if not years.
"Israel tends to be very thorough about its intelligence coverage, particularly when it takes a major military step, so they would not have acted without data from several sources," said ABC military consultant Tony Cordesman.
U.S. Cautious After Flawed Iraq Intelligence
A senior U.S. official said the Israelis planned to strike during the week of July 14 and in secret high-level meetings American officials argued over how to respond to the intelligence.
Some in the administration supported the Israeli action, but others, notably Sect. of State Condoleeza Rice did not. One senior official said the U.S. convinced the Israelis to "confront Syria before attacking."
Officials said they were concerned about the impact an attack on Syria would have on the region. And given the profound consequences of the flawed intelligence in Iraq, the U.S. wanted to be absolutely certain the intelligence was accurate.
Initially, administration officials convinced the Israelis to call off the July strike. But in September the Israelis feared that news of the site was about to leak and went ahead with the strike despite U.S. concerns.
The airstrike was so highly classified, President Bush refused to acknowledge it publicly even after the bombs fell. ..ABC's Martha Raddatz filed this report for "World News With Charles Gibson."
The Archbishop of Canterbury, Rowan Williams, has issued an angry rebuke to those in the United States who favour military action against Syria or Iran.
"When people talk about further destabilising of the region, when you read about some American political advisers speaking about action against Syria and Iran, I can only say that I regard that as criminal, ignorant and potentially murderous folly," he said.

Dr Williams has just returned from a visit to Syria where he met hundreds of Christian Iraqi refugees.
Christian Split in Lebanon Raises Specter of War, Oct. 5 — With the Islamist group Hezbollah having brought Lebanese politics to a standstill, the country's once-dominant Christian community feels under siege and has begun re-establishing militias, training in the hills and stockpiling weapons.
Skip to next paragraph
Multimedia
Slide Show
Many Lebanese say another civil war — like the 15-year one that started in 1975 — is imminent and that the most dangerous flash points are within the divided Christian community.
Christian youth are signing up for militant factions in the greatest numbers since the end of the civil war, spray painting nationalist symbols on walls and tattooing them on their skin, and proclaiming their willingness to fight in a new civil war — in particular, against fellow Christians.
"…When I asked Hersh who wants to bomb Iran, he said, "Ironically there is a lot of pressure coming from Democrats. Hillary Clinton, Obama, and Edwards have all said we cannot have a nuclear-armed Iran. Clearly the pressure from Democrats is a reflection of – we might as well say it – Israeli and Jewish input." He added the obvious: "a lot of money comes to the Democratic campaigns" from Jewish contributors…"
Hersh said. "When it comes to choice between bombing Iran and taking some political heat, the president will do what he wants. Look, no decision has been made, no order has been given, I've never said it's going to happen. But I had breakfast this morning in Washington with somebody who's close to a lot of military people, and there's a sense among them that the president is essentially messianic about this. He sees this as his mission. It could be because God is telling him to do it. It could be because his daddy didn't do it. It could be because it's step 13 in a 12-step program he was in. I just don't know."