Posted by Joshua on Monday, March 10th, 2008
"Dardari Says the Syrian Middle Class is Reviving Due to Economic Reforms"
by Ibrahim Hamidi
2008-03-10 (Translation thanks to BBC Monitor)
Text of report by London-based newspaper Al-Hayat website on 8 March
[Report by Ibrahim Humaydi from Damascus: "Syrian Deputy Prime Minister Confirms Gap Among Classes, Increase in Number of Rich, but Denies Poverty Is Increasing. Al-Dardari: Syria Needs To Liberalize its Economy]
In an interview with Al-Hayat, Syrian Deputy Prime Minister for Economic Affairs Abdallah al-Dardari declared that his country's economy is facing new challenges represented by a growing demand on energy supplies, the need to find 1bn euros annually for electric power, and the rising prices of agricultural products and their connection with "food security" resulting from rising oil prices. He asserted that Syria has no choice but "to work harder on structural economic reform and liberalizing more economic sectors from their current restrictions."
He pointed out that the rich in Syria "are growing richer but the incomes of the poor are also improving." He said that "the gap between classes is more conspicuous now" but without meaning that "the middle class is disappearing." He added that poverty is "a harsh and profound reality" but the Syrian Government is working to provide "social security."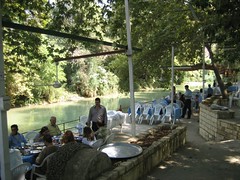 Noting that Syria's domestic challenges are connected with poverty and unemployment, he asserted that reform "is an intellectual, administrative, and executive challenge." He added that it is not an easy process that hinges on the adoption of a collection of laws but is a difficult subject that requires development of mentalities and administration.
He said: "If we compare the Syrian situation with other economic reform experiences, we will find that the briefest reform process lasted 17 years while the tenth Syrian five-year plan is only one and a half years old. If we remember that the intellectual beginnings of economic reform appeared during the Ba'th Party's 10th regional congress in June 2005, this means that reform has been going on for two and a half years. Therefore, historically we are in the early stages of reform."
He pointed out that the overall economic growth rate "reached 5.1 per cent in 2006, a percentage that is documented by the IMF." He noted, however, that new figures show that current growth is around 5.5 per cent while GNP growth reached 6.5 per cent in 2007."
Al-Dardari admitted that "there is no way that every person will benefit to the same degree," noting that this is impossible because people are at different levels of education, experience, skills, and ability to seize opportunities." He asked: "Is growth meant to be perpetual?" He said that "the questions are more numerous than the answers in the first stage of economic reform and no one can claim that he has the answers to all the questions."
He added: "Whenever I visit my home village, people ask: What does a growth rate of 9 per cent per cent mean when all we see are rising prices of gasoline, sugar, and rice. This is what the villagers see."
He said: "Today Syria is moving towards a more balanced and better situation with regard to what are termed economic basics. Growth is a necessary condition but alone it is not enough. What would be enough is for growth to include all the Syrian people."
Speaking about economic challenges and economic weak points, he said that the first challenge "consists of completing and expanding economic reform policies and liberalizing the Syrian economy of the many restrictions that hamper it."
He remarked: "It is true that we covered a lot of ground but we still have a very long way to go. If we assume that someone will say that we are not telling the truth and that the growth rate is only 3 per cent, what is the solution?
Syria needs to see results. We need to entrench and expedite structural economic reform. We need a greater push to liberalize the economic sectors. Does this country have any other options available?"
According to what Al-Dardari explained, the second challenge consists of "ensuring that the Syrian economy is competitive.
He said: "And what does competitiveness mean in its institutional, legislative, productive, and service aspects? It means the Syrian economy's ability to produce high quality products and services and to be able to attract local, Arab, and international investments. The important challenge is to reduce unemployment, create a secure job market, and develop effective job market policies."
The Syrian deputy prime minister explained that "in its narrow definition set by the International Labour Organization, every person who did one hour in the week preceding the survey is not regarded as unemployed. Unemployment in Syria went down from 12.5 per cent to 8.1 per cent of the overall labour force between 2004 and 2007. Can I then say that unemployment has dropped? No, because it is still high."
He pointed out that unemployment in the 16-24 age group exceeds 18.4 per cent. This, he said, poses a big challenge for Syria and for job market reforms, which must take into account the need to protect the rights of older working people while providing opportunities for the young to enter the job market. Al-Dardari announced that the overall labour force amounted to 4.879 million in 2006.
Asked about the energy challenge, he said it is represented by the fact that "the rate of energy consumption is growing faster than the level of local production." He explained that energy demand is growing by 10 or 11 per cent annually while the economy on the whole is growing by 5 or 6 per cent and will reach 7 per cent at the end of the current 10th five-year plan. This means that "no matter how fast you run, you will not be able to provide the country's energy needs."
He said: "The world is moving in the direction of relying on alternative energy sources but these require investments and their costs are still very high."
He announced that Syria "needs 1,000 MW of electricity annually that cost 1.5bn euros. Hence the energy issue should be handled in a comprehensive manner and from a strategic perspective. We need to work strategically on this issue."
He said that he believes "it is a tremendous challenge to overturn the equation until energy production is equal to or greater than the demand, and this requires 20 years of growth."
He noted that the "third challenge to the Syrian government consists of agriculture, especially as the balance of food security in the world has changed and a quarter of global wheat production goes to produce bio-fuels, which caused wheat prices and food prices in general to double in one year." He said that a ton of wheat, which used to cost $200, now costs $450 but there has no been no rise in the prices of barley, animal feed and milk. He remarked: "The economic issue is very complex today and is very difficult to manage."
He explained the effect that this has on food security and Syria's policy on agriculture, saying: "There are challenges resulting from the higher oil prices. This is the first time that food prices are so closely linked to the oil price. However, what interests us in our agricultural policy is to provide food security, that is, Syria's needs of basic foods without relying on other countries. This will continue."
He asserted that "there is no escape from agricultural subsidies." He pointed out that some technical experts are studying this issue "but we cannot say let us leave it as it was last year when a ton of wheat cost $200 while it costs $450 today."
He added: "Animal feed was plentiful but today supplies are not secure worldwide."
He described his understanding of the definition of a middle class by saying that "it is the segment of the population that is able to provide a dignified standard of life for itself, is educated, cultured, and broadminded and is able to take the initiative."
He pointed out that statistics indicate "a significant increase in the past three years in the number of people who are self- employed in Syria" and added that the working middle class in the country is at a stable 28 per cent of the overall workforce but the rate of those who are self-employed is rising rapidly, at around 10 per cent in 2006- 2007, from 26 to 29 per cent of the total workforce." He said that this is one of the signs that the middle class is reviving.
On the condition of being poor, he said: This phenomenon "is not merely economic but also psychological. Discrepancies in income today do not indicate rising poverty. It is connected with the method of consumption. I mean formerly Syria's rich did not spend their money in Syria. They used to go to Beirut, Paris and London. Now there are opportunities for liberal consumption in Syria that has made the phenomenon of rich and poor more conspicuous. One must isolate the phenomena and determine where they stand within the economy. Are they results or causes? Are they a social phenomena or actual economic realities?"
He spoke about the results of measuring the rate of poverty in Syria:
"It has been determined that those who live on less than one dollar a day are 0.6 per cent of the population. How many Syrians live on 50 lire per day? They are very few. If they have no income, society will help. Do not forget that the Syrian social security system is excellent."
He said that the number of those who live on less than 2 dollars a day is "less than 10 per cent of the population" and that a large number of families "receive remittances from abroad." He declared: "Syrian society is balanced and possesses methods of absorption and balance."
Originally published by Al-Hayat website, London, in Arabic 8 Mar 08. (c) 2008 BBC Monitoring Middle East.
Compare with this article by Suad Jarous in al-Sharq al-Awsat, November 9, 2007: "Fears of the Collapse of the Middle Class in Syria and the Lifting of Subsidies"