Wednesday, March 10th, 2010
The Armenian Genocide: The Islamist and Kemalist Consensus
by Firat Demir
for Syria Comment, 10 March 2010
Tension between Turkey and the US is rising as the anniversary of the Armenian genocide (April 24)  approaches. The pain and suffering of hundreds of thousands of Armenians who perished in the hands of the Committee of Union and Progress during the final years of the Ottoman empire will again be sidelined thanks to politics.  Every year, the US congress, attempts to recognize the "the Great Calamity" as Genocide and the Turkish government does everything in its power to prevent it. Turkish newspapers and TV stations devote hundreds of pages and hours of air time to the issue. They dust off arguments that no one believes in anymore.

The Armenian genocide is probably the number two issue (in addition to the Kurdish problem) that the Erdogan government and the military agree on completely. During an interview on the Charlie Rose show on December 8, 2009, Erdogan stated that "I can say very clearly that we do not accept genocide. This is completely a lie." On the same day, he reiterated his views in a speech at John Hopkins university, during which he argued that "my ancestors did not and would not commit genocide". Likewise, "foreign minister Ahmet Davutoglu described the 1915 Armenian killings as genocide is an insult to Turkey's 'honour'". You can have a glimpse of how different views (as, for example, voiced by Taner Akcam, or late Hrant Dink) to Turkish official position are treated, here.
Using the same absolutist tone, Mr. Erdogan also previously defended the Sudanese president al-Bashir (whose arrest warrant is ordered by the International Criminal Court on genocide charges) and denied the genocide in Darfur claiming that it is not possible for Muslims to commit genocide.
Recent News Articles on this Subject
Turkey threatens 'serious consequences' after US vote on Armenian genocide
Robert Tait in Istanbul and Ewen MacAskill in Washington, guardian.co.uk, Friday 5 March 2010 21.34 GMT
Turkey has threatened to downgrade its strategic relationship with the US amid nationalist anger over a vote in the US Congress that defined the mass killings of Armenians during the first world war as genocide.
Turkey should pause before a mirror, Stephen Kinzer, guardian.co.uk, Monday 8 March 2010 18.42 GMT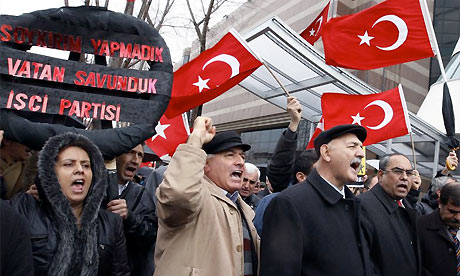 An ultra nationalist left party supporters "shout slogans during a protest outside the US embassy in Ankara, Turkey, after a US congressional committee approved a resolution branding the 1915 killing of Armenians a genocide". The banner reads 'We did not do genocide, We defended the motherland'.  Photograph: Burhan Ozbilici/AP
When a committee of the US Congress foolishly voted last week to brand as genocide the 1915 slaughter of Armenians by Ottoman Turks, there was plenty of blame to go around. Ethnic lobbies, big-money politics and narrow-minded congressmen all played their part. Together they poked a gratuitous stick in the eye of a valuable friend. Once again America repeated its classic foreign policy blunder: do something that makes you feel good now, but that in the long run actually undermines American security interests.
Amid all this finger-pointing, however, it is only fair to single out one other culprit for this misguided vote: Turkey itself. After the vote, which was broadcast live on Turkish TV and followed as passionately if it were a World Cup match, thousands of Turks took to the streets in protest. They were right to be angry. As Turks try to figure out who brought this insult upon them, though, they should pause before a mirror.
US genocide resolution is an ignorant stunt
Marcel Berlins, guardian.co.uk, Monday 8 March 2010
So the foreign affairs committee of the US House of Representatives has passed a resolution (by 23 votes to 22) that the Turkish killings of Armenians in 1915 amounted to genocide. What business is it of theirs? I'm not judging whether their decision was right; I don't know enough to do that. My concern is that such ham-fisted intervention, and the publicity it received, demeans a crime which should be treated as the worst in the annals of human behaviour, and turns it into a political event played out by largely ignorant legislators responding to a campaign by a well-funded political lobby.
Thankfully, their presumptuous decision will not find its way into the statute book. President Obama doesn't want it to, just as an identical decision by the House of Representatives in 2007 did not become law because President Bush didn't find it politically expedient.
Living proof of the Armenian genocide
Robert Fisk, Independent, Tuesday, 9 March 2010
The US wants to deny that Turkey's slaughter of 1.5 million Armenians in 1915 was genocide. But the evidence is there, in a hilltop orphanage near Beirut.

"Every vestige, and as far as possible every memory, of the children's Armenian or Kurdish origin was to be done away with. Turkish names were assigned and the children were compelled to undergo the rites prescribed by Islamic law and tradition … Not a word of Armenian or Kurdish was allowed. The teachers and overseers were carefully trained to impress Turkish ideas and customs upon the lives of the children and to catechize [sic] them regularly on … the prestige of the Turkish race."
The Armenian question, Turkey and the US
Ihsan Dagi, Monday, April 27, 2009
Can you imagine a foreign policy strategy in which a particular issue turns into a constant source of problems that cannot be resolved permanently? It appears that Turkish foreign policy has been taken hostage by the genocide issue and as if Turkey is prepared to do anything to make the word "genocide" be forgotten or prevent it from being spelled out.