Posted by Joshua on Sunday, October 24th, 2010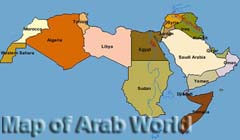 Rami Khoury at Daily Star
:
World Bank data shows that per capita Gross Domestic Product (at constant 2000 prices) for the entire Arab world actually declined from an average of $2,671 for the decade of the 1980s to $2,556 this decade (going even lower to $2035 for the decade of the 1990s in between). In other words, in the last 30 years, the average income or personal wealth of Arabs on average has been simultaneously low, dropping and erratic. For every BMW and Mercedes car you see in Arab capitals there are 50 families you do not see that cannot provide their children with sufficient nutrition, school supplies or heat in winter.
[Ba'th] command dismisses secretary general of party's Hama branch"
On October 21, Al-Watan – Translated thanks to mideastwire.com
by Muhammad Ahmad Khabazi
"The command [of the Ba'th Party] held its 215th session yesterday, during which it issued decision 542 to dismiss Adnan Muhammad al-Ezzo from his post as secretary general of the party's branch in Hama, after having discussed "the performance and practices of the aforementioned man, and his adoption of personal behavior going against the party's values and principles." Last Monday, Al-Watan had put forward the violations committed by Ezzo and some of his relatives. They amounted to 48 violations, many of which were handled while the rest are still pending. It is worth mentioning that the head of the city's council, Ali Othman, was arrested against the backdrop of these violations.

"In the meantime, the dismissal news spread a climate of relief among the Hama population with all its factions, and especially in the ranks of the Ba'thists, who circulated the news yesterday afternoon through phone messages and land lines. A partisan source told Al-Watan: "The dismissal was not only made against the backdrop of the construction violations detected in the city of Souran, where the branch's secretary general lives, but also against the backdrop of the accumulation of numerous practices related to weak performance and expertise at the level of partisan action, neglect and the adoption of the policy "divide and conquer", which led to the division of the partisan branches and groups in the different cities and regions."

"The source indicated that the dismissal decision was also made against the backdrop of financial violations seen in the cultural directorate in Hama, following which its director was toppled via a decision issued by new Culture Minister Riad Osmat… The source continued: "The branch's secretary general was interested in everything but partisan affairs, especially in terms of nepotism in official directorates. His dismissal confirms the prevalence of the law and that fact that no one is above the law, regardless of this person's position."" – Al-Watan Syria, Syria
Confidence key to Syria's infrastructure drive
By Khaled Yacoub Oweis
DAMASCUS | Wed Oct 20, 2010 10:57am EDT
DAMASCUS (Reuters) – An executive running one of Syria's biggest privately held companies predicted a boom in infrastructure development if the government assures investors of their rights in mega projects on offer.

Projects also need to be structured more carefully for investors to have confidence that they can secure the financing as international banks begin to show interest in Syria, Marwan Midani, managing director of Souria Holding, told the Reuters Middle East Investment Summit on Wednesday.

The state, which has been controlled by the Baath Party since it took power in 1963 and imposed emergency law still in force, is looking to the private sector for half of $85 billion it says is needed over the next five years to repair and expand the dilapidated transport, power, water and hospital networks.

"Investors need to have rights guaranteed by the judicial system in case of a dispute or anything of this nature. The guarantees have to be clear in the contracts," Midani said.

"Once this is assured I am sure the rest of the projects will take off. The government has already hired international consulting firms and is working to have very clear private public partnership (PPP) contracts in terms of litigation," the U.S.-educated engineer said in an interview.
Ehasani writes:
This is how Turkey attracted tourism. By offering FREE land and cheap loans. Our tourism minister wants investors to come without incentives
للعبرة.. ياحكومة..!!

معاون وكيل وزارة السياحة أورغو ارسلان وضح كيفية تشجيع المستثمرين والتي تعود إلى عام 1982 من خلال قانون تشيع الاستثمارات السياحية والتي جعل الحكومة التركية تقدم ميزات كبيرة للمستثمر في المجال السياحة كتقديم الأرض مجاناً وتقديم قروض عبر بنك سياحي وبفوائد منخفضة وهذا بقي لمدة 15 عاماً وبعد ذلك تم رفع الفائدة تدريجياً، وفي الوقت الحالي قال ارسلان انه يوجد بعض الأمور التشجيعية تقدم بين الحين والأخر، على سبيل المثال تم تخفيض رسوم الإنفاق الاستهلاكي من 18% إلى 8% ، وجاهزين لتقديم الخبرة للقطاع العام والخاص في سورية منوهاً إلى ضرورة تحضير خطة مستقبلية قبل الاستثمار، وأشار إلى أن الحكومة التركية تركز حالياً على السياحة العلاجية والصحية والثقافية.

يذكر أن تركيا استقطبت خلال عام 2009 حوالي 27 مليون سائح وكانت أكثر المدن زيارة هي انطاليا ومولا
Abdullah Dardari says that Syria must create 1.25 million jobs over the next five years
Syria Steps 13/10/2010
Industrial output will grow from 14% to 17 of GDP by 2015
The controversy over Dardari's statement that Syria will become the strongest economy in the Middle East by 2015 continues to create bad press.
A Real discussion about the Syrian exchange rate that is too highالدردري: لسنا سذجاً لنعتقد أن قوة الليرة من ارتفاع سعر
Iraqi refugees regret going home, UNHCR survey finds
By Stephanie Nebehay
GENEVA | Tue Oct 19, 2010
Separate polls of a total of 3,500 Iraqi refugees living in Syria and Jordan, released on October 8, found most still reluctant to return home on a permanent basis, according to the UNHCR.

Refugees cited political uncertainty and insecurity in Iraq, as well as poor educational opportunities and housing shortages. Syria and Jordan host some 180,000 registered Iraqi refugees.

FORCED DEPORTATIONS

While violence has plunged from the height of sectarian bloodshed in 2006-2007, explosions and attacks happen daily. Bombs destroyed the home of a senior Iraqi police commander on Tuesday, killing at least 11 people in the northern city of Tikrit, hometown of former dictator Saddam Hussein, police said.

The UNHCR does not promote returns to Iraq, due to insecurity, and its guidelines to all governments strongly recommend that Iraqis should not be sent home to five central provinces, including Baghdad, seen as too dangerous.

However, it helps refugees who voluntarily want to go home, providing them with transport costs and a small cash grant.

Fewer than 3,000 have taken up the offer since 2007, though many have returned without its support, according to the agency.
IFC: "…Syria to benefit Gulf Arab investors, who are ...
Oxford Analytica: Excerpts: (Thanks to our friend at FLC)
"… The IMF recorded growth in Syria of 4% in 2009, and expects that to increase to 5% this year. Nonetheless, high unemployment underpinned by rapid population growth and falling oil revenues continue to cloud the outlook.

Foreign investment. The outlook for foreign investment has brightened. The International Finance Corporation (IFC), the World Bank's private-sector lending arm, expects investment in the power sector to act as a precursor to greater private investment in other infrastructure projects. The government is also working to end US sanctions, which have deterred many foreign investments.

In the meantime, Syria will continue to benefit from petrodollar-rich Gulf Arab investors, who are comfortable with the country's political risk profile and look to invest in the Middle East. According to the Ministry of Local Administration, investment in Syria's four industrial cities increased by almost 70% year-on-year to reach 441.7 billion Syrian pounds (9.4 billion dollars) by mid-2010. Of this, almost 25% was from non-Syrian companies.

Lack of framework. Despite these trends, foreign investors still face problems. The country has yet to establish a coherent framework for foreign investment. The government's attitude is shaped by caution and hesitation, with decisions being made out of necessity and on a case-by-case basis. This was seen most recently with Decree no. 56 issued in July and aimed at regulating the creation and operation of investment banks:

Necessity. The government was forced into devising a law due to the need of the cement industry — traditionally under public sector monopoly — for financial resources. In November 2009, Bank Audi had arranged with syndicates for a 340 million dollar project-finance facility for Lafarge Cement Syria. This provided partial funding for the first private greenfield cement plant in Syria, with a production capacity of 2.75 million tons per annum. It also meant that investment banking activity in the country needed to be regulated.
Ambivalence. The decree reflects official ambivalence towards foreign investment:

The government claims that it will deepen the financial system and attract more investment into the private sector. Yet the decree stipulates that banks have a minimum capital requirement (MCR) of 435 million dollars, far outstripping the requirements of investment banks in neighbouring countries.

When licences were initially offered in 1997, MCRs depended on the services being offered, with the highest amount of 6.8 million dollars only required for banks underwriting share rights issues.
Yet the new requirement disqualifies Egyptian banks, H.C. Securities and EFG Hermes, both which had been granted licences to set up in Syria….

Damascus seems keen to emulate the Chinese model of financing of allowing a few investment banks to operate as long as they are outnumbered by government-owned banks. Minister of Trade and Economy Lamia Assi called last month for the establishment of a Syrian-Chinese bank to finance infrastructure projects in the country. By limiting the number of banks, it will be easier for the government to monitor activity and to intervene to direct finance. However, Syria does not have the resources of China to follow through a policy of controlled capitalism with bureaucratic intervention.
Business environment. Syria needs to do more to boost its regional competitiveness:

According to the IFC's Ease of Doing Business 2010 report, Syria's world ranking of 143 is the second-lowest in the Middle East and North Africa (MENA) economies, followed only by Iraq. Worse, Syria has slipped down from its previous rank of 138, in contrast to regional competitors Egypt, Morocco, Jordan and Tunisia, which all recorded improved rankings.

Limits to privatisation. Although the government wants to attract investment into some sectors, widespread privatisation is unlikely due to concerns about income inequalities. With around 35% of the total workforce employed by the government, restructuring would mean heavy job losses.

Evidence from other MENA economies which have pursued privatisation is mixed. According to the Gini index, a standard method of measuring inequalities: Jordan has become significantly more unequal; inequality in Morocco has increased, though less so; while Tunisia has become slightly less unequal….

Lack of skills. Investment will also suffer from the lack of individuals with the necessary technical and motivational skills to build up the private sector, such as the risk management expertise required in the new Syrian investment banks … Syrian students predominately travel to other Arab countries or mainland Europe to study, rather than the United States, Australia or the United Kingdom. Syria suffers a brain drain as educated people seek greater remuneration and opportunities in other, more meritocratic, economies. Compulsory military service (although there are exemptions) can also deter qualified individuals from returning.

Political context

For the private sector to flourish, political reform is required, and this the government is unwilling to undertake. A new contract between state and the people would need to be established with greater representation, transparency and debate offered in exchange for taxation. This is still a long way off …..

In addition, apparently nepotistic business practices, such as the ownership of Syriatel by Rami Makhlouf, cousin of President Bashar al-Assad, would need to be curbed so as to open the way fully for greater private sector activity. .."
Syria economy: Thinking big
2010-10-07 Economist Intelligence Unit
Oct. 7 (Economist Intelligence Unit) — The Syrian government is preparing to present to parliament its five-year plan, for 2011-15. According to Abdullah al-Dardari, the deputy prime minister for economic affairs, real GDP is set to grow by at least 5.5% per year over the plan's period, and the Syrian economy will emerge in 2015 as "the strongest in the region". Elements of Syria's recent economic performance have been encouraging, but Syria still has a long way to go to match some of its more dynamic and economically advanced regional peers.
The investment target in the plan is S£4trn (US$87bn), to be financed in equal measure by the private and public sectors. This is almost double the target in the previous plan, but Mr Dardari says that both private and public investment has exceeded the targets over the past five years and that the government has created the platform for further leaps.

Much of the new investment will be directed to improving Syria's infrastructure, with transport a priority as Syria seeks to take advantage of its geographical position as a trading hub, serving Iraq and the Gulf, as well as developing its tourism industry. A scheme involving the redevelopment of Syria's existing airports—including a new terminal at Damascus—and the construction of new ones was approved by the council of ministers in August, and plans have been drawn up to invest US$2bn in the construction of two highways with a combined length of 800 km, linking Tartous port in the west to the Iraq border in the east, and connecting Syria's borders with Turkey in the north and Jordan in the south. A request for proposals is also under preparation for the expansion and development of Latakia and Tartous ports, including the construction of new berths and silos, and the government aims to start construction of a metro system in Damascus in 2012. Electricity and water will also be priority sectors, and the government hopes that the recent opening up of the telecommunications industry will stimulate major new investments in this underdeveloped sector of the economy—a new mobile phone licence is to be auctioned in the next
few months.

PPP route

Syria's ability to deliver such a substantial increase in investment will depend on how successfully it can implement an equally ambitious programme of reform. The introduction and application of a long-awaited law establishing a framework for public private partnerships (PPPs) is crucial to meeting the private investment targets, while the planned introduction of treasury bills, also much-delayed, is central to the government's ability to raise debt for increased infrastructure spending. Mr Dardari is confident that both bills will be passed in 2010:

"The PPP law will allow the private sector to invest in, operate and own utilities such as transport infrastructure, drinking water and sanitation plants and power facilities," he told the Economist Intelligence Unit during a recent interview in Damascus. "It will be going to the council of ministers soon and I would estimate it will be passed by the end of the year. We plan to spend a minimum of US$30bn on infrastructure. How much of that will be through PPPs is under review."

Private investors are already being invited to carry out infrastructure schemes under existing legislation. One recent example is a 180-250-mw thermal power station to be built at Naseriya, 50 km north of Damascus. This project has elicited strong interest, and the state-owned power utility announced on October 5th that it had  prequalified 14 groups to bid (in addition to the two that were prequalified last year). The companies involved come from a wide range of countries, including Malaysia, Japan, India, Germany, Greece, Saudi Arabia, Egypt and the UK.

Financing

The introduction of legislation governing the use of treasury bills was originally expected in 2006, and there is widespread frustration in Syria's financial services sector at  the lack of progress in the past four years. But Mr Dardari denies that the bill has been unduly delayed.

"It's not a question of a hold up," he says. "The ministry of finance and the central bank have been preparing the ground, we have had two mock exercises, and now we are ready. The ministry of finance is reviewing and studying the use of public debt for the next five years to ensure debt sustainability, to ensure that we keep within our thresholds for debt, which is 45% of GDP, and for the fiscal deficit, which is 4% of GDP, and that we are mindful of the level of inflation. It will all be finalised with the new five-year plan."

Another important element in the financing of projects included in the plan is a new investment company to be established under legislation passed last month. The investment company will be capitalised at S£5bn (US$105m), and will be run in the same way as a privately owned company, with the flexibility to raise debt finance and to form partnerships with private companies, both local and foreign.

Less helpful has been a law passed in July to allow the establishment of investment banks: the minimum capital requirement of S£20bn (US$435m) is likely to be an insurmountable barrier.

Streamlining

Mr Dardari is also spearheading a programme to increase the efficiency of public spending. "Better control, evaluation and monitoring are key to our expenditure plans in the next five years," he says. "We have already moved to results-based budgeting in some ministries, including agriculture and education. As we speak we are writing a new public procurement law that will remove bottlenecks from the system and make it easier to implement a more transparent and effective public expenditure programme."

With the help of the World Bank, which is acting as a consultant on the public procurement law, Mr Dardari faces the stiff challenge of trying to incorporate international best practice into a Syrian system that is hugely inefficient, invariably bureaucratic and often corrupt. Economists and foreign investors decry a lack of reliable data on the country's economy and point to the confusion created by the frequently overlapping jurisdictions of a host of government economic policy-makers, including the minister of economy and trade, finance minister, central bank governor, president, prime minister, and Mr Dardari himself.

Mr Dardari is aware that transforming a socialist economy into what the government likes to call a social market economy will not be straightforward. "We need to do so much to attract and absorb the planned investment, and to be able to both encourage the development of small and medium enterprises and attract large multinationals."

Credibility

Opposition, says Dardari, is inevitable: "We're in the early phase of change and of course there is resistance. There is a lack of understanding of what we are trying to do. But  we have a relatively well-functioning team that all realise that the institutional economic governance set-up must be altered. We are talking about creating a different economy—it cannot operate within the same system. The government is beginning to take on a regulatory role. It's a complete paradigm shift."

Mr Dardari's advocacy of Syria's economic potential has helped to drum up interest in the country as an investment opportunity, and there is undoubtedly more  enthusiasm among international business people about the country's prospects than was the case when he was promoting the previous five-year plan. However, his claim that Syria would become the strongest economy in the region has stretched credibility, and has prompted some sarcastic comments on discussion forums in the Syrian media. Although Syria's growth prospects are positive and its fiscal and public debt indicators are relatively healthy, it comes at the lower end of most regional rankings for economic performance and the ease of doing business—in the IMF's recently issued World Economic Outlook for example, Syria ranks fifth from bottom in the MENA region in terms of GDP per head at purchasing power parity, with a figure of US$5,108 for 2010; above Morocco, Iraq, Yemen and Sudan, but lagging behind countries such as Jordan, Lebanon, Egypt, Iran, Tunisia and Algeria, not to mention the Gulf Arab economies as well as Israel and Turkey.
Elie Elhadj remarks on Syria's water
An impressive and ambitious plan. Hope that irrigation will be abandoned, military spending reduced, oil revenues made transparent, and the term "social
market economy" explained. Water received a passing remark: "water will also be priority sectors".

I happen to know a bit about Syria's water.

To supply the Greater Damascus region alone with its almost five million inhabitants with sufficient drinking and household water, there are three options:

The first is to divert the water currently used in agriculture to households and to reduce leakages from existing distribution network.

The region uses an estimated 900 billion m3 per annum in Al-Ghouta and adjacent areas. At the reasonable average of 100 m3 per annum per person, householders would need about 500 million m3 per annum (more as the population grows). In 2005, I reasoned that this option is the quickest the least expensive—less than $500 million.

However, this option is politically explosive. 87% of the wells in the Damascus Region were non-licensed. The concentration of senior military officers, ruling party functionaries and other members of the ruling elite, many of whom are beyond the reach of the law makes it impossible to pursue this option.

The second option is to transfer water from the Euphrates. I estimated that the cost, if there were sufficient reliable water, would be in the region of $1.5 billion. But, Syria's share of the Euphrates' water is not enough to make this a safe option. So, this option is academic.

The third option is to transfer water from the Coastal Region. There are two possibilities here. The first is to harvest potable groundwater flows in offshore springs south of Latakia. The second possibility is desalination of Mediterranean waters. Desalination costs has come down considerably during the past two decades. Today, it can be done at $0.5/ m3.

To deliver the desalinated water to the gate of Damascus, a pipeline would be rather costly, though the distance is not that great. Pipelining over the mountains is expensive. I estimated that the economic cost of this option to be in the region of $2-3 billion.

To these figures, water distribution and sewage systems in the region should be added. Roughly, water network rehabilitation would cost appx. $50 per person, water expansion; $100 per person, sewage rehabilitation; $50 per person, sewage expansion; $100 per person, sewage treatment; $75 per person.

When the household water needs of other cities are added, a back of the envelop guesstimate suggest some $8 billion to $10 billion for water alone.

It would be interesting to know how much the plan allocated to water alone.

Elie