Tuesday, July 21st, 2009
Analysis by Joshua Landis (Monday July 20, 2009)

US-Syrian rapprochement seems to have hit an impasse. There has been no good news about the formation of a Lebanese government. Feltman recently stressed that the US has a problem with Syria's continued support of Hizbullah. The US has not named an ambassador to Damascus, although it promised to do so some time ago. The Charge d'affairs has departed leaving the third in command to run things.
The Saudis are also dangling the notion of an ambassador in front of Syria, but haven't made the final arrangements to send one, just as they have not made arrangements for a meeting between the King and Assad, although there has been plenty of talk about a Syrian-Saudi confab.
The Palestinian front remains as paralyzed as ever. Hamas and the PLO are far from agreeing to form a national unity government.
Iraq security arrangements between Damascus and the US also appear to have stalled. The fact that a CENTCOM delegation preceded Mitchell to Damascus last month suggested that military cooperation would begin in tandem with the return of a US ambassador. The fact that no US ambassador has been named to Damascus suggests to me that Syria will likewise drag its feet on military cooperation.
Finally, Israel has stonewalled US and Syrian attempts to get talks on the Golan back on track. Netanyahu's insistence that Israel retain a major portion of the Golan and the Syria abandon its allies as a prerequisite to talks are both killers.
Quite possibly, US policy makers believe that they can squeeze Syria to better their advantage now that Damascus' two regional allies have run into headwinds at the polls. The Lebanese opposition lost elections in Lebanon and the Iranian government is in turmoil over its election misdeeds.
Damascus is unlikely to to concede to last minute US bargaining tactics, however. It will likely stand firm, allowing Lebanon's emulous factionalism to paralyze progress in forming a government. Assad can also stand back as Netanyahu and Obama play their game of chicken over settlements and the future of Palestinian land. If Obama blinks and allows Netanyahu to continue to expand Israel's control over Palestinian land, as most expect him to do, it will be Saudi Arabia, Egypt and Jordan — America's allies — which will take the most heat for America's failure. They have gambled on Obama and the ability of the US to play a constructive role in the region. The Saudis have insisted that the Palestinians must pursue the path of non-violence, following the practices of Mahatma Gandhi and not those of Hamas and Hizbullah which advocate violent resistance.
In the face of US pressure, Syria may have to remind the West that it also has cards to play. Perhaps that is the purpose of President Assad's public hosting of Muqtada al-Sadr in Damascus?
[End: J.L.]
Syria's al-Assad urges Iraqi unity in talks with al-Sadr
by Elijah Zarwan, Senior Middle East Correspondent
dpa Deutsche Presse-Agentur: Monsters and Critics, July 20, 2009
Damascus – Syrian President Bashar al-Assad urged Iraqi Shiite cleric Moqtada al-Sadr to press forward with Iraqi national reconciliation efforts in a Damascus meeting on Monday, Syria's state news agency said.

Al-Assad stressed 'the importance of promoting national reconciliation among the Iraqi people and Syria's keenness to support any effort aimed at achieving this goal for the sake of preserving the security and stability of Iraq,' according to an official statement from the president's office.

The meeting sought to reinforce the 'ties of brotherhood, friendship and common interests that bring together the peoples of both countries, Iraq and Syria, and to discuss the latest developments in the Iraqi arena,' the statement said.

Al-Sadr expressed his appreciation for Syria's support 'for the interests of the Iraqi people' and for the unity of the country and its people, Syria's state SANA news agency said.

Joshua Landis, co-director of Middle East studies at the University of Oklahoma, saw a subtext to al-Assad's hosting al-Sadr in Damascus.

'Al-Sadr is the bete noir of Americans in Iraq. The United States considers him a tool of Iran and a thug,' he said. 'His invitation to Damascus may be an indication to the Americans that 'You need us (Syria); we do have a central role. You can't just put us in deep- freeze'.'

'The quid-pro-quo that emerged during (former US president George W) Bush's administration was 'You give us security cooperation in Iraq, and we'll give you an ambassador',' Landis said. 'That quid-pro-quo seems to have continued under (US President Barack) Obama.'

Earlier this month, US media reported that the Obama administration might soon appoint an ambassador to Damascus. Bush withdrew his ambassador to Syria in 2005, after the assassination of former Lebanese prime minister Rafik Hariri.

'Nothing is working out for the Syrians now,' Landis said. 'The Americans believe that with the trouble in (Syrian ally) Iran and (Syrian ally) Hezbollah's loss in the Lebanese elections, they can play hardball with the Syrians.'

By hosting al-Sadr, Landis said, 'Syria is saying, 'Don't get smug. Things can turn very quickly. We're still important'.'

Sheikh Ra'id al-Kazami, the head of al-Sadr's office in Damascus, earlier told the German Press Agency dpa that the cleric, who maintains a broad following – particularly among poor, Iraqi Shiite Muslims – would discuss 'the situation in Iraq after the withdrawal of US soldiers from Iraqi cities' at the end of June.

During his last visit to Damascus, in February 2006, al-Sadr urged Sunni and Shiite Muslims to set aside their differences to counter 'the Western offensive against Islam and the Middle East.'

'The occupation is what is causing instability in Iraq,' he said in remarks widely carried by the press at the time. 'The exit of the occupier will be a victory for Iraq, and not, as it is said, a victory for the terrorists.'
Middle East is changed forever
By Hamid Dabashi, Special to CNN
Tehran, I believe, is ground zero of a civil rights movement that will leave no Muslim or Arab country, or even Israel, untouched……

However things may turn out, Mahmoud Ahmadinejad comes back to the global scene with a lame-duck presidency …… there is a domino effect of Ahmadinejad's weakened second-term presidency in the region.

Syria's position in its immediate regional context is seriously compromised. The rushed and injudicious siding of Hezbollah's Hassan Nasrallah with Ahmadinejad has wedded the fate of the Lebanese group with that of the discredited Iranian president.

Hamas would now be more inclined to strike a deal with Fatah and join President Obama's renewed peace process. And the Mahdi Army now has to fend for itself in more pronouncedly Iraqi (even nationalist) terms, making easier for the U.S. military to leave.

The domino effect, however, is not limited to the allies of the Islamic Republic ….
A must read is
Doubts over Obama's 'peace engine'
By Jerrold Kessel and Pierre Klochendler
Asia Times, July 21, 2009
….Everything seems to be interconnected in the structure Obama is building. The rationale seems to be that all parties must do what is demanded of them according to a strict timetable….

… the US and Saudi Arabia are prodding Syrian President Bashar al-Assad to re-delineate his western frontier with Lebanon in order to allow for an Israeli withdrawal from the Sheba Farms area that straddles the border between Lebanon and the Israeli-occupied Syrian Golan.

Should that obstacle be removed, and Israel indeed withdraw from Sheba, that would further undermine Hezbollah's raison d'etre and argument that it cannot disarm, and must continue the armed resistance against Israel.

Even more significantly, Syria appears to be acquiescing in the US call (through Egypt) for it to encourage the process of internal Palestinian reconciliation. Reliable reports from Damascus suggest that Syria has already begun blocking funds that were previously earmarked for the Palestinian group Islamic Jihad. The radical group is already under pressure from Hamas not to resume the shelling of Israeli towns and villages near the Gaza border, and to align more closely with Hamas.

Everything seems to be interconnected in the structure Obama is building. The rationale seems to be that all parties must do what is demanded of them according to a strict timetable. Without Syria there can be no Palestinian reconciliation, without which there will be no Palestinian unity government, without which the Palestinian leadership would have a hard time making concessions and the Arabs remain aloof, without which Netanyahu would feel he could brush off the US demand on settlements.

Obama is banking on the peace machine moving into high gear as soon as all the interlocking wheels are in place, and as soon as all the parties have understood the potency of his moral dictate about all sides needing to come to terms with the needs of the other side….

Israeli Middle East analyst Zvi Barel says that "Obama – rightly from his perspective – is trying to steer clear of a comprehensive plan with a specific timetable. But this is a dangerous gamble. There are too many reciprocal processes, too many loopholes, too many landmines." ….

… Listening to talk from Netanyahu officials, one's left with the distinct impression that the unspoken …anti-Obama joke is: "He'll do the talking, we'll do the policy-making."
Laura Rosen in the CABLE (Via FLC)
"Mitchell says [the claim] is an utter fabrication," a State Department official told Foreign Policy on behalf of Mitchell Monday. "Mitchell said, 'I have never experienced the thought, let alone expressed it.'"….

Chatter that Mitchell may not be around in the job for long could be seen as a way to embolden those in Israel and abroad who think Israel should buck the Obama administration's call for a settlement freeze.

Mitchell has been expected to travel to the region this week, but his exact itinerary was said to be in flux. Israeli media are reporting that his plans to come to Israel at this time have been canceled for now. "I think the travel delay may be politics," Abrams, now with the Council on Foreign Relations, said. "I.E., that there's no agreement yet and he doesn't want a failed trip."
Erdogan to make surprise trip to Syria
By HERB KEINON, J-Post
Turkish Prime Minister Recep Tayyip Erdogan will travel to Syria on Wednesday for a surprise trip, with the Turkish press speculating that reviving talks between Israel and Syria will be the most important item on the agenda.

Syrian President Bashar Assad shakes hands with Turkish Prime Minister Recep Tayyip Erdogan in Damascus last year.

Erdogan, who was last in Syria in December, will be accompanied on his one-day visit by his foreign minister, Ahmet Davutoglu. Israeli officials had no comment on the visit.

Sabah, a daily paper considered close to the Turkish government, speculated that the visit had something to do with the recent visit to Damascus by Fred Hof, in charge of the Lebanese and Syrian portfolio inside the office of US Middle East envoy George Mitchell….
'No difference to U.S. between outpost, East Jerusalem construction'
By Akiva Eldar, Barak Ravid and Jack Khoury, Haaretz, July 20, 2009
The United States views East Jerusalem as no different than an illegal West Bank outpost with regard to its demand for a freeze on settlement construction, American sources have informed both Israel and the Palestinian Authority.

This clarification came in the context of a growing crisis in U.S.-Israel relations over the planned construction of some 20 apartments for Jews in the Shepherd Hotel, in East Jerusalem's Sheikh Jarrah neighborhood. The U.S. has demanded that the project be halted, but Prime Minister Benjamin Netanyahu told the cabinet meeting Sunday that "Israel will not agree to edicts of this kind in East Jerusalem."…

"In my previous term [as premier], I built thousands of apartments in the Har Homa neighborhood of Jerusalem, defying the entire world," Netanyahu added. "Therefore, it is clear that I will not capitulate in this case – especially when we are talking about a mere 20 apartments." …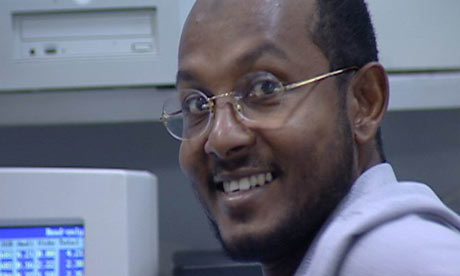 Al-Jazeera journalist imprisoned in Guantánamo Bay to sue George Bush
Gwladys Fouché in Oslo
Friday 17 July 2009, guardian
Sami al-Haj – freed in May 2008 after more than six years – to launch legal action against former US president.
RIA-Novosti, here

Following modernization, the Russian naval maintenance site in Tartus will become fully-operational," he added.

The Navy maintenance site near Tartus is the only Russian foothold in the Mediterranean. Russian navy commanders have long been calling for the expansion and modernization of the Tartus base.

"The base in Tartus will provide all necessary support for the Russian warships which will be engaged in protecting commercial shipping around the Horn of Africa," the official said.

According to the Russian Navy, the naval base in Syria significantly boosts Russia's operational capability in the region because the warships based there are capable of reaching the Red Sea through the Suez Canal and the Atlantic through the Strait of Gibraltar in a matter of days.

Col. Gen. Anatoly Nogovitsyn, the deputy chief of the General Staff of the Russian Armed Forces, said in January that the General Staff had backed the Navy command's proposal to develop naval infrastructure outside Russia.

Russia has reportedly been involved in talks to establish naval facilities in Yemen, Syria and Libya, among other countries in the Mediterranean.