Posted by Joshua on Wednesday, June 27th, 2012
Assad Says Syria in Real War – Sana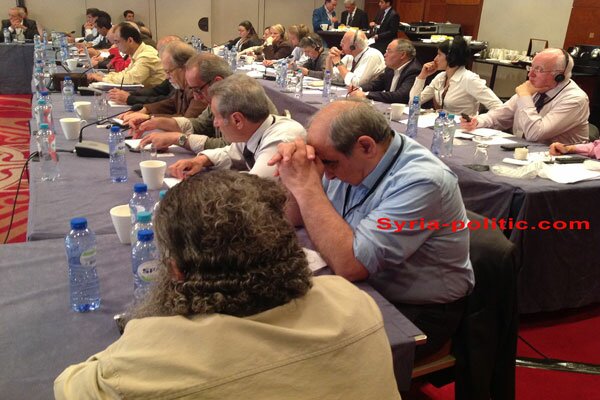 Opposition Meeting in Brussels – Michel Kilo in front with head bowed
Idlib: Ex-SNC president Burhan Ghalioun visits Syria (video) and meets up with revolutionaries in a bid to boost their morale
As Rebels Attack Elite Guards, Assad Talks of 'State of War'
By ROD NORDLAND and HWAIDA SAAD
The Free Syrian Army launched what it described as an exploratory attack on an elite Republican Guard base, which is near the Presidential Palace, in Damascus late Monday

A surprise assault by lightly armed Syrian insurgents on a base housing the elite Republican Guard in Damascus, just a few miles from the Presidental Palace, elicited a furious military response on Tuesday, with government forces shelling surrounding neighborhoods in an escalation that brought combat in the Syrian conflict close to the heart of the capital.

Anti-government activists estimated at least 33 people were killed in the artillery barrages of the Damascus suburb of Qudssaya aimed at the Free Syrian Army insurgents, less than three miles northwest of President Bashar al-Assad's official residence, and on Barzeh in northern Damascus, about three miles northeast.

President Assad, in remarks to his cabinet reported by the official SANA news agency, did not explicitly acknowledge the proximity of the fighting, but said "we live in a state of war." As such, he said, " all our policies, directives and all sectors will be directed in order to gain victory in this war."
Previously he had characterized the 16-month-old uprising as a crime wave by foreign-backed terrorists.

In an apparently unrelated development, a  Syrian Air Force lieutenant general was kidnapped by armed men from his home in Damascus, according to Syrian State Television, who identified him as Lt. Gen. Farage Shihada al Maqat. He was abducted in the Al Adawi neighborhood of Damascus, an exclusive area where dignitaries and Russian advisers live. If the report is true, General Maqat would be the highest ranking officer to be kidnapped or killed since the uprising began. More than 13 generals are among a wave of high-ranking officers who have defected to the opposition recently….

"It was not a big confrontation, it was just to test the Guards' capacity, for future attacks," said the lieutenant, who for security reasons asked to be identified only by his rank. "Our fighters were really surprised by the huge forces that immediately came and encircled the area."

As he put it, the incident proved that "one bullet in Damascus has more impact than a tank barrage in Idlib or Homs, because the regime doesn't hear the bombings but for sure they hear the bullet in Damascus."  Only 20 fighters with light weapons were involved, he said. "It was just a test for when the battle does move to Damascus."

The elite Republican Guard Division has an estimated 8,000 or more soldiers and is devoted to protection of President Assad and his subordinates. The Republican Guard has taken the lead in suppressing dissent in the capital area.     Other opposition sources reported an escalation of the fighting in Damascus, mainly from government shelling focused on the neighborhoods or suburbs of Qudssaya, Dummar and Al Hameh,all to the northeast of the  Republican Guard base, which in turn adjoins the Presidential Palace, on a commanding hill 500 feet above the main city…..
– report of opposition meeting in Brussels "سيريا بوليتيك".. تغطية خاصة مع الصور لمؤتمر المعارضة في بروكسل
25 يونيو 2012 – بروكسل، عبدالله شومان
عقد يوم الأحد في العاصمة البلجيكية بروكسل مؤتمر لتوحيد المعارضة السورية بغياب شبه كامل للمجلس الوطني والإخوان المسلمين وبحضور عدد كبير من مختلف أطياف المعارضة السوريه الداخلية والخارجية، ونوقش في اليوم الاول عدد من الموضوعات مثل العهد الوطني والمرحلة الانتقالية.

وحول موضوع العهد الوطني كانت ورقة العمل تتألف من مبادئ المساواة التامة في المواطنة بمعزل عن الجنس والعرق والمذهب والاعتقاد، مع التأكيد على المساواة بين الرجال والنساء ووجوب عدم التراجع عن أي مكتسبات لحقوق النساء ومع ضرورة صون إيجابي لعدم فرض عقيدة على أحد وعلى حرية كل مواطن في اختيار عقيدته ومع حماية حقوق الطفولة.

وطرح موضوع حقوق الإنسان والسيادة ووحدة الاراضي والحريات العامة الفردية والجماعية. كما تمت مناقشة موضوع هوية البلاد والعلاقة مع الدول العربية والاسلامية والمجتمع الدولي، كما طرحت ورقة عمل في نظام الحكم والفصل بين السلطات مع الإشارة الى إمكانية اختيار رئيس الدولة بمعزل عن الجنس والعرق والمذهب والاعتقاد، وخضوع المؤسسة العسكرية الى الإرادة الشعبية.

وحول موضوع المرحلة الانتقالية قدمت ورقة عمل تضم البنود التالية:مرحلة رحيل السلطة وأساليب النضال من اجل رحيل السلطه القائمة والعلاقة بين الحراك السلمي و"المقاومه المسلحة". التعامل مع خطة عنان والمجتمع الدولي والأمن الاجتماعي والقومي خلال مرحلة الرحيل ومعايير رحيل السلطة القائمة واستلام سلطة جديدة.
Turkey Says It May Target Any Syrian Forces Nearing Border
By ERIC SCHMITT and SEBNEM ARSU 8:59 PM ET
Buoyed by support from NATO allies, Prime Minister Recep Tayyip Erdogan adopted a bellicose tone on Tuesday after the downing of a Turkish warplane.
Russia Must Abandon Assad Before Syria Talks, U.S. Official Says
2012-06-26,  By Flavia Krause-Jackson and Indira A.R. Lakshmanan
June 27 (Bloomberg) — A meeting of world powers to discuss ending the conflict in Syria won't happen unless Russia first agrees that Syrian President Bashar al-Assad must be replaced, a U.S. State Department official said.
In yesterdays EU Foreign Affairs Council one person and six entities were added to the EU sanction list. These are: Persons
1. Bouthaina Shaaban (a.k.a. Buthaina Shaaban). Born 1953 in Homs, Syria. Political and Media Advisor to the President since July 2008 and as such associated with the violent crackdown on the population.
Condoleezza Rice calls on U.S. to arm Syria rebels – CBS News
2012-06-26
(CBS News) Former Secretary of State Condoleezza Rice called for the United States to arm opposition fighters in Syria on "CBS This Morning" Tuesday, joining a chorus of Republicans led by Sen. John McCain to provide weapons to rebels against Syrian …
Rebel-Army Backers Open U.S. Office
BY JAY SOLOMON AND SIOBHAN GORMAN in WSJ
WASHINGTON—Supporters of the Free Syrian Army have established an outreach office here for a lobbying effort that is likely to feed the Obama administration's discussions on whether to arm the group or more directly intervene in the Syrian conflict.

The organization, called the Syrian Support Group, says it will seek backing from Congress, the White House and relevant federal agencies to deliver arms and other military goods to help in the group's fight against Syrian President Bashar al-Assad.

"This focuses on the FSA's capabilities to bring down Assad on its own if provided with the right equipment and information," said …
Ankara Threatens to Cut Power Supplies to #Syria [Dow Jones]
Turkey threatens force if Syrian troops near border
NYTimes – June 26, 2012
The New York Times reports: Buoyed by support from NATO allies, Prime Minister Recep Tayyip Erdogan on Tuesday warned Syrian forces to stay clear of their troubled border or face a Turkish military response to any perceived threat, following the disputed downing of a Turkish warplane.

The Turkish leader's bellicose tone signaled no discernible easing of tensions between the two Mediterranean neighbors as ambassadors from the NATO alliance, desperate to avoid a wider conflict, held emergency talks in Brussels.
Iran is trying to broker a political solution in Syria
Mohammad Ataie, Guardian 26 Jun 2012
During the past few months, Iranian diplomats have contacted the Syrian opposition to assist the Assad-led reform and facilitate negotiations between the president and the opposition. According to the Iranian ambassador to Damascus, their contacts have been extensive and have included opposition leaders in and outside Syria. They have carried messages back […]

According to the Iranian ambassador to Damascus, their contacts have been extensive and have included opposition leaders in and outside Syria. They have carried messages back and forth between opposition leaders and Damascus and at one point Iranian diplomats, who met Syrian Muslim Brotherhood leaders in Turkey, even offered a roadmap for reconciliation between the Islamist group and Assad.

The deal, disclosed by a leader of the Muslim Brotherhood, included a power-sharing arrangement that handed the premiership to the Islamist group in return for Assad retaining the presidency. But such efforts have been fruitless in the light of the ongoing violence and the Syrian government's recourse to a security crackdown.

The recent "multi-party parliamentary election" – which was devoid of meaningful participation by opposition groups – and the formation of the new Syrian government by a member of the ruling Ba'ath party, have in particular disenchanted Iranian officials with Assad's strategy for a political solution.

Iranian officials, according to various political sources in Tehran, were unhappy with the exclusion of the opposition from the election and the nomination of a loyalist Ba'athist, Riad Hijab, by the Syrian president as the new prime minister. Iranian political and military leaders are dismayed at the over-reliance of Damascus on a security solution and believe that Assad could have done better to lend credibility to his reforms….

In the strategic thinking of the Islamic republic, a political solution is essential for long-term stability in the Levant and the protection of its regional interests. This is where Iran's interests intersect with current international diplomatic efforts to find a political solution to the crisis.
*SYRIAN AMBASSADOR IN MOSCOW HADDAD SPEAKS IN INTERVIEW
BN 06/26 13:09 *SYRIA PROPOSES JOINT INVESTIGATION WITH TURKEY INTO INCIDENT
BN 06/26 13:09 *TURKISH PLANE EVADED RADAR ON APPROACH, SYRIAN ENVOY SAYS
BN 06/26 13:09 *SYRIA DIDN'T KNOW DOWNED AIRCRAFT WAS TURKISH, ENVOY SAYSSyria Didn't Know Downed Military Jet Was Turkish, Envoy Says
2012-06-26 By Ilya Arkhipov
June 26 (Bloomberg) — Syrian forces didn't know they had shot down a Turkish military jet last week until after the incident, said Riad Haddad, the country's ambassador to Russia. The F-4 Phantom that was downed on June 22 evaded radars as it flew across Syrian airspace, and was targeted by anti-aircraft artillery as it approached Lattakia, Haddad said in aninterview today.

"We didn't know what this plane was," he said. "If aSyrian plane had flown like that, it would also have beendowned. We only found out it was a Turkish plane once we had sent rescue ships to the area and they saw three Turkishhelicopters searching for the jet."Turkey Says Syria Opened Fire on 2nd Plane
What to Expect From the Muslim Brotherhood
by Fouad Ajami in The Wall Street Journal – June 26, 2012
Syria: Detained medics tortured and killed amid Aleppo crackdown
AMNESTY INTERNATIONAL 26 June 2012
The discovery of the charred and mutilated bodies of three young medical workers a week after their arrest in Aleppo city is yet further evidence of the Syrian government forces' appalling disregard for the sanctity of the role of medical workers, Amnesty International said today.

All three men were students at Aleppo University – Basel Aslan and Mus'ab Barad were fourth-year medical students and Hazem Batikh was a second-year English literature student and a first-aid medic.

They were part of a team of doctors, nurses and first-aiders who have been providing life-saving medical treatment in makeshift "field hospitals" set up to treat demonstrators shot by security forces and who could not therefore go to state-run hospitals for fear of being arrested, tortured or even killed.
قدري جميل على خطى الدردري في إشغال السوريين
يريد تخفيض عدد الفقراء….ورفع نسبة النمو إلى 10 بالمئة…وراتب يشتري 35 كيلو لحمة مجدداً!!
Syria Steps – 25/06/2012
We tried liberalism. We will now try "socialism/communism". ….. Qadri Jamil is a communist who has taken over Dardari's job as Deputy PM for the economy. He talks about 8% growth for next year….
Video: Menbej, Aleppo Suburb: demonstration chants for freedom and demands the overthrow of Assad's regime