Posted by Joshua on Sunday, December 10th, 2006
Imad Mustapha explains Syria's stand on Iraq and cooperating with the US in the Washington Post. He insists that "Syria has the will and the capacity to assist in Iraq. This help is imperative to Syrian national interests. Syria can cooperate on security issues with the Iraqis and can give considerable support to their political process." He also admits Syria has no magic bullet when it comes to Iraq.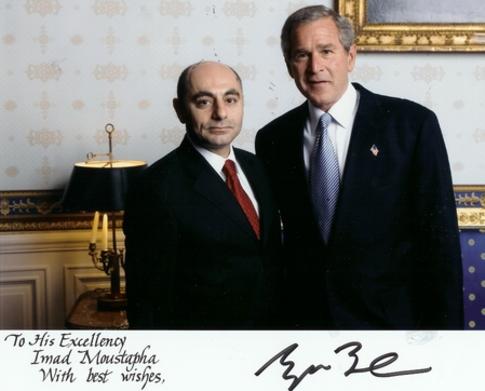 What Motivates Syria?
By Imad Moustapha
Sunday, December 10, 2006; B07

U.S. engagement — or rather reengagement — with Syria has become a salient topic in almost every political debate on U.S. policy in the Middle East, particularly regarding Iraq.

But while commentators argue over whether the United States should engage Syria and whether Syria has the will to cooperate or even the capability to deliver intended outcomes, it appears that the Bush administration remains incapable of searching for a comprehensive approach to the strife in Iraq.

According to top officials in the Bush administration, engagement with Syria would yield no benefits. What is Syria's reaction to this viewpoint? Well, we believe that if U.S. officials continue to regard a dialogue with Syria as a matter of "dictating" — that is, telling Syria what it ought and ought not to do — then their predictions are correct.

Given such a "dialogue," Syria would have to agree with the Bush administration officials who say that nothing can be achieved by such engagement. It would be a waste of valuable time for both sides, and in the meantime the situation in Iraq would continue to spiral downward from disastrous to catastrophic.

But if the Bush administration comes to realize that truly engaging consists of an honest dialogue in which all parties are involved, then positive results will be possible — for Iraq, the United States, Syria and the entire region.

Contrary to what many in Washington believe, past Syrian-American collaboration has yielded many beneficial outcomes, a fact that several former U.S. officials could confirm. These include, among other things, Syrian cooperation on the Middle East peace process, on al-Qaeda and, yes, on Iraq.

What motivates Syria to engage on Iraq? Let us be clear: Syria is not looking for a "deal" with the U.S. administration on any issue. The situation in Iraq is a matter of paramount concern to Syria, particularly the unprecedented levels of death and destruction and the possibility of Iraq's disintegrating, which would have terrible repercussions for the entire Middle East.

Thus Syria has the will and the capacity to assist in Iraq. This help is imperative to Syrian national interests. Syria can cooperate on security issues with the Iraqis and can give considerable support to their political process. The visit of our foreign minister to Baghdad, and the resumption of diplomatic ties between Damascus and Baghdad after a 25-year lapse, clearly illustrates our commitment to a free, peaceful and unified Iraq.

But Syria recognizes that no magical solution exists to instantaneously achieve the desired objectives. A rigorous and comprehensive approach is required. This approach should include a reconsideration of U.S. policy in Iraq, starting with the recognition of the necessity to include all parties involved: neighboring countries and all factions of the Iraqi political and social spectrum.

No party should feel defeated or excluded. All stakeholders in the future of Iraq should feel that it is in their own interest to help stabilize the situation.

A solution should also include U.S. acknowledgment that the majority of Iraqis regard the occupation as only exacerbating the situation and causing further violence and instability. A U.S. plan for withdrawal should be on the table. Only such a step will prove to the various parties involved that the United States genuinely plans to return Iraq to the Iraqis.

Syria believes that engagement of all parties will ultimately become inevitable and the only route forward. Until this happens, all parties will continue to lose. Above all, if it does not happen, Iraq will continue to pay the terrible price for such lack of vision.
Muqtada al-Sadr's spokesman, Baha al-Araji, explains why Iraq has a "small" problem with Syria as opposed to "large" problems with Iran and Saudi Arabia in an interview published by Foreign Policy. He said:
We also have a small problem with Syria. Saddam's regime was affiliated with the same school and political party that rules Syria. In Syria, there are many in the local Baath Party leadership who think that the situation in Iraq is a big loss for the Baath Party. Though the Syrian Baathist ideology differs from Saddam's, there is still a desire [there] to see him reinstated. And this sense of party solidarity has led them to incite instability in Iraq in order to ensure that the occupiers—and the new government they support—fail.
Iraq:
Robin Wright of the Washington Post writes that
Vice President Cheney's office has most vigorously argued for the "80 percent solution," in terms of both realities on the ground and the history of U.S. engagement with the Shiites, sources say. A source familiar with the discussions said Cheney argued this week that the United States could not again be seen to abandon the Shiites, Iraq's largest population group, after calling in 1991 for them to rise up against then-President Saddam Hussein and then failing to support them when they did. Thousands were killed in a huge crackdown.
Previously, She had tracked the 80 percent solution, backing Iraq's Shiites and Kurds to the detriment of Sunni interests, to the State Department's counselor Philip D. Zelikow, who has resigned. The problem of this solution is that it cuts Saudi interests out of US planning. The important question that follows is to what extent the US will intercede to support the survival of Iraq's parliament, the center-piece of America's efforts in Iraq.
The logic of civil war is that it challanges the very existence of the American nurtured parliament and its leadereship. Protecting the survival of the parliament and making sure that politicians amenable to Washington lead it will be President Bush's objective. The Baker-Hamilton plan does not make success of the parliament a central concern. To the contrary, it implies that if the parliament cannot assume control of Iraq before 2008, it should be cut loose.
Saudi Arabia:
Saudi, Gulf States to Study Using Nuclear Technology
2006-12-10 09:50 (New York)
By Andy Critchlow

Dec. 10 (Bloomberg) — Saudi Arabia and five other Gulf Arab monarchies, that pump a fifth of world's oil, will study using nuclear technology for power generation, according to a communiqu' from a Gulf heads-of-state summit being held in Riyadh today.

"Nuclear technology is an important technology to have for generating power and the Gulf states will need it equally,'' Saud al-Faisal, Saudi Arabia's foreign minister, told reporters in a press conference following the meeting that was carried live on Arabic television channels. "It's not a threat. We are not doing it secretly,'' he said.

The six Gulf Cooperation Council countries, including the United Arab Emirates and Qatar, will set up a commission to study the applications of nuclear technology, according to the final summit communiqu' received by e-mail today.

The Arab Gulf states initiative comes as the United Nations Security Council pressures Iran to stop the production of enriched uranium. Uranium enriched to low levels can fuel nuclear reactors, while higher concentrations are needed for atomic weapons.

U.S. May Oppose
"There will be opposition from the U.S. and the Europeans because they will say oil-rich Gulf states don't need nuclear power,'' Anthony Harris, a former U.K. ambassador to the United Arab Emirates said in a phone interview from Dubai today.

The U.S. and European Union accuse Iran, which has the world's second-biggest oil and natural-gas reserves, of seeking to develop nuclear weapons. Iran says its atomic program is aimed at generating electricity.

Gulf states, which are already linking their power supply networks for the first time, may need to build nuclear power plants to help meet surging demand for power from industries and booming economies that are being spurred by record high oil revenue.

The U.A.E., where demand for gas over the next 25 years, is already considering building coal-burning power plants and importing the fuel from Indonesia or South Africa as an alternative energy source to meet surging demand, Peter Barker-Homek, Chief Executive Officer of Abu Dhabi National Energy Co.
said in an interview on Nov. 28.

Saudi Arabia's foreign minister urged Israel to abandon its nuclear programme, saying it was the "original sin.''

–With reporting by Tarek Alissawi and Massoud A. Derhally in Dubai.