Tuesday, March 30th, 2010
Both David Lesch and Ian Black explain that in Washington and European capitals policy makers are wondering where to go next with Syria as President Assad burnishes his "resistance" credentials, despite Obama's recent conciliatory decision to return an ambassador to Damascus.
It is little wonder, however, that Syria is stressing "resistance" of late. President Obama has shown no ability to discipline Netanyahu. Despite sulking in his tent like Achilles, Obama has done little to counter Netanyahu's insistence on expanding settlements. Israel's Prime Minister has also rejected suggestions that he re-start negotiations over the Golan and peace with Syria. Consequently, Syria has little choice but to reaffirm its intention to resist. Assad's embrace of Ahmadinejad two weeks ago, his interview on Hizbullah's TV channel, and his insistence at the Arab League summit in Libya this weekend that the PLO reject talks with Israel and that Arab governments rescind their moldering peace offer to Israel cannot come as a surprise to Washington.
Scott McConnell, writing in the American Conservative, compares Obama's ineffectiveness and lack of action to President George H.W. Bush and James Baker's "effectiveness" in 1992, when they attempted to hold back loan guarantees as a means to slow settlement activity. The only problem with McConnell's argument is that George H Bush and James Baker failed miserably. The following graph of Israeli settlement growth indicates that settlement growth in the West Bank continued unabated and rose at a constant rate during the 1990s, despite Bush's threat to stop loan guarantees and despite the peace process he launched. Neither threats, which were hollow and quickly rescinded, or the peace process and discussions of relinquishing the occupied territories caused Israelis to slow expansion or to believe that they would not retain the territory and its settlements.
The Syrian effort to beef up Hizbullah and to broaden its alliances with Iran makes sense within the context of its pursuit of peace with Israel. Only by counterbalancing Israel can it to hope for peace.
Syria's main problem vis a vis Israel is that it is too weak. It needs to get stronger to be taken seriously. It can do this in a number of ways, some of which are: building up Hizbullah, acquiring nuclear capability, developing better weapons, using Iran to scare Israel, upgrading its economy and relations with important powers such as Turkey, Saudi Arabia, Russia, and France. Syria must pursue all of these.
Israel upped the ante with the 2006 Lebanon war and Gaza campaign, signaling that it can raise the level of pain to previously unimagined levels for those who oppose it. Without nukes (presumably Israel destroyed its effort to develop this option) Syria must go for low tech missiles which is the most effective and cost efficient deterrent available to it.
Without these things, Syria would be forgotten. The Golan would fall from the table – it almost has, anyway.
The main proof that Syria's strategy is smart, if not a success, is Hillary Clinton's speech at AIPAC. She said:
"Both sides must confront the reality that the status quo of the last decade has not produced long-term security ….

Finally, we must recognize that the ever-evolving technology of war is making it harder to guarantee Israel's security. For six decades, Israelis have guarded their borders vigilantly. But advances in rocket technology mean that Israeli families are now at risk far from those borders. Despite efforts at containment, rockets with better guidance systems, longer range, and more destructive power are spreading across the region. Hizbollah has amassed tens of thousands of rockets on Israel's northern border. Hamas has a substantial number in Gaza. And even if some of these are still crude, they all pose a serious danger, as we saw last week."
Had Syria not helped to build up Hizbullah or had Hizb been destroyed in 2006 – there would have been no Turkish talks in 2008 and Syria would have lost whatever negotiating power it had. The only reason Israel and the US still talk about flipping Syria is because of its relationship to Iran and Hizbullah. From a purely balance-of-power point of view. Iran's pursuit of Nukes increases the likelihood of Syrian–Israeli peace. No that Obama has pushed health-care through congress and looks as if he might tangle with Israel and the question of Arab-Israeli peace, Syria must push the question to the forefront. One way to do this is to bear his teeth and raise the flag of resistance, a third intifada, and possible rekindling of war between Hizbullah and Israel.
Syria cannot changes its posture toward Israel until Israel relinquishes the Golan. Assad has said this a number of times. He will only discuss altering his relations with Hizbullah and Hamas once the Golan is returned and not before. To do otherwise makes no sense.
From Assad's point of view, the 1990s and the Oslo process was a decade in which Syria was played by Israel. By opening up Golan discussions, Israel bought Syrian compliance in Lebanon and Palestine for eight years. Syria helped tamp down resistance to Israel from both Hamas and Hizbullah during the 1990s. Lebanon experienced a renaissance. But Syria received little in return. Syrians believe that the Israeli prime ministers who followed Yitzhak Rabin did not want peace if it meant returning the entire Golan and only wished to continue the process because it was useful for other goals. They were using the Golan as a lure to keep Syria complacent and to put pressure on Palestinians to cede more land.
Supporters of Israel argue that prospects for peace are strongest when the US favors Israel and there is no light visible between their policies. This argument is not born out by the facts or history. By making Israel so much stronger than its opponents, Washington is dooming prospects for peace. It is time for the US to distance itself from Israel and to stop providing it with money, arms, and unlimited diplomatic support.
Both sides of the fence
By David W. Lesch Monday, March 29, 2010
Foreign Policy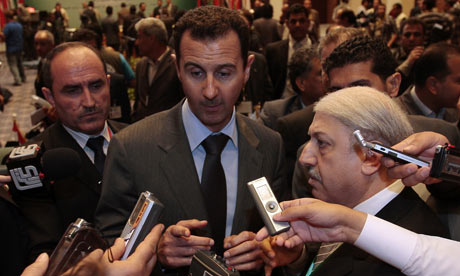 Syrian President Bashar al-Asad is not unlike his father. Hafiz al-Asad was a foreign policy pragmatist who went against the grain on occasion based on perceived national interest. He was able to steer a foreign policy course for Syria where it could play on both sides of the regional and international fences. Syria is the only country in the Arab world that can do so in any meaningful way. On the one side of the fence Syria has been a cradle of Arab nationalism, yet it supported non-Arab Iran against Iraq in the Iran-Iraq war of the 1980s. It was the leader of the Arab confrontation states traditionally arrayed against Israel, yet it has engaged in direct and indirect negotiations with the Jewish state for almost three decades, coming tantalizingly close to a peace agreement in 2000. It was a client state of the Soviet Union during the superpower Cold War, yet it sent troops to fight alongside American forces in the US-led UN coalition to evict Iraq from Kuwait in 1990-91. This foreign policy hopscotch can be frustrating to those countries that would like to see a more consistent policy path emanating from Damascus, but it is exactly the ability to do this that has allowed Syria to muddle through various crises in the recent past as well as provide what otherwise is a relatively weak state some leverage and utility. …..

…There are those who say that the US may have overplayed its hand with Syria too soon. Syria also has to be careful not to overplay its hand. Maybe Bashar feels the Obama administration is too disorganized and weak right now to worry about making positive impressions, but this might not always be the case, especially if the US president's perceived standing improves due to the passage of the time-consuming health care legislation. Bashar worked hard to finally be taken seriously in Washington and in the region, but straddling the fence can be dangerous too if you don't know when to-or can't-get off of it when the time is right.
Assad keeps Europe waiting
An increasingly confident Syria is playing hard to get in its relations with the EU
By Ian Black in Damascus
guardian, Tuesday 30 March 2010
Syria's president, Bashar al-Assad, after the Arabl League summit on 28 March

The Syrian president, Bashar al-Assad, talks to reporters after the closing session of the Arab League summit this week. Photograph: Mohamed Messara/EPA

European Union diplomats in Syria work in a handsome stone house in the leafy Abu Rummaneh quarter of Damascus, guarded by machine gun-toting policemen at the gate. Their well-appointed offices are strewn with glossy brochures about the links between the EU and this Arab republic – testimony to valuable assistance programmes and ambitions for a mutually beneficial long-term relationship.

Yet there is unease about the way things are heading. Last October, after a decade of negotiations, the two sides were poised to sign an "association agreement" covering political and economic issues, trade and investment, modelled on those already concluded by the EU and its eight other "Mediterranean partners".

Lebanon, Jordan, Israel, the Palestinian Authority, Egypt, Tunisia, Algeria and Morocco have all put their relations with Brussels on a formal footing; maverick Libya is conspicuously absent from this "ring of friends". But Syria balked at the 11th hour, insisting it needed more time. The reasons tell an interesting story about President Bashar al-Assad and the view from Damascus.

The official line is that Syria has undergone significant changes since the text was initialled in 2003. A revised version took some of them into account: British and Dutch demands for special statements on human rights and weapons of mass destruction were defeated and the language used now is standard to all EU-Med association agreements.

Still, economic conditions have fuelled fears that the free trade requirements could endanger Syrian industries, though tariffs on EU goods are to be cut over long periods. Crushing competition from the Turkish textile market has served as a warning.

"We are reviewing the relevance of the text to the Syrian economy today," explains Abdullah Dardari, the deputy prime minister and architect of recent economic reforms. But there is much more to it than that. "Even a free trade agreement must be built on political understanding and trust," he says. "An EU foreign policy that respects Syrian and Arab rights creates more confidence – and makes the lives of technocrats and economists easier."

Beyond the crunchy detail of the agreement's 144 articles there is a litany of complaints that Syria deserves better. Europe's passivity in the face of the US-led war in Iraq – with British participation – is a big one. Others include the EU, led by France, blaming Syria for the 2005 assassination of the former Lebanese prime minister Rafiq al-Hariri, support for Beirut's "cedar revolution" and Syria's ejection from Lebanon after nearly 30 years.

Yet another is Europe's failure to challenge US policies towards Israel and the Palestinians, especially its refusal to talk to the Islamists of Hamas, Syria's protege – which, like Lebanon's Hizbullah, is considered a terrorist organisation on both sides of the Atlantic but a "resistance movement" in Damascus.

"Nobody is in a position to lecture us on human rights," insists another official, echoing Assad at his most combative. "The Europeans should have an independent position vis-a-vis Syria."

The western media is considered hostile too. Journalists who ask about the prospects for political change in Syria get angry answers about the boycott of Hamas, the invasion of Iraq or Israel's war on Gaza. More thoughtful responses explain that the president's priorities are boosting the economy, creating wealth and raising educational standards so his country can take its place in a globalised world.

Syrians have also noticed, like others before them, that the EU is less than the sum of its parts. "We used to have a Europe file but we've split it into separate countries – France, Germany and the UK," said Samir al-Taqi, the influential head of the Orient Centre for International Studies. "Europe no longer behaves as a unit and you get policies of the lowest common denominator."

And the Qatari and other Gulf Arabs flocking to Syria's newly liberalised financial and investment sector – the Damascus stock exchange is just a year old – do not share European concerns about Assad's domestic or foreign policies.

Worse, for Brussels and its representatives in Abu Rummaneh, is the sense that Syria cares more about its slowly improving relations with the US. Not a week goes by without some senior administration official or congressman arriving from Washington, often invited for a flattering one-to-one at the presidential palace. The US ambassador was withdrawn after the Hariri killing, but a newly appointed one is eagerly awaited.

Americans and Europeans are both wooing Syria because of its strategic position in the Middle East – its role in any peace process, its co-operation in fighting jihadi terrorism and stabilising Iraq and its capacity, if excluded, for troublemaking, as Iran's main Arab ally and supporter of "resistance movements". "For Syria the carrots are just not tempting enough," argues Rosa Balfour of the European Policy Centre in Brussels. "It can ignore Europe because its political role is so important." The gloomy conclusion is that, despite reassuring noises, the agreement with the EU may not be signed any time soon.

The feeling in Damascus is that Syria has come through a tough period and survived to realise that it still holds cards that others badly want it to play. "Five years ago things looked really bad for this regime – with Lebanon, Iraq, Bush and the neocons," says a Syrian intellectual who is privately critical of Assad. "Now look. Are these guys very smart or is it just that the rest of the world really needs them?"
One buried, more jailed after Kurd celebration in Syria
News of the killing by security forces surfaces, underscoring worsening conditions for the minority.
By Borzou Daragahi
March 30, 2010
Mohammad Haider's family buried him quietly, without a funeral, as they had been instructed by Syrian authorities.

The Syrian Kurd's body was returned March 23, two days after security forces opened fire on a Kurdish New Year's celebration in northern Syria sponsored by a political party, human-rights groups said. The killing, which surfaced Monday, underscored worsening conditions for the minority.

Syrian Kurds, who live in the north near the border with Turkey, have a long and fraught relationship with the state. In recent years, Syria has begun tightening its suppression of Kurdish identity.

Kurdish language, customs and even traditional folk dances have been increasingly discouraged or banned. Among these cultural rites is Nowruz, the ancient New Year's celebration observed by Iranians, Kurds and other groups in the region.

In recent years, Nowruz has become a trigger for violence between Kurdish activists and Syrian security forces, leading to a number of deaths and increased scrutiny of the Kurdish community.

According to Human Rights Watch, Syrian forces this year demanded that the event's organizers take down Kurdish flags and pictures of Abdullah Ocalan, the Kurdish political leader imprisoned in Turkey. The organizers refused, and some began throwing stones at the security forces, who responded by firing into the crowd, killing at least one person and wounding others.
Normalizing Relations
President Obama's speeches signal a desire to treat Israel like any other country. Now events have converged to test his resolve.
By Scott McConnell
May 01, 2010 Issue

The American Conservative
President Obama has probably studied the first President Bush's standoff with Israel. Then as now, the issue of contention was Israeli settlement-building in the West Bank and Jerusalem. George H.W. Bush was hopeful about moving toward a comprehensive peace between Israelis and Palestinians. In the last days of the Reagan presidency, the Palestine Liberation Organization had finally laid down the only significant diplomatic card in its possession, accepting UN Resolutions 242 and 338, recognizing Israel's right to exist within its 1967 borders and limiting its aspirations to a Palestinian state on the West Bank and Gaza. In May 1989, Secretary of State James Baker addressed AIPAC's annual Washington conference. After praising Israel's commitment to democracy and role as a strategic partner, Baker went on to say, "Now is the time to lay aside, once and for all, the unrealistic vision of a greater Israel. … Forswear annexation. Stop settlement activity. Allow schools to reopen. Reach out to the Palestinians as neighbors who deserve political rights." AIPAC's delegates gave Baker a chilly reception. Relations between Israel's Likud Party Prime Minister Yitzhak Shamir and President Bush were frosty as well. Bush believed Shamir had lied to him about settlements in East Jerusalem, which the United States (and every other country) considered occupied territory. The embryonic peace process stalled.

But after driving Saddam Hussein from Kuwait, Bush and Baker returned to the Palestine issue. In May 1991, Israel asked the administration for a $10 billion loan guarantee. The funds were to be used to settle immigrants from the former Soviet Union. At the time, Israel was building settlements at breakneck pace, and Baker and Bush both labeled them an obstacle to peace. Shamir was confident Israel's clout in Congress would force the president to relent and turn over the money. Bush worked to ensure no funds could be used for construction beyond Israel's 1967 borders. When AIPAC held an "education day" in Congress to press for the loans with no strings attached, Bush went public with a denunciation, depicting himself as "one lonely little guy" battling thousands of lobbyists. Some American Jews were bothered by the language, but the country was supportive, backing the president by two- and three-to-one margins. Bush stuck to his guns through the following summer, when Israeli voters tossed out Likud and elected Yitzhak Rabin's Labor Party by a decisive margin. He then released the loan guarantees. The peace process, which came tantalizingly close to producing a two-states-for-two-peoples agreement by the end of Bill Clinton's presidency, would begin.

A principal lesson is that an American president can prevail in a showdown with Israel over settlements. But the Bush-Shamir dispute also highlights the centrality of the settlement issue……