Posted by Joshua on Thursday, August 4th, 2011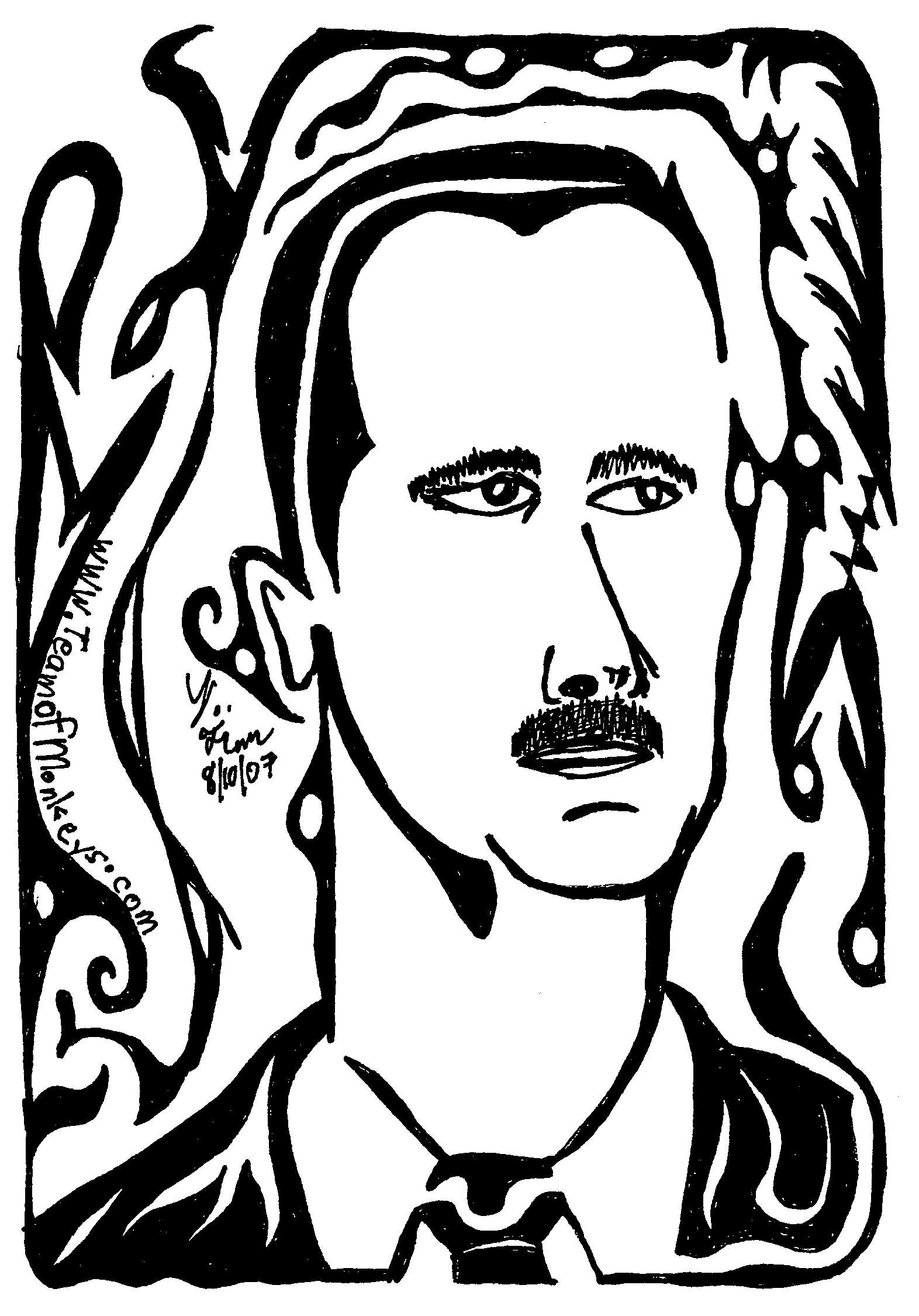 WikiLeaks: Bush, Obama Passed on Sanctioning Syrian Insiders
by Kevin G. Hal, Thursday, August 4, 2011 by McClatchy
WASHINGTON — Two U.S. administrations declined in recent years to place sanctions on Syrian officials who now are involved in that country's harsh crackdown on dissidents, despite the officials' involvement in crushing internal opposition previously, according to secret State Department cables obtained by WikiLeaks.

The struggle continues … demonstrators shout slogans against Syrian President Bashar al-Assad in front of the Syrian Embassy in Turkey. (Photo: Reuters) In one instance, the top diplomat at the U.S. Embassy in Damascus asked the State Department in 2007 to impose sanctions on Ali Mamluk, the chief of intelligence for Syrian President Bashar Assad.

"The role of the organization he heads in suppressing internal dissent is publicly known in Syria and stating as much in our statement would resonate well here," wrote Michael Corbin, the embassy's charge d'affaires.

But no action was taken against Mamluk until this April, after security forces had killed scores of civilians in the Syrian town of Deraa in protests that have since spread to much of the country.

In the same cable, Corbin opposed sanctions for Mohammad Suleiman, who at the time was a special Assad adviser for arms procurement and strategic weapons. Corbin argued that Suleiman's activities weren't well-known enough that the Treasury Department could impose the sanctions without revealing classified information.

"His activities are not widely known, which will make it difficult to obtain unclassified material" needed for the Treasury Department to cite when sanctioning Suleiman, Corbin wrote.

Suleiman never was sanctioned. On Aug. 1, 2008, a sniper killed him in the Syrian coastal town of Tartous. Syria blamed Israel's Mossad intelligence agency but offered no proof. A secret cable dated April 9, 2009, offers another possibility: that Suleiman was killed because he had $80 million in cash in the basement of one of his homes, which investigators who were looking into his slaying later found.

How to deal with Assad's inner circle clearly has been a difficult problem for the administrations of Presidents George W. Bush and Barack Obama, according to the cables, part of the vast trove of State Department communications that WikiLeaks has shared with McClatchy and other news organizations.

Despite suggestions as long ago as 2006 that Assad was falling short on promises to open his country's political system, neither administration was willing to take firm action against his closest advisers, though such sanctions — which would have prohibited U.S. citizens and companies from doing business with them — often were discussed, the cables show.

That same ambiguity exists today, with the Obama administration refusing to call for Assad to leave office, even as the White House regularly denounces the harsh crackdown in which as many as 1,600 people are thought to have died. The most recent White House statement came Sunday, after Syrian troops moved into the restive city of Hama and killed an estimated 75 people.

A Jan. 4, 2006, confidential cable from the previous charge d'affaires in Damascus, Stephen Seche, spelled out why the Bush administration was reluctant to target Assad's inner circle.

"Most Syrians we talk to believe that President Assad still represents their best hope for change without instability. It is their fear of instability that stops the majority of Syrians from pushing harder for internal change," Seche wrote.

The hesitancy to pressure Assad's inner circle as a way to bring political change to Syria that's reflected in the cables recalls the conflict between how officials today describe the Libyan regime of Moammar Gadhafi and the way Gadhafi's regime was portrayed in diplomatic cables before the current uprising in that country.

As McClatchy outlined in a story in April, those cables often portrayed Gadhafi's regime as moving toward greater openness and described Gadhafi's son Saif as one of the main proponents of greater respect for human rights. The International Criminal Court indicted Saif Gadhafi on war crimes charges in June, along with his father.

Corbin raised the issue of sanctions in several cables, including one classified secret and dated Jan. 24, 2008, in which he suggested that the U.S. target four men who make and move money for Assad.

The four included Assad's father-in-law, Fawas Arkhas; financier Zufair Sahloul, who was said to be able to "move $10 million anywhere in the world in 24 hours"; and Assad's uncle and financial adviser Mohammad Makhlouf. The U.S. still has made no move to sanction them, although the European Union sanctioned Makhlouf on Tuesday.

The fourth person Corbin suggested the U.S. move against was Nabil al Kuzbari, whom Corbin identified as an Assad confidant who ran investment schemes on behalf of Syria's top business families. The U.S. moved to sanction him only this May.

Despite its refusal to move in some cases, the Bush administration did impose sanctions on some Assad confidants, including Assad's cousin and economic power broker Rami Makhlouf, after the embassy in Damascus suggested that they be targeted.

A secret cable sent Jan. 31, 2008, described Rami Makhlouf as the "poster boy" of corruption, squeezing out legitimate businesses and benefiting from his family ties to make money in banking, the power sector and cellular-phone service contracting. Sanctions were imposed the next month.

The Bush administration in November 2007 sanctioned his brother Hafiz, a colonel and head of intelligence in Damascus, for Syria's meddling in Lebanon. In May, the Obama administration modified his sanction to include his alleged role in stifling dissent in Syria.

But to date, the United States hasn't sanctioned the family patriarch, Mohammad Makhlouf.

The Bush administration also imposed sanctions on Assad's brother-in-law, Asif Shawkat, in January 2006. Shawkat, who's married to Assad's sister Bushra, headed Syrian intelligence at the time, but he fell from grace after the death of Lebanese terrorist mastermind Imad Mugniyah, whom the U.S. sought for killing Navy diver Robert Stethem during the 1985 hijacking of a TWA jet.

A car bomb blew Mugniyah to pieces on Feb. 12, 2008, in Damascus. A secret cable dated April 14, 2008, suggested that Assad stripped Shawkat of some of his power in response to the assassination, which proved embarrassing since Syria had denied for years that Mugniyah was in the country.

Theories abound about who killed Mugniyah and why, ranging from Shawkat, whose office was near the bomb site, to Assad's violent brother Mahir. Known as the family enforcer, Mahir Assad escaped sanction until late April, when the Obama administration targeted him through an executive order.

In a secret cable from Paris, dated Sept. 12, 2008, the U.S. Embassy cites a French security adviser as saying that Mahir Assad, described as "a bit of a wild man and determined to increase his power," may have killed Suleiman and possibly Mugniyah. The motive was effectively doing away with headaches from people who "knew too much" about the activities of the Assad family.

Another secret cable — from Damascus on June 3, 2009 — paints an unflattering portrait of the Western-educated leader of Syria. The memo was sent as the Obama administration considered ways the U.S. government could engage Assad and take a less hostile tack.

"Syrian President Bashar al-Assad is neither as shrewd nor as long-winded as his father but he, too, prefers to engage diplomatically on a level of abstraction that seems designed to frustrate any direct challenge to Syria's behavior," noted the cable, sent by a new charge d'affaires, Maura Connelly. "Bashar's vanity represents another Achilles heel: the degree to which USG visitors add to his consequence to some degree affects the prospects for a successful meeting."

The cable suggested that playing to Assad's "intellectual pretensions is one stratagem for gaining his confidence and acquiescence; it may be time-consuming but could well produce results."

If U.S. diplomats under Obama sought to butter up Assad, the Bush administration tried a hostile approach designed to keep him diplomatically off balance.

A Dec. 13, 2006, secret cable from Damascus by charge d'affaires William Roebuck suggested that the diplomats try to sully Assad's international image since he was preoccupied with how the outside world viewed him.

"Actions that cause Bashar to lose balance and increase his insecurity are in our interest because his inexperience and his regime's extremely small decision-making circle make him prone to diplomatic stumbles that can weaken him domestically and regionally," the cable said. "While the consequences of his mistakes are hard to predict and the benefits may vary, if we are prepared to move quickly to take advantage of opportunities that may open up, we may directly impact regime behavior where it matters — Bashar and his inner circle."

Yet, as the documents show, both administrations chose not to sanction much of his inner circle until the Arab Spring spread this year to Syria. The Obama administration and European allies haven't yet declared Assad an illegitimate leader who must go, as they did with Libya's Gadhafi.
READ THE CABLES
Cable: To pressure Syria's Assad go after his 'money-men'
OTHER ECONOMIC NEWS
Treasury Sanctions Syrian Businessman: CorrptionCurrnts: 2011-08-04
The U.S. Treasury Department said Thursday it imposed sanctions on a Syrian businessman who serves in the country's parliament. Muhammad Hamsho and his holding company, Hamsho International Group, which has about 20 subsidiaries, provided services …