Posted by Joshua on Wednesday, October 13th, 2010
The Kurdish question was the subject of recent talks between President Assad and Prime Minister Erdoghan in Damascus. Both countries are trying to hammer out a common response to difficult problems they face in resolving a century of discrimination and struggle to contain Kurdish nationalism within their borders. They discussed the fate of Syria's 200,000 Kurds that have been refused citizenship or had it revoked following the 1962 census. There seems to be disagreement among the two leaders about whether Syria's stateless Kurds should be asked to return to Turkey or be granted Syrian citizenship. Syria has claimed that they are Turkish and not Syrian in the past. Many fled Turkey during the violent suppression of a series of uprisings against the Kemalist order during the first decades after the establishment of modern Turkey. The Turkish-Syrian talks were designed to establish a common policy to granting amnesty to PKK militants and outlaws, but this issue inevitably led to the larger question of Kurdish rights in each country and their painful past of contending with Kurdish civil rights and national identity. (See this article about the Kurdish Question and citizenship laws in Syria from Syria Comment's archives, June 04, 2004.
Syria might grant conditional amnesty to PKK members
Zaman, 13 Oct 2010
Syria might grant conditional amnesty to PKK members – Damascus has once more underlined that it is ready to grant amnesty to Syrian members of the outlawed Kurdistan Workers' Party (PKK), but according to experts, Syria can take this step only if Turkey does so simultaneously and if Turkey's efforts for a solution are based on a general expansion of democratic rights, as opposed to the specific recognition of the rights of Kurds as an ethnic group.
Damascus has once more underlined that it is ready to grant amnesty to Syrian members of the outlawed Kurdistan Workers' Party (PKK), but according to experts, Syria can take this step only if Turkey does so simultaneously and if Turkey's efforts for a solution are based on a general expansion of democratic rights, as opposed to the specific recognition of the rights of Kurds as an ethnic group.

Turkish Prime Minister Recep Tayyip Erdoğan and Syrian President Bashar al-Assad on Monday coordinated the two countries' ongoing cooperation against PKK activities and also discussed the government-formation crisis in neighboring Iraq.

After meeting with al-Assad, Erdoğan answered a question regarding the possibility of amnesty for the Syrian members of the PKK, saying this subject is not new and has been on the agenda for a while. "We have to open a gate for everybody who committed a mistake. This door should remain open. The doors of amnesty should not be opened only once and closed later but should be kept open all the time, whether in Turkey, in Iraq or in Iran," he said.

Erdoğan brought up the fact that some PKK members' families are in Syria and stated that he believes that if this issue is addressed in cooperation with Syria the problem will be at least minimized. Erdoğan did not elaborate further. It is known that many of the Syrian members of the PKK emigrated from Turkey to Syria during the Kurdish uprisings after the establishment of the Republic of Turkey. Syria has not granted citizenship to most of these individuals, and they are believed to number around 200,000, according to Syrian journalist Husni Mahalli.

Mahalli has stated that most Syrian PKK members come from such immigrant families and that the Syrian government recently prepared a plan to further integrate these families by granting them citizenship and some other rights gradually; however, this plan was not implemented due to unrest a few years ago in Qamishli, a border town mostly populated by Kurds.

"This is a difficult issue to solve. Erdoğan did not elaborate on it but mentioned cooperation. Maybe these people will be told that they might go back to Turkey if they want, maybe they will be granted citizenship," he said……

In a July interview with Today's Zaman, Assad said he backed the PKK's possible decision to lay down its arms so that it could transform itself into a political actor and added that any campaign against terrorism should include political and social measures along with military ones. "If the PKK lays down its arms and becomes a political party, this would be a positive development. As long as there are no weapons and no terrorism, countries in the region, including Turkey, can have dialogue with the PKK. If it lays down its arms, we can also welcome back 1,500 Syrian nationals within the PKK," Assad had said at the time.
Ahmadinejad's Lebanon Visit Shows Hezbollah Ascendant as Tensions Escalate
By Massoud A. Derhally
…. "Your visit is important to friends, and became more important thanks to our enemies," Parliament Speaker Nabih Berri told Ahmadinejad on arrival…. Ahmadinejad said that "enemies become more savage when they see friends with each other,"…. "Hezbollah is brandishing its ties with Iran in the face of the U.S. and Israel, not to mention Arab regimes," said Amal Saad-Ghorayeb…. "We want to tell the whole world that we're proud of our friendships and ties with resisting countries," Hezbollah's deputy leader Naim Qasem said this week.

…The economy has performed "remarkably well"… partly due to the "more stable political environment" provided by the Hariri coalition with Hizbullah, the IMF said…..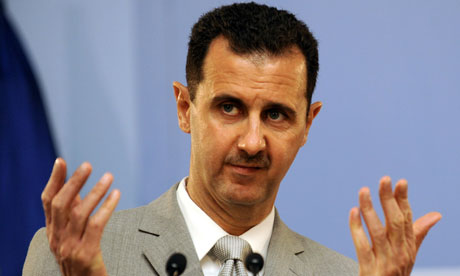 Bashar al-Assad is reasserting his country's influence in the Middle East.
"Iraqi democracy will succeed, and that success will send forth the news, from Damascus to Tehran, that freedom can be the future of every nation." Those were the words of President George Bush on 6 November 2003.

At the moment, bluntly put, the outcome is not what Bush envisaged. The invasions of Iraq and Afghanistan emboldened Iran by the simple riddance of its arch enemies: Saddam Hussein's regime in Iraq and the Taliban in Afghanistan. Syria, on the other hand, has only recently re-emerged from the cold as a major regional power broker, surviving years of American and international pressure in Lebanon and Iraq, both now weak and divided states, ripe for external influences, proxy wars and bargaining.

While Iran increased its regional influence, Syria remained on the defensive, growing increasingly isolated…..

Damascus stood by – just waiting for the tide to change or, in other words, for the Bush administration to leave the White House. Patience is a formidable weapon for a non-democratic regime; time does not run out as foreign policy is not bound by constitutional term limits.
Syrian patience seems to have paid off well…..  On the Iraqi side, the Syrian harvest took longer…..
The days of pressure and gloom during the Bush administration are long gone…. The Obama administration needs Syria's help in the Palestinian issue, especially because of its strong leverage with Hamas (whose political leader, Khaled Meshaal, lives in Damascus) and a dozen other opposing Palestinian factions.
IDF Military Exercise Prepares for Syrian Invasion, Chief of Staff Calls for Taking Battle to Enemy
by Richard Silverstein
Al-Maliki is to visit Syria to mend ties …
"… Maliki's mission to Damascus was part of a series of visits "to different Arab capitals in response to invitations which he has received."
But the visit also comes as Maliki seeks support for his bid to retain the premiership after March 7 elections in which his Shiite bloc finished a narrow second behind the Sunni-dominated Iraqiya group of ex-premier Iyad Allawi.

Shiite cleric Moqtada al-Sadr, whose radical movement which controls 40 seats in parliament, has thrown its support behind Maliki, whose party still falls short of the majority in parliament needed to form a government. Maliki also needs the support of the Supreme Iraqi Islamic Council, another Shiite group headed by Ammar al-Hakim, to head a new administration. He hopes that Hakim, who has close ties with Syria, will soften his opposition to his candidacy for prime minister…"

On Sunday, Iraq's ambassador to Damascus resumed his duties, more than a year after the spat sparked by massive truck bombs which Baghdad said were plotted in Syria, a charge denied by Damascus….
Ms. Levantine interviews Joshua Landis on the Special Lebanon Tribunal
Excerpt of Bibi's Knesset speech: [Israel's PM laments that Turkey has joined Iran and suspects that relations with "the Palestinians" will similarly deteriorate. This belief does not augur well for peace.]
We once had peaceful, normal relations, relations which included exchanges of delegations, contact between leaders, trade relations, especially of petroleum, with an important country. That country is called Iran.

We also had wonderful, friendly relations with another country, with military cooperation, with full diplomatic relations, with visits by heads of state, with 400,000 Israeli visitors to that country. That country is called Turkey.

I still hope we can rehabilitate and restore those relations, which have deteriorated against our will. Things have changed in Iran, and unfortunately in other places as well, almost overnight, and no one can promise us that, despite our desire, a similar thing won't happen after the establishment of a peace agreement with the Palestinians.
WEST BANK: Israeli military court sentences Palestinian nonviolence activist to prison [Now that the peace process is over, asserting greater control of the West Bank will require ending peaceful forms of Palestinian resistance as well as violent forms.]

Don't Worry…the Syrian-Iranian Axis is Alive and Well!
12/10/2010
By Adel Al Toraifi
This was the message of the Syrian-Iranian summit that took place in Tehran last Saturday between President Bashar al-Assad and President Mahmoud Ahmadinejad, and in which the Supreme Leader of Iran Grand Ayatollah Ali Khamenei also participated. President al-Assad's fifth visit to Iran since Ahmadinejad came to office took place at a time that the Lebanese and Iraqi arenas, as well as the Palestinian, are witnessing a number of complications. It was notable that only 20 days separated this visit and President Ahmadinejad's visit to Damascus, which itself came less than a week after the meetings that took place between US Secretary of State Hillary Clinton and her Syrian counterpart, and the Syrian President's meeting with the US Mideast Peace Envoy George Mitchell and the Iraqiya bloc leader Iyad Allawi. This shows that Syria remains active in playing the role of mediator between Iran and the outside world, and that it is the Arab country with the most influence on Iran.

President al-Assad described the relations between the two allies as being "close and continuing" adding that Syria and Iran "are in the same trench and have common aims." The Syrian President did not miss the opportunity to comment on the failure of the US-sponsored negotiations between the Palestinians and Israelis, saying that this is "nothing new." As for President Ahmadinejad, he confirmed the success of the "resistance" project, and called for the foreign occupation forces – the US, of course – to leave, welcoming any nation that wants to join the "resistance."

…Why do some believe that it is possible to separate Syria from Iran?….. Hezbollah started a war with Israel in 2006….. Hamas …. fought a war with Israel at the end of 2008. During this phase, Iran and Syria committed to their alliance and were able to support their allies everywhere; from Lebanon to Iraq to the occupied territories…. The American belief, for example, that it could distance Syria from Iran has been confirmed as being a delusion….Jubin M. Goodarzi clarifies that many people are not aware of the extent of the deep ties that exist between the strategic interests of Syria and Iran, and that both regimes have begun to rely upon one another with regards to guaranteeing their stability……

Therefore it is unlikely that Syria will accept the idea of concluding a peace agreement with Israel and abandoning Iran; this is because the Syrian regime – after the collapse of its alliance with Egypt following the 1973 war – relies upon Tehran for survival in the face of any potential foreign interference, not to mention the fact that Iran benefits from its alliance with Damascus, as Syria represents its primary transit route to the Levant and Lebanon with regards to supporting its allies there….. We are not going to see a Syrian-Iranian divorce so long as the internal situation in both countries remains the same.
F-35 deal threatens region, Syria says
Sun Oct 10, 2010 1:30AM
Syria has voiced concern over Israel's recent deal to purchase US-made F-35 stealth fighters, saying it threatens security in the Middle East and regional Arab countries. A ministerial panel headed by Israeli Prime Minister Benjamin Netanyahu and Defense Minister Ehud Barak made a final decision in September to purchase 20 F-35 fighter jets in a deal to be entirely funded by the US military.

Speaking at the Arab League summit in Libya on Saturday, Syrian Foreign Minister Walid al-Muallem said the recently finalized deal would destabilize the region, the Jerusalem Post reported…..

According to a contract signed by Israel and the United States in New York last week, Israel will receive 20 of the warplanes for more than $3 billion, to be delivered between 2015 and 2017. It has an option for 75 more.

A fifth-generation stealth jet, the F-35 is said to be capable of evading all radars and anti-aircraft missile systems.

"The F-35 will provide Israel with continued air superiority and help retain its qualitative military edge in the region," Barak said in September, adding that the new warplanes would ensure Israel's upper hand in future conflicts "near and far away."
Syria's Assad implies possible visit to Egypt [See WPR article on state of  Syrian – Egyptian relations]
2010-10-09
SIRTE, Libya, Oct 09, 2010 (Xinhua via COMTEX) — Syrian President Bashar al- Assad said Saturday that he is ready to visit Egypt if he receives an official invitation.
"The invitation is quite valuable, because I would like to visit Egypt," Assad said, indicating that he wants to pay an official visit to Cairo. "Our relations with Egypt is improving," Assad said at a summit of Arab nations in Libya. But he denied that he would meet Egyptian President Hosni Mubarak in the near future. "The bilateral summit is not on our agenda until now," he said.
Report: France 'won't rule out' UN creation of Palestinian state
French FM Bernard Kouchner says that France prefers a two-state solution negotiated with Israel but the option of UN Security Council action remains on the table.
By Haaretz
French Foreign Minister Bernard Kouchner has said that it is impossible to rule out the option of the United Nations Security Council creating a Palestinian state, French news agency AFP on Sunday quoted a Palestinian newspaper as saying.
According to the report, Kouchner told the Al-Ayyam newspaper that France prefers a two-state solution negotiated with Israel but that the Security Council option remains on the table.

"We want to be able to soon welcome the state of Palestine to the United Nations," Kouchner is quoted as saying. "This is the hope and the desire of the international community, and the sooner that can happen the better. The international community cannot be satisfied with a prolonged deadlock. I therefore believe that one cannot rule out in principle the Security Council option."

Kouchner and his Spanish counterpart Miguel Moratinos arrived in Israel on Sunday for talks on the peace process. The two are pushing French President Nicolas Sarkozy's idea of a summit in Paris later this month between Prime Minister Benjamin Netanyahu and Palestinian President Mahmoud Abbas.
ALBaath newspaper is mocking Dardari's prediction of Syria as strongest economy in the region by 2015
Newly released documents: Division and disarray on eve of Yom Kippur War
Documents attest to the existence of an intelligence source who warned of an imminent attack, enabling Israel's leadership to consider a preemptive strike.
By Jonathan Lis,  October 8, 2010
Maj. Gen. Haim Bar-Lev and minister Yigal Allon report to the prime minister after a tour of both fronts. The Israeli forces' situation is beginning to improve, while the enemy forces are beginning to suffer serious damage.

"What they achieved today as compared to yesterday is enormous," Allon said. "The front was breached yesterday. If the Syrians had been more daring, they'd have made significant gains."

Bar-Lev explained the Egyptian and Syrian successes as being partly due to technological superiority. "Both have the new Soviet tank plus infrared," he said. "They have an advantage there. On the first night we were surprised; we only knew they had it in theory … Today we know about it and take it into account."

9:50 A.M.

Elazar asked Meir's permission to attack four Egyptian targets along the coast. Meir agreed.

"These are good targets," Elazar said. "Make them worry. We need to press them. After all, they too are only human."

October 9

Dayan voiced confidence in the Israeli forces' ability to overcome Syria and asked permission to bomb targets in Damascus. "There's an order: No retreat on the Golan," he said. "Fighting to the death and not moving … What I'm suggesting and asking for approval of [is] bombings inside the city."

Meir asked whether he meant within the city itself, and Dayan confirmed this. He said the IDF can't muster a column to march on Damascus even as a decoy, but bombing in and around the city could "break the Syrians" – though he conceded, "you can't say the population wouldn't be hurt."

"Why would it necessarily break them?" Meir asked. "Would a bombing here break us?

Elazar replied: "A heavy bombing here, on Reading and Ramat Aviv, would seriously disrupt things."

Meir suggested leaving on a secret, 24-hour mission to Washington, without informing the cabinet, to personally explain the gravity of the situation to Nixon. "I'd like to suggest a crazy idea: What if me and an appropriate military official go to Washington for 24 hours? … Maybe he'll say he can offer nothing but sympathy. Maybe his personal pride will be roused by what they [the Russians] are doing to him … I have the feeling that I'm at a point where I need to talk to him, and a feeling that he will understand."
Israel lets 300 Druze clerics visit Syria for first time
JERUSALEM — Around 300 Israeli Druze are for the first time to be allowed into Syria for a religious visit after they were given permission by the interior ministry, the head of Israel's Druze community said on Thursday.

The visit will see a large group of Druze religious leaders travelling to Syria for a week-long visit during which they will tour pilgrimage sites and visit relatives there.

Syria and Israel remain technically in a state of war, and until now, the Druze, like all Israeli citizens, have not been permitted to enter an "enemy" country.

"This is a very important decision, it's a precedent," Wafaq Tarif told AFP. "It is the first time that the Israeli interior ministry has allowed a group of Druze religious leaders to travel to Syria."

Interior ministry officials were not immediately available for comment.

Tarif said the group would leave next week and cross into Syria via Jordan.

Until now, only Druze residents of the occupied Golan Heights, most of whom do not have Israeli citizenship, have been allowed permission to visit Syria either for weddings or for religious reasons.

There are around 120,000 Druze living in Israel, most in the north of the country.

In the Golan Heights, which Israel unilaterally annexed in 1981, there are some 18,000 Syrian residents, most of them Druze, the vast majority of whom have refused to take Israeli citizenship.
LA Times [Reg]: SYRIA: Foreigners' interest in traditional furnishings counteracts weak local demand
2010-10-08 18:25:33.450 GMT
The rich, dark wood furniture with mother-of-pearl inlay or mosaic decoration is a trademark of Syrian living rooms, luxury boutique hotels and government offices. But now the artisanal furniture from Damascus' traditional markets is increasingly …
Elliott Abrams says Mitchell must be fired in address to the Council on Foreign Relations
Lebanon's Economy Grows by 9%
By Massoud A. Derhally
Oct. 8 (Bloomberg) — Lebanon must tighten its budget and avoid "overheating" an economy that has maintained growth through the global financial crisis, the International Monetary Fund said. The government should "consider tax measures, including income-tax reform and broadening of the value-added tax," the Washington-based lender said in a report published on its website today. It urged Lebanon to "reduce budgetary transfers to the electricity sector" and "manage the buoyant economy cautiously to avoid overheating and to prevent the buildup of new vulnerabilities." Lebanon's economy, helped by tourism and bank deposits from Lebanese citizens living abroad, grew 9 percent last year
Syria strives to resettle Iraqi Palestinians
Last Updated: Oct 11, 2010
Iraqi Palestinian refugees Nahya Mahmoud Abdulkader (left) and her disabled son, Omar, in a Damascus refugee camp.
Phil Sands / The National

DAMASCUS // Nahya Mahmoud Abdulkader and her disabled son, Omar, are the victims of two major wars: the long-running Arab-Israeli conflict and the shorter but also devastating fighting in Iraq.
A Palestinian, her family was displaced by the creation of Israel in 1948. Mrs Abdulkader had been a refugee in Baghdad for almost six decades, only to be displaced once again after the US-led invasion of 2003.

She, her son and 5,000 others like them are now enduring a new limbo in Syria. "We're not sure if there will be a solution for us," said Mrs Abdulkader, who is 60 years old. "The situation is difficult. Some of us have been given asylum in Europe, including two of my children, but I'm still here with Omar." The family fled Baghdad after Oday, the second of the family's six sons, disappeared on his way to work at a flour factory in June 2006. "He had left in the morning as usual and we never saw him alive again," Mrs Abdulkader said.

Two weeks later, a neighbour told her that he had been killed. She went to Baghdad's morgue and found his corpse. "He had been shot in the head," she said, crying at the memory. "I saw his hand, it was burnt; I can't forget that. His body was swollen like a balloon. We had to pay a US$1,000 [Dh3,670] bribe to get him returned, which shows the deep hatred there was against Palestinians in Baghdad then."…
MOPED
Continued Funding for MEPI's Leaders for Democracy Fellowship: This week the U.S. Department of State's Office of the Middle East Partnership Initiative (MEPI) announced continued funding for its Leaders for Democracy Fellowship program, which provides democracy advocates from the Middle East and North Africa with the "practical skills and networking opportunities needed to build civic engagement and support citizen empowerment in the region."